THIS POST MAY CONTAIN COMPENSATED LINKS. FIND MORE INFO IN MY
DISCLAIMER
.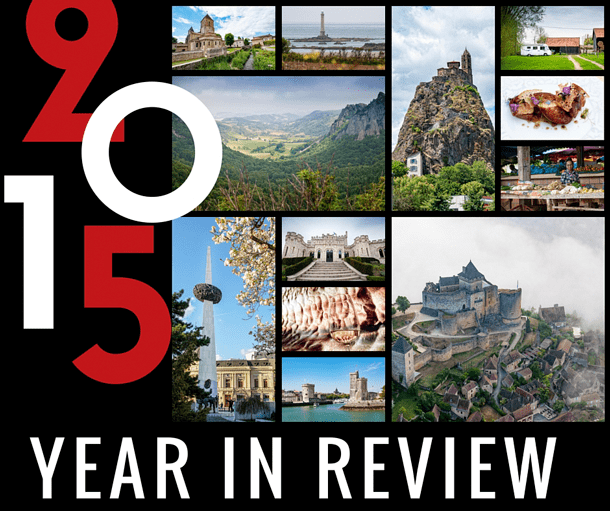 While 2015 gave us some incredible highs, it also smacked us down with our most difficult emotional challenges and left us facing 2016 with more uncertainty than ever.
I've been writing year-end round-up posts for many years and, normally, I look forward to reflecting back over the past year. For the first time, however, part of me has been dreading writing this post. It seems impossible to sum up what this year has been in a few trite paragraphs.
Those of you who follow our newsletter closely know we are currently in Canada with my family, as my father was diagnosed with a rare form of cancer, in August. When you get the news that someone you love is seriously ill, everything shifts. We decided immediately we would stay for the winter and help however we could.
But while the second half of our year has been focused on family and work, the first half was focused on achieving our goal of living in a motorhome full-time, with our cats – a goal accomplished with perseverance, luck, and a lot of help from amazing friends.
At a high level, I visited 1 new continent (South America), 1 new country (Romania), 4 new regions (French Guiana, Auvergne, Asturias, and Galicia) and I added 4 new UNESCO Sites to my list. Andrew and I spent three incredible months slow travelling through France and northern Spain in our motorhome, Amelia, before returning to Canada.
2015 happened in three stages for us: leaving Brussels, motorhome life, and life back in Canada. The following is my best attempt at summing up the highs and lows.
January
Because Andrew and I were focused on leaving Brussels on May 1st, we had three main goals for the first quarter of the year: save money, downsize all of our stuff, and cross as many things off our Belgian 'to-do list' as possible.
In January, this included seeing a number of sights in Brussels we had been putting off. We visited the stunning Art Nouveau Cauchie House and Horta's Maison Autrique, the Cinquantenaire Museum, and the Schaerbeek Beer Museum. We also tried to spend as much time as we could with our Brussels-based friends, knowing we wouldn't be seeing them for some time.
Our Favourite Articles from January:
February
In February, we scheduled meetings with tourism agencies for a number of European countries, as we tried to determine the route for our motorhome travels. We forged a great relationship with Atout France and the month we planned to tour La Belle Pays, turned into two months and then almost three. In all honesty, we could have spent years exploring France and there are still many places we hope to discover in the future.
We also visited Brussels' Dinosaur Museum, tried gourmet meatballs in Antwerp, hosted a Belgian gin tasting, and a workshop at PhoPho in Brussels.
We spent our weekends shopping for our new (to us) motorhome, planning, downsizing, and talking through all of the challenges on our video series, The Motorhome Diaries.
Our Favourite Articles from February:
March
March was a blur of selling off our possessions. Looking back at my calendar, all I see are appointments of folks coming to buy our old things. We did manage a few great meals and on the eve of our leaving the city, I finally found good Indian curry in Brussels.
After months of searching, we also found and made the decision to buy Amelia! (Unfortunately, we weren't able to take her with us until two days before we had to leave Brussels…)
At the end of the month, we somehow managed to fit in a press trip. Luckily, it was a relaxing wine-filled escape to France's Rhone Valley and we were sorely in need of a break (and good wine) by this point.
I also wrote a number of posts about Belgium I am very proud of, perhaps foreshadowing my winter project:
Our Favourite (Non-Belgium) Articles from March:
April
Immediately after returning from the Rhone Valley, I hopped on a plane solo, to a new country that had been at the top of my Bucket List for years – Romania. While I only had a few days in Bucharest for a conference, it was the taste I needed to assure me Andrew and I need to return to this remarkable country.
The rest of the month was a blur of getting rid of the last of our things, cleaning and saying goodbye to our apartment of seven years(!), gathering up what we thought we'd need for a year of full-time RV living, and saying goodbye to our dear friends in Brussels.
After a night of sleeping on the street (in our motorhome) in Brussels, we said farewell to Belgium on April 30th and spent our first night in France. The Motorhome Adventure had begun! Were we terrified? Yeah, you could say that.
We did decide to launch (yet another) website about our motorhome travels, called Camper Cats. We're way behind in posting there, as CheeseWeb has remained our priority. But while we're in Canada, Andrew is slowly adding to it from the detailed journal he kept, of our travels. You can also find the travel map I've been maintaining of all the places we stopped along the way. The site is a work in progress, but if you're interested in Motorhoming in Europe, check it out.
Our Favourite Articles from April:
May
Of course, life in a motorhome wasn't all unicorns and rainbows. It was a big adjustment to cram two humans and two cats into a tiny house on wheels. We also started having problems with several of the motorhome's systems right from the get-go. After a short, but fun, press trip in Pas-de-Calais, we made the tough decision to go back to Belgium for a few days and have Amelia looked at before we got too far from home. Slow Travel it was not, but the issues were mostly dealt with, and we were back in France two days later.
We travelled along the coast of Normandy, where Andrew delved into his passion for war history sites and I got a bit cheesy. We fell in love with Normandy's 'Little Ireland', picked up our first UNESCO site at one of the Fortifications of Vauban and explored France's most beautiful ruin, Jumieges Abbey.
From Normandy, we headed inland to begin our first of a marathon of press trips with Atout France. We started with the region of Centre, famous for the Loire Valley Chateaux.
There, we discovered the Loire-a-Velo cycle route, explored the Loire River by boat, visited the Chateau de Chambord and the Arboretum Des Grandes Bruyères, and ate the amazing local produce at 6 different restaurants.
At the end of the month, we began our second press trip in beautiful Poitou-Charentes, but not before ticking off our second UNESCO site, the Abbey Church of Saint-Savin-sur-Gartempe (article coming soon.) After 25 days of micro-showers and sleeping on our motorhome bunk, it was heaven to spend a night at the eco-hotel, Les Orangeries, and dine at their incredible restaurant.
From there we visited Poitiers and the tiny village of Melle, which we loved, before heading to the Marais de Poitevin (article coming soon.) Then we toured La Rochelle, one of our favourite cities in France, and went on to explore the islands of Poitou-Charentes' coast.
We began with tiny Ile Madame and then made our way to the Île d'Oléron, where we tasted the best salt and oysters imaginable. We wrapped up our stay in the region on Andrew's birthday tasting organic Cognac, followed by a mouth-watering lunch over-looking the Respectful Garden at L'Yeuse Hotel.
Our Favourite Guest Articles from May:
June
We began June in the Dordogne department of Aquitaine. This is a heavily touristed area of France, and we were hoping to visit with a slow travel angle. There was one tourist site I definitely wanted to see, however, and it was our third UNESCO site of our trip – the Lascaux Cave Paintings. They were even more remarkable than we imagined.
Andrew found an amazing chateau built in a cave, we tasted delicious bio-dynamic wines, and had one of the absolute highlights of our trip – a hot-air balloon ride over the Chateaux of the Dordogne valley. We also tasted some of the incredible regional delicacies and explored a number of Plus Beaux Villages and some stunning gardens. (We have articles in the works for all of these.)
Leaving the Dordogne, we headed into our first new region – Auvergne – and we've been raving about it ever since. This was the final press trip of our marathon and, although we stayed plenty busy, we had some opportunities to relax in a number of fantastic hotels. I've only had a chance to write about the first of these, Aux Jardins des Thévenets, but it was the perfect introduction to the region.
While in Auvergne, we climbed a number of the volcanic mountains, including the Puy de Dome, and we wandered through the stunning city of Puy-en-Velay. We even went for an edible walk in the unspoiled nature of Auvergne. We still have loads of stories to tell from this amazing region of France, including plenty of eco-accommodation, great food (including amazing cheeses), and more. You can get a taste in our free ebook Our Top 7 Slow Travel Destinations in France.
By the middle of the month, we were mentally and physically exhausted and needed to take a break. We returned to our idea of slow travel and began spending more than one night in each location. France was also broiling in a heat wave, which was slowing us down considerably.
We did, however, have one more deadline. I needed to make it to the city of Cahors, in the stunning Lot department of Midi-Pyrénées. This wasn't a press trip itself, but rather to visit a medical centre for a yellow fever vaccine I would need to go on my final scheduled press trip in July. We finished out the month slowly exploring Lot and catching up on all of the work we had been missing.
Our Favourite Guest Articles from June:
July
In early July, we made our way to Toulouse, where Andrew and I would part ways for a week. This would be the first time in months we hadn't been together 24/7. While Andrew and the cats headed for cooler temperatures in the mountains, I was flying to a new region in France – in South America. My week in French Guiana is something I will never forget and highly recommend.
As I was winging my way over the Atlantic, on my way back to France, Andrew visited the Airbus factory and museum in Toulouse. Once we were reunited we headed directly for the border and crossed into northern Spain.
While finding free overnight motorhome parking spots in France was a breeze, we found Spain much more challenging. However, when we found good spots, they were very good indeed. We found Asturias and Galicia breath-taking and enjoyed driving there immensely; especially once we picked up our dear friends Warren and Betsy. We spent a week exploring together and familiarising them with Amelia, before settling them in a campground and heading for Canada.
Our Favourite Guest Articles from July:
August/September
We spent our first week in Canada celebrating Andrew's sister's wedding, in the gorgeous Nova Scotia sunshine. It was pure perfection and we were thrilled to be there to celebrate with both families.
The following day, the bottom dropped out. I called my parents to plan our visit and they told me Dad's diagnosis. We left the following morning, to be with them.
The rest of August and September is a blur of doctor's appointments and hospital visits while we tried to determine the best course of treatment for my Dad. Andrew returned to Spain briefly to meet with our friends, drive Amelia to their home in Andalusia, settle the cats with them, and find storage for Amelia. Somehow he managed to do all of this and pack up our things to bring back to Canada in under two weeks. He, Warren, and Betsy were my heroes.
Our other heroes included our fantastic contributors, Adi, Monika, and Adrian, who stepped up with some incredible posts so I could focus on my family.
Our Favourite Guest Articles from August & September:
October/November
By October, things were beginning to settle into a routine. Dad's treatment began and we could all finally begin to move forward. He's had a number of setbacks along the way, but the strength of both of my parents, in dealing with this, has been nothing short of amazing.
Needless to say, since we arrived here in August, our primary focus has been on my Dad's health and doing what we can to help out. However, Andrew and I still need to work and make money to allow us the freedom to be here. Andrew chose to take on more client work, building and maintaining websites, and, in addition to freelancing articles and photos, I decided to write a book. And I decided to launch it on December 1st. Um, yeah.
Our Favourite Articles from October & November:
December
Somehow (with lots of support from my amazing friends and family) I managed to meet my self-imposed book launch deadline of December 1st. I couldn't be more proud of the result. The Foodie Guide to Brussels reached #1 in several categories, including General Belgium Travel Guides, Brussels Travel Guides, and Travel Dining.
What was even more meaningful however was spending Christmas with my family and a few close friends. After a few setbacks in early December, Dad was back home and feeling up to indulging in my mom's turkey extravaganza. We decided to forego exchanging presents and simply enjoy being present with each other.
Our Favourite Articles from December:
2016
Heading into the new year, we're facing a lot of uncertainty. It's certainly not a new thing for us. Since we embarked on our lives in Europe, uncertainty has been the name of the game. It doesn't seem to get any easier, though.
We've committed to staying on in Canada at least until the spring. Where we go from there will depend on Dad's health and some big discussions and decisions with the family. Making the choice to be here with my family during this time was easy, but knowing what happens next is out of everyone's control.
What we are incredibly grateful for is the freedom we've managed to build into our lives. If we hadn't decided to take the plunge and accelerate our motorhome adventure by a year, when Andrew was laid off in 2014, we probably wouldn't be here right now. We definitely wouldn't have had our incredible summer in France.
If we've learned anything from 2015 it's you can't predict the future and you have to seize the opportunities to live life to the fullest when you can. Fear of the unknown can stop us from moving forward, but life doesn't stop moving, even if we're standing still.
Wherever 2016 leads us, we'll be embracing the moments provided to us – and embracing our loved ones while we can.
Latest posts by Alison Cornford-Matheson
(see all)