THIS POST MAY CONTAIN COMPENSATED LINKS. FIND MORE INFO IN MY
DISCLAIMER
.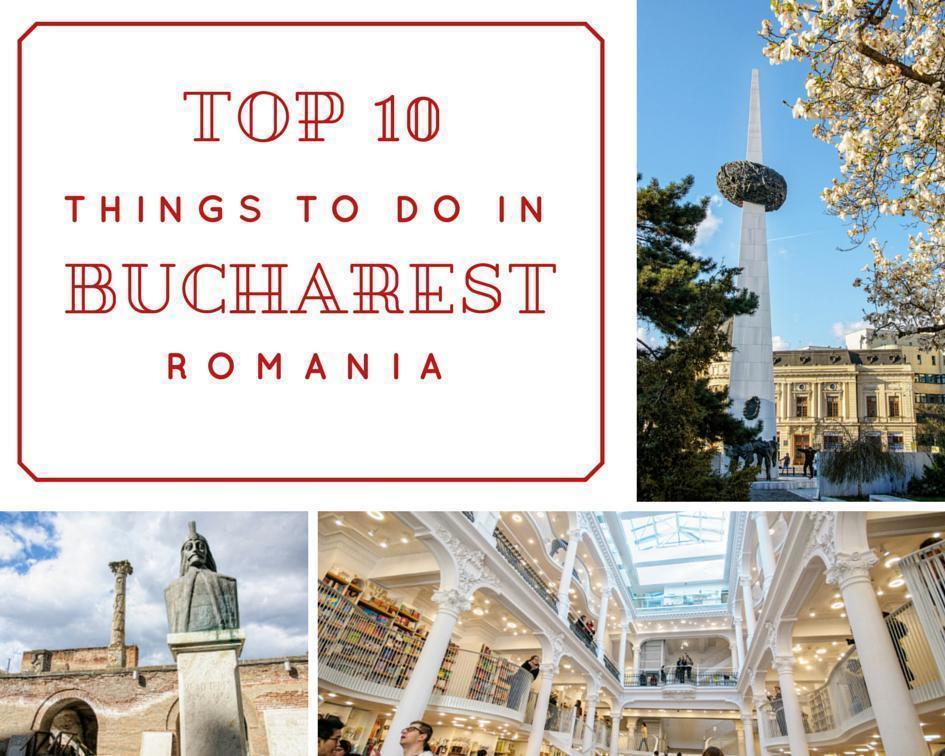 Romania's capital city has plenty to offer travellers. Today I share my top 10 things to do in Bucharest from my recent #EnjoyBucharest adventure.
In early April, I visited my first new country of 2015 – Romania. Regular CheeseWeb readers will know Romania has been at the top of my European Bucket List for some time now. Unfortunately, my trip was very short, and I was only able to visit the Romanian capital, Bucharest. However, my little taste of Romanian hospitality, during the #EnjoyBucharest event has me eager to return and discover more of this fascinating country.
During my three days in Bucharest, I discovered some interesting attractions, both on and off the tourist trail. Here are my top 10 must dos on your next visit to Bucharest.
1. Visit the Palace of the Parliament
Romania's Parliament building is famous for a number of reasons, not the least of which is its sheer impressive size. It's the second largest building in the world, after the Pentagon, and the world's largest civilian administration building. Built primarily of Romanian marble, it's also the world's heaviest building and the most expensive administrative building.
All of this grandeur and expense has, of course, come with its fair share of controversy. A building this large couldn't be constructed without flattening a large section of the city, similar to Brussels' Palais du Justice. Today, the Palace of the Parliament now also houses Romania's Chamber of Deputies, the Romanian Legislative Council, the Romanian Competition Council, and the Romanian Senate. You'd think this would create a full house, but seven-tenths of the building still sits empty.
You can tour the Palace of the Parliament in a variety of languages. There's no denying the opulence and vastness of the building's halls, rooms, and corridors. To me, however, it feels somber and dark, when compared to the Presidential Cotroceni Palace (see below.) It's still well worth a visit, especially for the incredible view of Bucharest from the terrace.
Palatul Parlamentului
str.Izvor nr.2-4, sect.5, Bucharest, Romania
2. Tour the Presidential Cotroceni Palace
Since 1991, the Cotroceni Palace has been home to Romania's president, but it has had a long a varied history. It began life, in 1679, as a monastery, popular with pilgrims. Until 1883, Cotroceni was also home to a variety of royal residences, which were demolished by King Carol I of Romania, to make way for a grand palace.
Cotroceni Palace was expanded and changed by its various royal residents until King Michael I was forced to abdicate by the communists, on December 30th, 1947. During the communist period, much of the art and decoration was removed from the Palace and it became a children's home in the 1950s. Nicolae Ceauşescu changed the palace's purpose, once again, in 1976, and it became a guesthouse. A year later, Cotroceni Palace suffered extensive damage during an earthquake and required heavy restoration.
These days, you can tour a small portion of the Presidential Palace, which has been restored to its former glory. You can also visit the opulent Cotroceni church, which remains from the former monastery.
The Cotroceni National Museum
1, Geniului bld, 060116, s. 6, Bucharest, Romania
3. Witness Revolution Square
Perhaps it was because I had the opportunity to visit Bucharest's Revolution Square with someone who witnessed the revolution itself, but I certainly felt a different energy there. The square, surrounded by imposing buildings, was the site of two massive gatherings of Romanians. The first, in 1968, was the peak of Ceaușescu's popularity, when he openly condemned the invasion of Czechoslovakia and began pursuing independence from Russian control.
The second gathering marked Ceaușescu's demise. Ceaușescu's final speech was met with jeering and protest and Romanians around the country saw the weakness of the regime for the first time. Violent riots erupted resulting in countless casualties. Ceaușescu and his wife tried to flee the capital to no avail. Their trial, held on Christmas day, lasted barely two hours. They were sentenced to death and executed immediately.
Since 2005, the centrepiece of Revolution Square has been the Memorial of Rebirth, a 25-metre-high marble pillar with a metal crown. Like all significant public art pieces, it has had its share of controversy. It has been called an "olive on a toothpick" and "the potato of the revolution" among other less flattering names. (Personally, I find it quite powerful.) Whatever your feelings on the sculpture, Revolution Square is a must-see in Bucharest, particularly if you have an opportunity to visit with a local guide who can convey the importance of this site in the hearts of Romanians.
4. Visit Vlad Țepeș
Long before Ceaușescu, was Romania's most famous leader Vlad III, Prince of Wallachia, or Vlad Țepeș – otherwise known as Vlad Dracula. Vlad's favoured method of dispatching his enemies earned him the nickname 'Vlad the Impaler.' This moniker inspired Bram Stoker to write the original Dracula story that has spawned vampire lore around the world. Despite his bloodthirsty reputation, Romanians generally respect Vlad Țepeș, for protecting them and their culture from the invading Ottomans.
You can pay your respects to Vlad, or at least his statue, at the Curtea Veche, the Old Princely Court in Bucharest. Vlad built this first royal court here, during his reign, thus moving Romania's centre of power to Bucharest.
5. Admire the Contrasting Architecture
I love cities with a bit of an edgy side. I prefer contrasts in architecture to everything being perfect and 'samey'. Bucharest has this contrast in spades. Everywhere you look, you can see examples of modern architecture butting up against history. There are countless grand buildings around Bucharest. Some of them are in excellent condition, others, sadly, are in desperate need of restoration. Nevertheless, if you're an architecture buff like me, a walking tour of Bucharest's architecture (preferably with your camera) is a must do!
6. Enter Bookstore Heaven
Confession: my absolute favourite thing in Bucharest is a brand new bookstore. The Cărturești Carusel is a book-lover paradise, inside a stunningly redesigned building in the city centre. Even if you're not a reader, the architecture alone is worth a look, and the café on the top floor has a wide variety of tasty treats and caffeinated goodness.
More than just books, Cărturești Carusel also sells a wide variety of gifts, music, movies, coffee, tea, and even wine. If they threw in a couple of comfy reading sofas, I would probably never leave.
Carturesti Carusel
Lipscani 55, Bucharest, Romania
7.  See Art and Design in a Restored Palace
If you love great interior design and enjoy visual art, don't miss a visit to the Noblesse Palace. This private residence is home to an architecture and design firm, but is open to the public by appointment. The building often houses art exhibitions and is currently showing works by Henri Matisse, never before seen in Romania.
Noblesse Palace also hosts cultural events. For our visit, they had arranged a fantastic buffet and live music. It's also possible to rent part or all of the palace for your own event, or event for an intimate dinner for two. (I was told a number of proposals have been made here.)
Palatul Noblesse
Bucuresti, Strada Sfinților, Nr. 7
8.  Sleep at the Iconic InterContinental Hotel
In addition to being a five-star, luxury hotel, the InterContinental Bucharest is a slice of Romanian history. When it opened in 1971, the hotel was the second tallest building in the city and remains Bucharest's tallest hotel. The panoramic views from the balconies made it a favourite with foreign dignitaries and the press. International press reports on all aspects of Romanian news, including reports of the Revolution, were filed from inside the hotel.
The balcony views are stunning, night and day, and the hotel retains its classic dignity while having all the modern amenities from restaurants to a beautiful swimming pool.
InterContinental Bucharest
4 Bulevardul Nicolae Bălcescu, Bucharest, 010051
9. Enjoy the Atmosphere at Romania's Oldest Restaurant
Hanul Manuc began life in early nineteenth century Bucharest as an important inn for travellers. It still hosts travellers and locals alike and is one of the oldest buildings remaining in the city. While I can't rave about the main course we ate there (and that could just be the problem of serving a very large group) I loved the soup. It was tangy and delicious and if any of my Romanian friends or readers can identify it, I'd be grateful, as I would definitely order it again.
The restaurant's atmosphere is lovely (and I would suspect even better when the courtyard terrace is open) and it's a slice of history. If nothing else: go, enjoy, and order some soup.
Hanul Manuc
Strada Franceză 62-64, București 030106
10. Eat Well in Bucharest
I've been lucky to have a taste of Romanian food before ever visiting, at the hands of my Romanian friends. So I know how good it is. Due to my limited time in Bucharest, and the tight schedule I had to keep, I didn't have much time for foodie experimentation (next time!) However, I can definitely recommend two places to eat in Bucharest.
First, was a happy discovery on my final night in the city. As my airport transfer was coming at 4:30 in the morning (!!) I wasn't about to stay out with the main group, who weren't dining until 9pm. A new blogger friend and I decided to find something nearby. We happened upon the City Grill and were happy we did. The service was friendly, the interior was bright and cheerful, and the food was great. We opted to each order a different dish to share, and settled on ribs, with a ridiculously garlicky (in a good way) sauce, and beef cooked in wine sauce. We washed it down with homemade lemonade. The meal was affordable and tasty and I would definitely return.
There are four City Grill locations in Bucharest but we dined at the City Grill Centrul Istoric.
My other favourite meal of the trip was organised by the #EnjoyBucharest team. Our lunch at the Journey Pub was excellent from start to finish, including the great Romanian wines. Of course, I also couldn't help but fall for the travel themed décor.
While there, we were treated to a showing of a short documentary called Meanwhile in Bucharest, featuring expats who had moved to the city and fallen in love with Bucharest. Much of what they had to say reminded me of the expat experience in Brussels. You can watch the 11 minute film on YouTube and it's well worth your time for a great overview of Bucharest.
My few days in Bucharest were just a tiny taste of what the city, and Romania as a whole, has to offer. With such warm and welcoming people, a fascinating and rich history, and plenty to see, do, and eat; I know I will return soon.
Getting to Bucharest – I flew direct to Bucharest from Brussels International Airport on Blue Air, Romania's low-cost airline. Blue Air flies from numerous European destinations including Paris, London, Stuttgart, Barcelona, Rome, and many more.
The  #EnjoyBucharest blogger event was hosted Eventur Bucharest, supported by ARCUB, Bucharest City Hall and Intercontinental Hotel. My travel to Bucharest was sponsored by Blue Air. As always, all opinions remain my own.
Latest posts by Alison Cornford-Matheson
(see all)