THIS POST MAY CONTAIN COMPENSATED LINKS. FIND MORE INFO IN MY
DISCLAIMER
.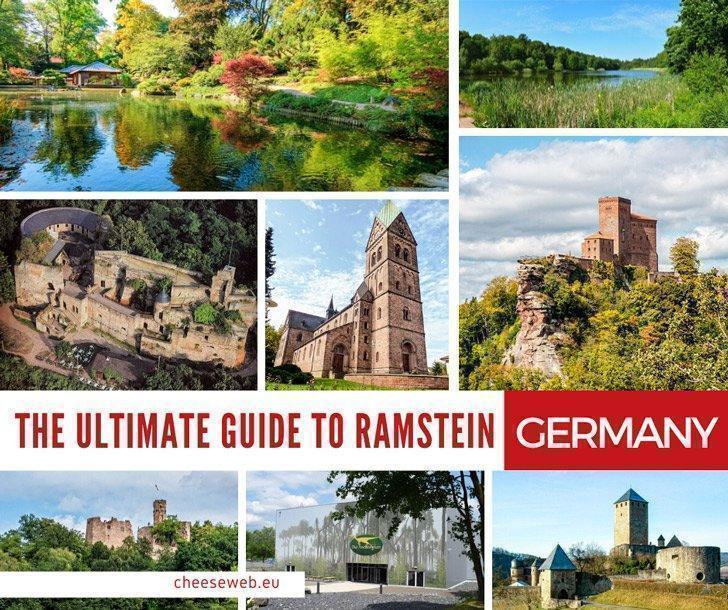 We share our ultimate guide to things to do in Ramstein Germany including the best hotels, museums, activities for kids and the best day trips from Ramstein.
When you think of tourist destinations in Germany, your mind usually goes to cities like Berlin and Munich. While those are certainly exciting destinations, they aren't always convenient options for those who find themselves in Germany.
Instead, many people end up in Ramstein, Germany. The U.S. Air Base in Ramstein (and the surrounding Kaiserslautern American community) brings tens of thousands of people into Germany. Finding things to do in Ramstein Germany and the nearby area allows them to make the most of their time there. Plus, it ensures that if any friends and family come to visit, they can have an exceptional time.
Luckily, there are plenty of options when it comes to things to do and places to see in the region. If you find yourself in or near Ramstein, here's what you need to know.
Where is Ramstein Germany?
Ramstein (or the Ramstein-Miesenbach area) is a municipality in Germany's Kaiserslautern district, part of the Rhineland-Pfalz federal state. It's located in the southwestern part of the country, not far from Germany's borders with France and Luxemburg. It's home to Ramstein Air Base, a U.S. military facility.
Best Things to Do in Ramstein Germany
Ramstein isn't known as a destination for tourists. However, thanks to the Air Base, many people spend a few years in the area or travel to it to visit families stationed there, and they all want to find things to do in Ramstein, Germany.
Even without a reputation as a tourist destination, that doesn't mean there isn't anything to check out. You can find some great options that can help you experience the area and learn about its history, or simply spend a few hours away from the hustle and bustle of your everyday life. Here's a look at exciting things to do around Ramstein Germany
Places to Visit in Ramstein Germany
If you're looking for unique things to do in Ramstein Miesenbach Germany, you're in luck. While the city isn't known for tourist attractions, there are still some great options for those who don't want to venture far from Ramstein or don't have the means to travel to another city but want to do some exploring. Here's what's available.
Freizeitbad Azur
If you want to enjoy some green space and take a dip on a hot summer day, Freizeitbad Azur leisure pool makes it possible. You can sit out on a beach towel on the lawn, head to the pool for a swim, or curl up in a shady spot with a good book, making even the toastiest of days more comfortable and enjoyable.
Plus, the entrance fee is pretty reasonable. This makes it an excellent choice for budget-conscious travellers and families. Just keep in mind that it can get a bit busy during the peak months.
Naherholungsgebiet Seewog
For travellers who enjoy spending time outdoors, Naherholungsgebiet Seewog has a lot to offer. You can stroll down the superb walking paths or take a break on one of the benches and enjoy the peace and quiet. The area around the lake is particularly breathtaking, making it easy to forget that you aren't far from the hustle and bustle of daily life. If you have energetic children, there's also a playground on-site, giving them a great place to run around.
Plus, every year, the park hosts a three-day festival where music fills the air, and high-quality food (and beer) is never more than a few steps away. There are even some rides for children, making it an excellent option for some family fun.
Gedenkstätte Flugtagunglück Ramstein 1988
At
Gedenkstätte Flugtagunglück Ramstein 1988
, you'll find a small memorial tucked near the tree. It's not necessarily a full-blown tourist attraction, but it can be a good stop for those who want to experience some of the region's history.
In 1988, near that location, was a catastrophic air show accident. Seventy people died after an Italian Air Force aircraft collided in the air, causing the planes to fall into the crowd below.
Katholische Pfarrkirche St. Nikolaus
In the middle of Ramstein, you can find Katholische Pfarrkirche St. Nikolaus. This beautiful church features neo-Romanesque styling, including a cruciform basilica, and was constructed in 1902. The exterior of the church is especially impressive, featuring Pfalztypischen sandstone walls and a massive high tower.
Best Day Trips and Things to Do Near Ramstein Germany
If you are looking for things to do near Ramstein, Germany, you have plenty of options. The city's location makes it a great jumping-off point for a variety of quick excursions, allowing you to explore more of what Germany has to offer with ease.
Here's a look at some of the amazing places to visit near Ramstein, Germany.
Castles Near Ramstein Germany
There are a surprising number of Castles near Ramstein, making the city a great starting point for history buffs and those who enjoy marvelling at the architecture of various ages. Whether you prefer restored locations or castle ruins, there's something nearby. Here are some of the best.
Burg Nanstein
In the Landstuhl area, you can find
Burg Nanstein
, a magnificent castle ruin that begs to be explored. Along with short video presentations, you can also grab a guidebook (available in a variety of languages) to learn more about the castle. In total, it takes about 90 minutes to tour the property, making it a solid choice on a day where the weather is pleasant and you want to spend some time stretching your legs and learning the castle's history.
Plus, there is a small restaurant on the property. Along with offering excellent food, you can get a beautiful view of the city, making the experience even more enjoyable.
Burg Hohenecken
While making your way to
Burg Hohenecken
involves a bit of a hike, it's worth the journey. Once there, you'll find fantastic castle ruins and great views of the town below. Along with the ability to explore the 12
th
-century castle, there are also plenty of grassy areas where children can run around while you relax nearby.
Burg Lichtenberg
Over in Thallichtenberg, you'll find
Burg Lichtenberg
, a fantastic castle ruin. You can stroll through the buildings at your leisure, allowing you to marvel at the architecture and move at your own pace. There's also a small playground on-site, allowing children to burn off some energy before or after meandering through the ruins.
From the castle, you can get stunning views of the Kusel valley, especially if you decide to climb the tower. Plus, there's a museum on-site that can give you a ton of information about the castle's and region's history, including details of the Roman and French occupations. Budget-conscious travellers will also appreciate that a visit won't cost you a dime unless there's a special event underway.
The castle hosts a few festivals during the year, which do have an entry fee. During those, you'll find a broad selection of booths that align with the theme and even some entertainment. In most cases, these are Renaissance-style fairs, which can make it feel like you are stepping back in time.
Burg Trifels
If you'd rather visit a restored castle,
Burg Trifels
is an excellent choice. Originally built during the 11
th
century, work has been done over the years, with the last major restoration completed in 1966.
It is a bit of a hike to reach Burg Trifels, but it's worth it. Along with breathtaking views of the surrounding German villages and forest, you're greeted by a stunning red stone castle featuring massive columns, period-style lighting fixtures, and more. Inside, there are plenty of learning opportunities, too, including an exhibit that details the time when Richard the Lionheart, the English king, held the castle in 1193.
Museums Near Ramstein Germany
If you are looking for some indoor fun, consider heading to one of the museums near Ramstein, Germany. There are quite a few nearby options, including the ones below.
Dynamikum Science Center
About 30 minutes from Ramstein, Dynamikum Science Center features about 160 hands-on exhibits, making it an excellent choice for active families. It can easily take a few hours to see everything, especially if your kids enjoy interactive displays.
Gondwana Das Praehistorium
If you're looking for an engaging museum that children will adore, consider
Gondwana Das Praehistorium
. It features tons of displays, including some with animatronics, that make history incredibly enticing. Many kids become captivated in the dinosaur area but make sure you don't accidentally neglect the "time travel" section, which is equally impressive.
As a bonus, visitors can also take their kids to the indoor dinosaur-themed play area. It's brimming with tunnels, slides, trampolines, and more. Plus, there's an obstacle course, which is certain to keep the most energetic child entertained.
Museum Pfalzgalerie Kaiserslautern
For art-lovers, the
Museum Pfalzgalerie Kaiserslautern
is a must-see. This art museum near Ramstein Germany houses works from the 19
th
-century up through modern times, including paintings and sculptures from famed impressionists like Lovis Corinth, Max Liebermann, and Max Slevogt as well as contemporary art from Eberhard Bosslet, Georg Baselitz, and Franz Bernhard.
Tourist Attractions Near Ramstein Germany
If you want to experience some unique destinations, you have options. Here are some of the best tourist attractions near Ramstein, Germany.
Alte Kapelle
If you travel to Landstuhl, take a moment to visit
Alte Kapelle
. This 13
th
-century chapel, which is open to the public, has some fantastic artwork. Plus, the small graveyard is surprisingly interesting and incredibly well-manicured. It can be a great place to stretch your legs and experience some historical architecture.
Gartenschau Kaiserslautern
Are you travelling with children who love dinosaurs? Then
Gartenschau Kaiserslautern
might be the outdoor excursion of your dreams. Along with lush foliage and beautiful flowers during the blooming season, there are dinosaur sculptures throughout the park. Plus, kids love hopping through the creek or playing games at the putt-putt golf course on-site. And, in the winter, there is an ice-skating rink available.
This garden also hosts several events during the year. Along with garden shows in the Spring, it also holds an Oktoberfest event.
Humberg Tower
Located in Kaiserslautern,
Humberg Tower
is a beautiful landmark that stands tall above the city. It was built between 1899 and 1900, reaching 36 meters into the sky. If you climb the 163 steps to the top, you're greater by magnificent views of the surrounding Palatinate Forest.
But a trip to Humberg Tower is as much about the journey as it is the destination. The well-marked trails guide you through the surrounding forest, making it an exceptional nature walk.
Japanischer Garten
Located in Kaiserslautern, the
Japanischer Garten
(Japanese Garden) features a breathtaking landscape dotted with small buildings, ponds, and bridges. There's even a waterfall, which is a fun surprise. It's incredibly peaceful, making it a solid choice for those who want to find a quiet spot to reflect. Plus, there's an Asian restaurant on-site that's a great place for a bite.
Pfälzerwald Nature Park
The
Pfalz Wald Nature Park
, the largest forested area in Germany, is surprisingly close to Ramstein. It covers over 12,000 km and is crisscrossed by a variety of trails that are great for biking and hiking. Plus, you can come across ruins and castles while you explore, making your walk a fun adventure.
Waldseilpark K1 Fröhnerhof
If you and your family have an adventurous spirit, Waldseilpark K1 Fröhnerhof is for you. This rope park offers you a chance to navigate a variety of obstacle courses, including some that bring you high up into the trees. On a warm day, it can be a great way to squeeze in some exercise and fun at the same time.
Zoo Kaiserslautern
Animal lovers are in luck.
Zoo Kaiserslautern
is just a hop, skip, and a jump from Ramstein, and it houses over 130 different species. There's a restaurant on-site, making it easy for visitors to spend the entire day exploring.
Christmas Markets Near Ramstein Germany
Christmas Markets – also known as Weihnachtsmarkt and Christkindlmarkt in Germany – are must-visit destinations. Here are a few in the Ramstein area that are worth visiting.
Ramstein Christmas Market
If you don't want to leave Ramstein, you're in luck. The city hosts its own Christmas market. It's in the center of Ramstein-Miesenbach, so it's incredibly convenient. Plus, it's brimming with vendor booths, food and drink options, and entertainment.
St. Andreas Christmas Market
Located in Landstuhl, this Christmas market is easy to reach from Ramstein. Over 100 booths are available, including many featuring amazing food and drinks along with fun arts and crafts.
Kaiserslautern Christmas Market
Nearby K-town also hosts a Christmas Market. Since Kaiserslautern is so close to Ramstein, it's an excellent option for those who want to remain in the area but still want to explore tons of booths featuring local vendors.
Best Hotels in Ramstein Germany
If you're looking for a great hotel in Ramstein, you're in luck. There are options for every budget. Whether you're a budget-conscious traveller or are looking to splurge, there's something for you. Here are a few of the best hotels in Ramstein Germany that are worth considering.
1. Hotel Michaela
Just a five-minute drive from Ramstein Air Base and nestled near the edge of the Palatinate Forest, Hotel Michaela offers comfortable accommodations at an affordable price. Plus, its location is hard to beat, sitting a mere 3.7 miles from Nanstein Castle. There are dining facilities, onsite, and parking, and Wi-Fi is free.
2. Hotel Europa
Centrally located in the city, Hotel Europa has spacious rooms with modern styling and a ton of amenities. Along with free Wi-Fi, every room has a television and microwave. Plus, there's a buffet breakfast daily, which is handy if you want to start each day with a great meal.
3. Hotel Circle Inn
With spacious and well-appointed rooms, all of which have garden views, Hotel Circle Inn provides guests with a four-star experience. You can rest on the terrace, enjoy a drink at the bar, and take advantage of the free Wi-Fi and parking. Plus, there's a continental breakfast available, and the location is hard to beat.
Latest posts by Catherine
(see all)