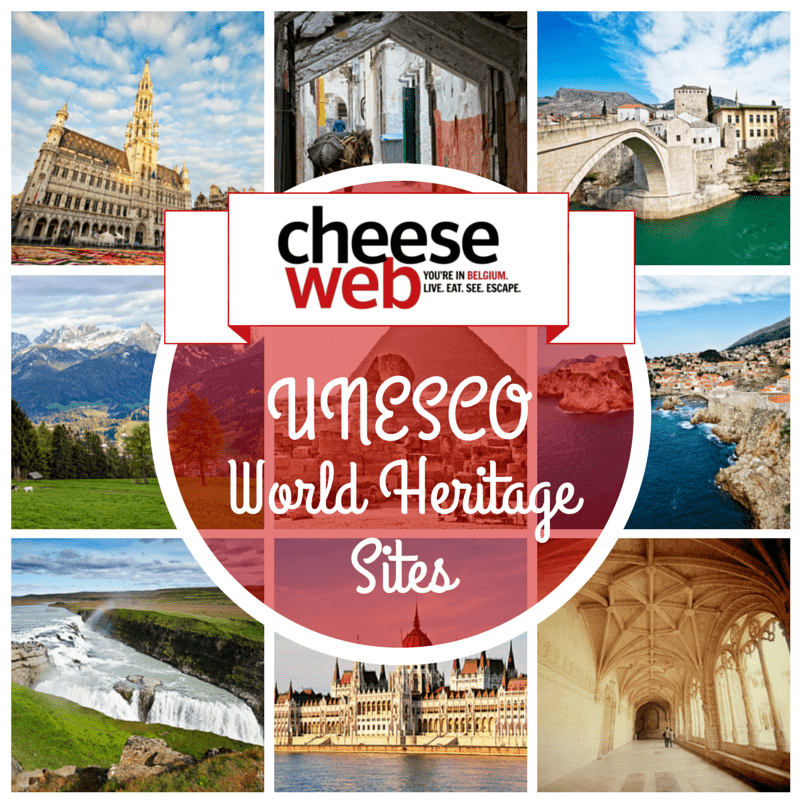 We love slow travel. While we try to avoid 'checklist' style travel, we do both have a passion for UNESCO World Heritage Sites and sometimes (often) go out of our way to visit them.
We stand behind UNESCO's mission to preserve these sites for future generations while still making them accessible to the public today. It's not always a perfect balance, but on the whole, we've found the World Heritage Sites to be engaging, educational and well worth seeking out.
While some UNESCO sites are crowded tourist destinations, there are many hidden gems, which make them perfect places to visit for slow travellers like us. Especially now that UNESCO also recognises cultural heritage, the sites also provide insight into the local culture – something we strive to do on our travels.
Below you'll find a list of the sites we've visited over the years, (mostly together, although some of the early sites are from Alison's childhood travels.) We've included the year we visited (if we remember it) and links to the articles we've written about each site. Of course, we haven't written about every UNESCO site we've visited, so we've also included links to the listing on UNESCO's website.

Belgium
(11 of 11)
We've created a special resource for all of the UNESCO World Heritage sites in Belgium. It also includes cultural heritage and sites on the tentative list.
Bosnia and Herzegovina
(1 of 2)
Canada
(3 of 15)
Historic District of Old Québec (UNESCO Listing)
Old Town Lunenburg (UNESCO Listing)
Joggins Fossil Cliffs (UNESCO Listing)
China
(1 of 43)
Historic Centre of Macao (April 2013) (UNESCO Listing)
Croatia
(1 of 7)
Old City of Dubrovnik (2012) (UNESCO Listing)
Czech Republic
(1 of 12)
Historic Centre of Prague (2012) (UNESCO Listing)
Dominica
(1 of 1)
Morne Trois Pitons National Park (1996) (UNESCO Listing)
Egypt
(3 of 7)
Historic Cairo (2014) (UNESCO Listing)
Finland
(1 of 7)
Fortress of Suomenlinna (2005) (UNESCO Listing)
France
(20 of 38)
Germany
(3 of 29)
Greece
(1 of 17)
Acropolis, Athens (2010) (UNESCO Listing)
Holy See
(2 of 2)
Historic Centre of Rome, the Properties of the Holy See in that City Enjoying Extraterritorial Rights and San Paolo Fuori le Mura (2001) (UNESCO Listing)
Vatican City (2001) (UNESCO Listing)
Hungary
(1 of 8)
Iceland
(1 of 2)
Thingvellir National Park (2011) (UNESCO Listing)
Italy
(8 of 42)
Latvia
(1 of 2)
Historic Centre of Riga (2013) (UNESCO Listing)
Luxembourg
(1 of 1)
City of Luxembourg: its Old Quarters and Fortifications (2001) (UNESCO Listing)
Malaysia
(1 of 4)
Kinabalu Park (April 2013) (UNESCO Listing)
Malta
(3 of 3)
City of Valletta (2008) (UNESCO Listing)
Hal Saflieni Hypogeum (2008) (UNESCO Listing)
Morocco
(1 of 9)
Medina of Tétouan (2014) (UNESCO Listing)
The Netherlands
(5 of 9)
Poland
(2 of 13)
Cracow's Historic Centre (2010) (UNESCO Listing)
Wieliczka Salt Mine (2010) (UNESCO Listing)
Portugal
(2 of 13)
Spain
(4 of 40)
Switzerland
(1 of 10)
Swiss Alps Jungfrau-Aletsch (2001) (UNESCO Listing)
United Kingdom of Great Britain and Northern Ireland
(4 of 28)
The United States of America
(9 of 21)