THIS POST MAY CONTAIN COMPENSATED LINKS. FIND MORE INFO IN MY
DISCLAIMER
.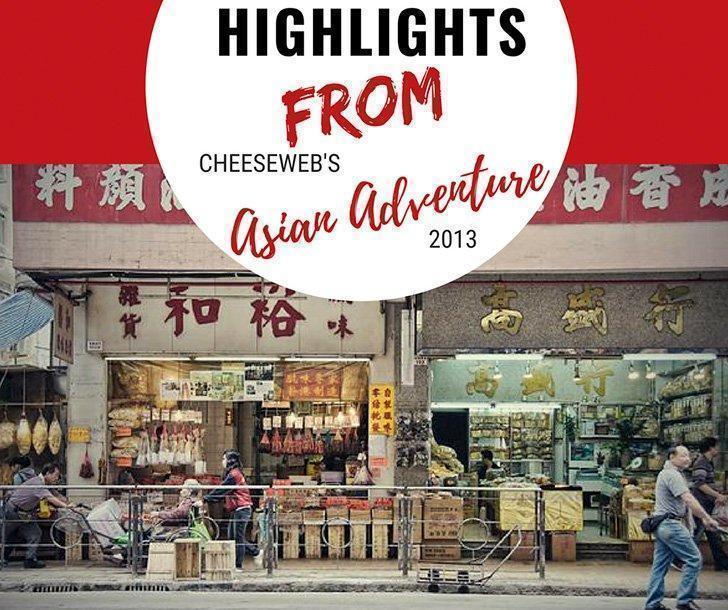 Just over a month ago, we announced our big plans for CheeseWeb's Asian Adventure 2013. This Wednesday, we returned from that incredible journey. It's going to take us some time to process all of our thoughts and experiences (not to mention our photos!), but today we want to share just a little taste of what we saw, did, ate and felt over those two fantastic weeks.
After a loooong flight, we had one short but luxurious night in Hong Kong, where we cashed in our Priority Club points in return for a stay at the world-famous InterContinental Hong Kong Hotel. While our room was incredible, it was the view from the bar that stole the show.
The next morning we were up early for our flight to Kota Kinabalu, or KK as the locals call it, in the province of Sabah in Malaysian Borneo. While we thoroughly enjoyed the laid back atmosphere of KK, (not to mention the great food!) what we really went to experience was the rainforests and jungles of Borneo.
One of our highlights was our trip to Sandakan to visit the Sepilok Orangutan Rehabilitation Centre. Just look at one of the fantastic creatures we were honoured to spend time with.
Orangutans weren't the only primates we spent time with in Sabah. We took a cruise down the Klias River where some of the residents came out to greet us.
We also took a spontaneous trip into UNESCO designated Kinabalu Park, where we were lucky enough to catch the world's largest flower, the Rafflesia arnoldii, in bloom. These flowers are so protected when one blooms; it is guarded 24/7 against poachers.
Our week in Kota Kinabalu flew by and, before we knew it, we were on a very early morning flight back to Hong Kong. Our trip wasn't all play. Andrew had six days of coursework ahead of him for his MBA, but we still had plenty of time to experience this incredible city, where East truly meets West.
As part of Andrew's MBA program, there were several field trips, which I was able to tag along on. We took a day-trip to Shenzhen, China, where we visited a five-storey shopping centre, filled with knock-off consumer goods; from bags to watches, to electronics.
We also visited Macau, the Las Vegas of the East, where we took in a performance of the House of Dancing Water, at one of the giant casinos, called the City of Dreams, created by a former director of Cirque du Soleil.
For me, one of the fascinating things about Hong Kong was the variety of markets. We visited markets for flowers, birds, clothes, food, jade, even goldfish.
During our stay in the city, we managed to accomplish most of the things we had on our to-do list including visiting the Ten Thousand Buddahs Monastery, after being waylaid by a fascinating cemetery.
And, of course, it wouldn't be a CheeseWeb adventure if we didn't explore the region's culinary offerings. We ate, and ate, and ate some more (to be able to report accurately to our dear readers, of course). Don't miss all of our Asian foodporn in this article.
Have you been to Hong Kong or Borneo? Tell us about your favourite memories in the comments below.
Latest posts by Alison Cornford-Matheson
(see all)
Read more from this series...