THIS POST MAY CONTAIN COMPENSATED LINKS. FIND MORE INFO IN MY
DISCLAIMER
.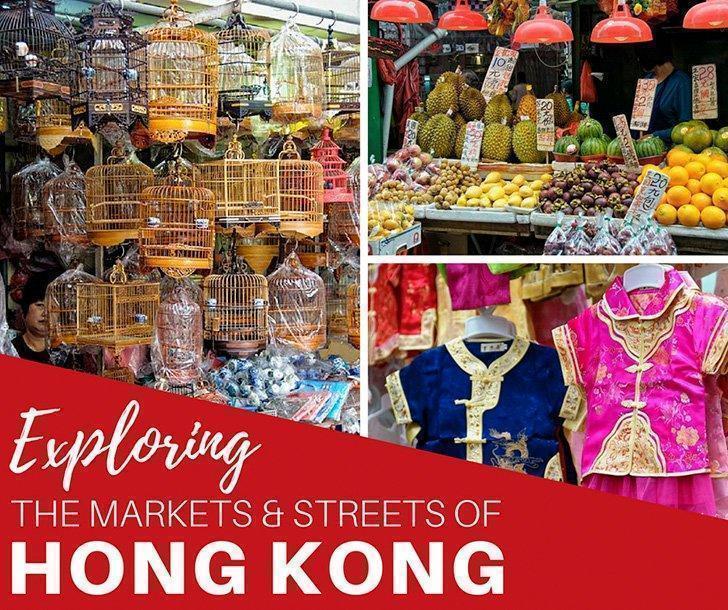 Hong Kong has a market or shopping street for just about any product you can imagine. Not only are they a great place to experience the city's diverse cultures, but they are a photographer's paradise. Here are our top picks for the best markets in Hong Kong as well as some amazing shopping streets.
After reading about our foodie experiences in Hong Kong, you may find it hard to believe we did anything other than eat. Believe it or not, we did have time, between amazing meals, to discover the city. One of the things I was most interested in exploring was the vast array of Hong Kong markets.
Luckily for us, many of Hong Kong's most exciting markets, at least from a tourism perspective, are located close to each other on the Kowloon side of the city. We decided to visit many of them in one market filled day.  It went something like this:
Ladies Market
Neither of us is a big clothing shopper. However, it was fascinating to see the number of goods available for sale at the Ladies Market. This market is a kilometre long stretch of Tung Choi Street, where you can find clothing, bags, tourist trinkets and the occasional food stall. If you are looking for cheap t-shirts, CDs or a 'genuine copy watch,' this is the place. We had a quick wander through but found it to be reasonably similar to markets in Europe, with the addition of the occasional durian fruit.
Goldfish Market
Our next stop was the Goldfish Market, which is actually an area filled with shops selling aquarium fish. Hong Kong conforms to the South Chinese practice of grouping similar stores together, in one location, which seems odd to our Western eyes. For city-dwellers, it makes for one-stop shopping; great if you are looking for something specific. In this case, if you are interested in filling your aquarium, Tung Choi Street North is the place to go.
The outsides of the small fish shops are festooned with plastic bags filled with colourful sea creatures. When we visited, people were buying the bags almost as quickly as the sellers could fill them. Goldfish are considered lucky, according to the principles of feng shui, and are easy to keep in Hong Kong's tiny apartments, where space is at a premium.
There were plenty of goldfish, of all shapes and sizes, but there were endless other varieties of fish, as well. We also spotted turtles, salamanders, crabs and eels. Some of these 'pets' looked similar to fresh-caught fish we saw in the wet market in Kota Kinabalu – one man's meal is another man's pet…
Jade Market
The jade market, on Kansu Street, is as overwhelming as it is fascinating. There are more than 400 stalls, in this covered market, selling jade of every colour and level of quality. Jade is associated with long-life and good fortune in Chinese culture and is a favourite gift, particularly for new babies.
Top quality jade fetches a considerable price, but if you are looking to pick up some pretty pieces without a lot of value, you can find them here also: bracelets, earrings, necklaces and statues are available in every size, colour and price range.
Yuen Po Street Bird Garden and Market
Besides fish, another favourite pet in Hong Kong is the songbird. Yuen Po Street Bird Garden is both a popular place for bird enthusiasts to bring their pets (in elaborate wooden cages) for sunshine and socialization and a market selling exotic birds and bird supplies.
Honestly, we found it rather sad to see so many birds in tiny cages at the market stalls. Most were smaller birds, but we did see several parrots and other large species confined in tiny spaces. However, the pet birds, relaxing in the garden, seemed well cared for and were signing happily.
I will admit to lusting after the beautiful bamboo cages, with their tiny porcelain water and food dishes. Our metal and plastic bird cages have nothing on these beauties.
Mong Kok Flower Market
The Yuen Po Street Bird Garden overlooks the Mong Kok Flower Market, and it's a great way to get an overview of the colourful streets. Here you will find flower shops specializing in everything from orchids to bonsai to lucky bamboo. The colours and smells are overwhelming (in a good way; not always the case in Hong Kong). The shops range in size from tiny stalls to four-storey flower-garden Meccas.
One section of the market focuses on cut flowers as well. Here we saw row upon row of roses, carnations and exotic blooms, waiting to find their way into the arms of a loved one.
Temple Street Night Market
You can't discuss markets in Hong Kong without the Temple Street Night Market coming up. This is the type of market (for better or worse) most Westerners envision when they think of Asian street markets. It's crowded, loud, flashy and filled with goods of dubious origin. If you want a 'Lolex' watch or a 'Frauda' bag, you'll find it here.
Temple Street also caters to the street food crowd, with skewers of mystery meat grilling over hot coals and steaming dishes of noodles and seafood are served at plastic tables. It's a little tacky, and you'll probably get gouged on price, but you're likely to have fun anyway.
Dried Fish Street, Des Voeux Road
There are two more themed shopping streets I have to mention, even though neither are strictly markets. The first of these is Des Voeux Road, commonly called Dried Fish Street. I'm sure you can guess the primary product sold on this street, but the sheer volume of dried fish shops is staggering.
Then there is the smell… In fact, we grew quite familiar with the scent, as Des Voeux Road ran right behind our hotel. (Luckily we couldn't smell it inside.) I can only begin to guess what some of these products were. There were numerous shops proudly selling shark fin, a product so inhumanely harvested, it makes me ill to think about it.
Several of the shops were even drying some of their wares on burlap spread on the sidewalk – not the place to visit if you happen to be a food safety inspector.
Shanghai Street Cutlery Shops
The last shopping street I wanted to visit in Hong Kong was Shanghai Street. This street is actually famous for selling two very different things. One of these is wedding dresses, obviously not something I was in the market for. It was Shanghai Street's other notable product I was interested in – cutlery.
In fact, I wasn't even in the market for a new knife, although if I was, this is where I would buy it. I was actually following in the footsteps (ok, ok, stalking) one of my foodie travel heroes, Anthony Bourdain. Tony visited Chan Chi Kee in the Hong Kong episode of The Layover, and since we were so close, I wanted to see it for myself.
The shop is filled with all sorts of kitchenware, from pots to baking supplies and of course those famous knives. They even have a friendly shop cat; my kind of place. In the end, I did leave with a few goodies, but I couldn't bring myself to splurge out on a cleaver, like Tony.
Whether you're a shopper at heart or not, the markets and shopping streets of Hong Kong are fascinating, make great photo opportunities and are an interesting study of the blending of Eastern and Western cultures. I can't wait to return and explore even more of the vibrant streets and markets of Hong Kong!
Latest posts by Alison Cornford-Matheson
(see all)
Read more from this series...
Exploring the Markets and Shopping Streets of Hong Kong