About Croatia
Population: 4,154,200
Size: 56,594 square kilometres (21,851 square miles)
Official Language(s): Croatian
Capital City: Zagreb
Time Zone: Central European Time (CET)
Currency: Kuna (HRK)
Electrical Plug Type: Type C (Europlug) and Type F (Schuko plug)
Drives on the: Right
Food You Must Try: Skampi na buzaru: if you're heading for the coast, you have to eat as much seafood as possible! This dish is a simple method of cooking shellfish in white wine, with garlic, parsley, and breadcrumbs. Try it with a crisp Croatian white wine.
Flag: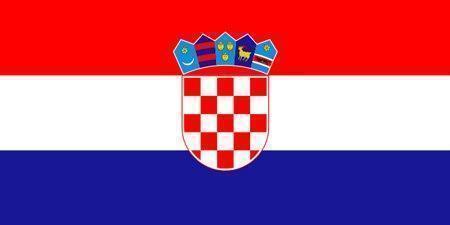 Best things to do in Croatia
UNESCO Sites in Croatia
Dubrovnik: Explore

Dubrovnik's city walls

during the day, which have survived sieges by countless invaders and still stand proudly today. Walking along the walls gives you a fantastic view of the city below. You can peer down the staircased alleys, peek into courtyard gardens, look at the ingenious uses of space in the tightly packed Old Town, and gaze out over the Mediterranean and the 'new' Dubrovnik which sprawls beyond the city walls. The Old Town is

beautifully lit at night

which shows off the winding little streets and alleys.

Plitvice Lakes National Park: In a mountainous region, bordering Bosnia-Herzegovina this majestic conservation site is worth the trek. Over 70, 000 acres of protected land, this National Park boasts more than a million visitors a year. A feast for the senses, Plitvice is a series of lakes and waterfalls, surrounded by pristine forest, inhabited by a diversity of plants and animals.
Top Attractions in Croatia
Local cuisine: We always recommend getting to know a country through its food and Croatia is no exception. Authentic experiences like

oysters shucked fresh

out of the Adriatic in Ston, accompanied by homemade wine and a stunning sunset are what makes this country so unique.

The beaches: "The

waters of the Adriatic coast

are an inviting blue-green gem bordering some of the best beaches in Europe." Croatia's coast offers more than a leisurely day at the beach; you can explore Roman ruins and vineyards, as well.

Gornji Grad: Translated as "Upper Town," Gornji Grad in Croatia's capital, Zagreb, is where you'll find a mix of contemporary and historical attractions. Parliament, ancient churches, museums, and a beautiful view of the city are just a few reasons to make the climb.

Zadar's Sea Organ: Designed by local architect, Nikola Bašić, this massive instrument emits the music of the Adriatic. A series of pipes and whistles can be heard with the rise and fall of the waves. Zadar is famous for its sunsets so it seems fitting that you can listen to the music of the sea while watching the sun go down.

Hvar: Croatian culture is deeply connected to the sea, and this is apparent in its quaint and serene islands. Hvar hosts some of the country's best cuisine, in a warm, Mediterranean climate, with friendly hosts. Visitors can indulge in the island's hospitality, or hike for a phenomenal view of the Adriatic.  
Fun Facts about Croatia
Croatia is home to one of Europe's oldest town's, Stari Grad, and the world's smallest town, Hum (approximately 20 residents).

Yes, Dalmatians (as in the dogs that lady wanted to make into a coat) are named after Croatia's beautiful southern Adriatic coastline, which in turn is named after the Illyrian tribe, Dalmatae, who lived near the eastern Adriatic coast in the 1st millennium BC.

Famous Croatians include scientist Nikola Tesla (born in an area now understood as Croatian), and the inventors of both the pen and fingerprinting for criminal forensics.

Croatia is often featured as a striking backdrop for film and television: movies such as Mamma Mia 2 and tv shows such as Game of Thrones are filmed here.

Croatia boasts the most extensive collection of Neanderthal remains in the world.

The necktie was created in Croatia.

Visitors need to exercise caution when travelling in areas outside of major towns and cities because, like its Balkan neighbours, Croatia has many unexploded landmines from the war in the 1990's.

Croatian "Kuna" is named for a marten which was traded here. Historically, the image of the marten was featured on Kuna.

Pula's amphitheatre is one of only six surviving of its great size.

The wind in Dubrovnik, coming off the Adriatic, has its own particular name, Bora.
Our thoughts about Croatia
Alison says: "We spent a fantastic long weekend in Dubrovnik, Croatia. We enjoyed the region, its people, and its food and wine so much, Croatia shot to the top of our 'countries to visit in our motorhome' list.
While in Dubrovnik, we walked along the city walls for an incredible perspective on the city. We also explored the Old Town at night. It was a very different atmosphere once the tourists left for the day.
One of the highlights of our time in Croatia was stopping in Ston on our way back from a day-trip to Bosnia. There, we visited a local oyster farmer and had some of the best oysters we've ever tasted, pulled straight from the bay. It remains one of our favourite food memories."
Photo Credits:
Photo 1: Alison Cornford-Matheson
Flag: By Nightstallion, Elephantus, Neoneo13, Denelson83, Rainman, R-41, Minestrone, Lupo, Zscout370,MaGa (based on Decision of the Parliament) – http://www.sabor.hr/Default.aspx?sec=4317, Public Domain, Link
Photo 2: Alison Cornford-Matheson