THIS POST MAY CONTAIN COMPENSATED LINKS. FIND MORE INFO IN MY
DISCLAIMER
.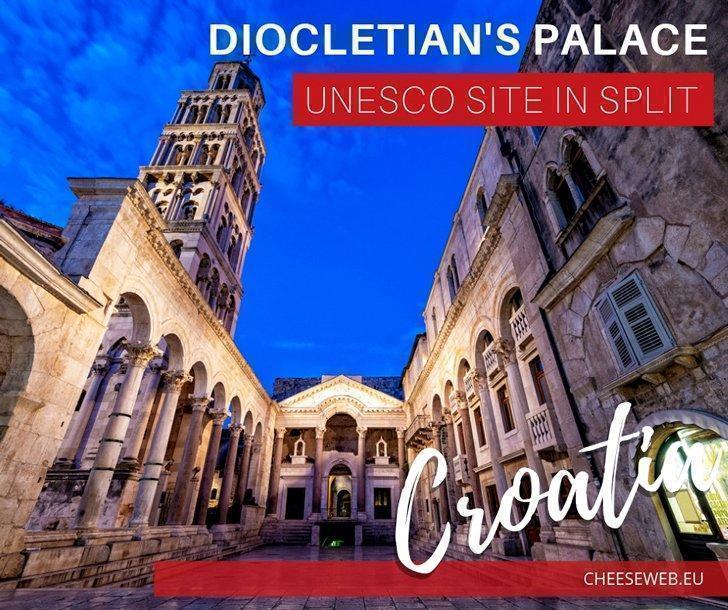 Diocletian's Palace is the heart of Split. Anca shares insights into visiting this UNESCO World Heritage site and other incredible things to do in Split, Croatia including the best day-trips from the city.
UNESCO World Heritage Sites are priorities for cultural travellers, but some are more well-known than others. One monument not to miss is located in the heart of the city of Split, Croatia. Diocletian's Palace has stood for centuries, and it is thanks to this complex the city exists today.
So, let's dive a bit deeper into its history and significance and what you can expect to see there today to show you why you absolutely must visit Diocletian's Palace when you visit the beautiful Croatian coast.
History of Diocletian's Palace, Split, Croatia
Building Diocletian's Palace took about ten years, from approximately 295 AD to 305, some of its details remained unfinished. Nevertheless, the palace served as a retirement residence for the Roman emperor Diocletian, who abdicated from the throne and then went on to live in relative peace in Split.
Now, don't think the word "palace" means just one building. Diocletian's Palace more resembles a small town or a big fortress, with half of it used by the emperor and his court, and the other half housing the soldiers tasked with protecting him.
The fact the whole palace has been so perfectly preserved to this day makes it one of the best examples of Roman architecture anywhere in the world. The cardo and decumanus streets are still perfectly functional and defined, the peristyle serves as one of the main city squares today, and the walls still clearly separate the palace from the rest of Split.
Diocletian's Palace made the UNESCO World Heritage list in 1979, but what makes it unique is, because it has continuously been used throughout these 1700+ years and because Split evolved around it, it also contains examples of Medieval, Baroque, and Renaissance architecture. Therefore, you have a whole lot to explore and visit while here.
Things to Do at Diocletian's Palace, Split, Croatia
Yes, this is a large place for a retirement home. The best way to see it all is to head to the aforementioned peristyle. This monumental court inside the palace comes with some awe-inspiring architecture, so it's a great place to snap a few photos. There are plenty of
tour options available
if you prefer to visit with a local guide.
To the eastern side of the square, you will see a tower looming over you and another building just next to it. The building was first the emperor's mausoleum but was later turned into a church, and the tower next to it is its bell tower, added in 1100 AD. The two are known as the Cathedral of Saint Dominus (Sveti Duje for the locals), the patron saint of Split. Do go and see if you can climb the tower when you get here. The view is simply spectacular.
To the west, you will find what was one a temple dedicated to the Roman god Jupiter, but the building was later turned into a baptistery. In front of it, however, is something impressive – a sphinx brought here from ancient Egypt by Diocletian's request. How cool is that?!
Close by; you will find the smallest street in Split (and possibly even beyond). The locals know it as Pusti me proć, which means something like "Lemme pass!" in the local jargon. A fitting name for a passageway only 57cm (about two feet) wide.
On the southern edge of the peristyle, you will see the stairs leading down to the palace's cellars. Today, they are filled with vendors, so this is a great place to go souvenir shopping, but when the palace was first built they were used to store food and wine. It is interesting to note that the palace was situated right next to the sea when it was built, with Split's modern-day Riva being added much later on.
Buying a ticket for a tour of the cellars will provide great insight into the life in the palace because the layout is a replica of the emperor's residence above. Furthermore, Game of Thrones fans may recognize it, as some of the scenes were shot right here, below the ground! You can even
book a GOT filming locations tour
with a guide.
Go back up to the peristyle and head north. You will quickly reach the Papalić Palace, which now houses the city museum. This magnificent palace from the 16th century is an excellent example of Gothic-Renaissance architecture, which still has its original wooden roof and windows.
The Papalićs were the most powerful noble family in town at that time and passionate humanists, so their house has a lot to offer. By stepping into the courtyard, you will immediately be taken back centuries. The ticket for the museum is not expensive (just a few euros), so you should take some time to explore it and learn about the history Split.
These are only the main attractions within Diocletian's Palace. There are many narrow streets to explore and many other fascinating things to discover.
A lovely detail awaits you just north of Papalić Palace where you will find "Vrtal," a small piece of greenery maintained by the people who live here. Yes, there are traces of residences in the palace even today, so mingle a bit, and you will find many interesting things. If you're not the type to walk around an ancient Roman palace alone, there are
plenty of walking tours available
, and they will show you all the essential sights in about an hour and a half.
Events and Festivals in Diocletian's Palace
Given that Split, as well as the rest of Croatia, has experienced a tourism boom in recent years, there are some fascinating things you can observe while you're here. For example, during the season, the emperor and his wife Priska will appear at the peristyle every day at noon along with their personal guards to welcome everybody and wish them a pleasant stay.
The emperor even has a festival dedicated to him, Days of Diocletian, when he takes to the city streets, and various shows are held out in the open (gladiator combat, anyone?) for everyone to enjoy. The festival is usually held in late August, but you may also come across Roman soldiers all summer long when strolling through the palace, which is another fun photo opportunity.
Should you decide to spend your winter holidays in this Mediterranean city, head to the western gate (the so-called porta ferrea, i.e. the iron gate) of the palace on the days before Christmas and New Year. There you will find "klape," a capella groups singing traditional Christmas songs for everyone who passes by. Klape have a long tradition in Split and Dalmatia in general, and listening to them is a magical experience, especially when you take into consideration the acoustics of these massive stone walls.
Last but not least, if you explore a little, you will be rewarded with pretty bars and cafes in the palace. As mentioned earlier, the city has experienced quite a touristic boom recently, and the locals have adapted accordingly. Grab an
espresso
or a
macchiato
if you want to blend in, or order a refreshing beverage to help you deal with the heat (the summers are quite hot here). Either way, sitting at a table among these centuries-old stone houses while enjoying your favourite drink is a great way to rest after all of the walking.
Apart from the cafes, you can also find great modern restaurants in Split, and many of them have cute little tables for two outside on narrow streets. Imagine having a dinner with your significant other at a place like this: when the night falls, and the lights grow dim, you can get a feeling of what it used to be like when the Roman emperor himself walked these corridors. Try think of a better place for a date; I dare you!
More Things To Do In Split, Croatia
The palace is not the only thing worth seeing in Split, not by a long shot. As mentioned, the city has been inhabited continuously since ancient times, so there plenty of
fascinating things to explore all over Split
. This will become clear as soon as you exit the palace through Porta Ferrea and step into the Pjaca square. In my opinion, this is the prettiest square in the city – it's always busy, but somehow gives out a cosy vibe with beautiful buildings all around it. Also, it's a great place to grab something to eat or drink.
Pjaca is also surrounded by numerous narrow streets that can take you all over the city centre but keep heading west, and in about five to ten minutes, you will reach another beautiful city square – Prokurative. Built in the mid-19th century, it will immediately remind you of St. Mark's Square in Venice. Indeed, the resemblance is uncanny, and you can enjoy a splendid view of the sea because the south side of the square has remained open. A famous music festival takes place here every year, usually late June or early July, so if you're visiting during that time, swing by and enjoy some local musicians.
Best Day Trips from Split, Croatia
Split makes the perfect base for a wide variety of day-trips. Several beautiful little towns surround the city, and the nearby islands have some great places to visit too, as well as some truly spectacular beaches. Here are some suggestions for your day trips from Split:
Trogir, Croatia
Trogir is a magnificent little town less than half an hour away by car from Split. Trogir is famous for its perfectly preserved old town, which has been on UNESCO's World Heritage Sites list since 1997, primarily because of its stunning Romanesque-Gothic architecture. The cathedral here with its unique portal is a must. Trogir is even older than Split since it was founded by Greek settlers in the 3rd century BC.
Brač, Croatia
The third largest island in the Adriatic, Brač hides a true Croatian gem – the town of Bol and its incredible Zlatni rat beach. If you want a real sense of a small Mediterranean town, you absolutely must come here. Perfectly maintained stone houses, great food, relaxing atmosphere… Bol has it all. Zlatni rat will show you the full beauty of the Adriatic Sea. Mind you, Bol is not the only place worth visiting on this island, so renting a car and exploring the is a great idea, too.
Hvar, Croatia
Although not as close as Brač, the island of Hvar is just as pretty, plus you can always expect loads of sun because this is one of the sunniest places in the Mediterranean. Great beaches, plenty of ancient towns and villages, loads of culture, and some truly delectable dishes mean your time on Hvar will be time well spent.
Why Visit Diocletian's Palace, Split?
If you're looking for a splendid example of Roman architecture, you will have a tough time finding a one that can compare to Diocletian's Palace. It has been beautifully preserved, but what makes it unique is the blend of different eras and architectural styles. In a way, it tells the story of Split and its development, and some people still live there today, nestled between the ancient tourist-filled streets. Visitors can enjoy exquisite examples of architecture, culture, history and gastronomy and even meet "Diocletian" himself.
Maybe the most charming feature of this UNESCO World Heritage Site, however, is its narrow streets, so characteristic of Mediterranean towns. Don't worry; you can't get lost, so relax and enjoy exploring this fantastic remnant of an incredible civilization.
Once you're done with the palace, you will still have plenty of interesting things to see in Split. Not only that, but you can also visit nearby towns, many of which go even further back in time, all the way to ancient Greeks. This part of the world is truly a splendid example of everything that makes the Mediterranean such a magical place, so you would do well to set aside a few days (or more) to explore it thoroughly. It will be the best vacation you've ever had.
Hotels Near Diocletian's Palace, Split, Croatia