About Thailand
Population: 68,863,514
Size: 513,120 km2 (198,120 sq mi)
Official Language(s): Thai
Capital City: Bangkok
Time Zone: UTC+7 (ICT)
Currency: Baht (฿) (THB)
Electrical Plug Type: Types A (flat blade attachment plug), B , C (Europlug), & F (Schuko plug)
Drives on the: left
Food You Must Try: Pad thai: If you know only one Thai food it's likely Pad thai, the national dish of rice noodles, eat, lime, and peanut. If you haven't tried Pad Thai in Thailand, you haven't really tried it. 
Flag: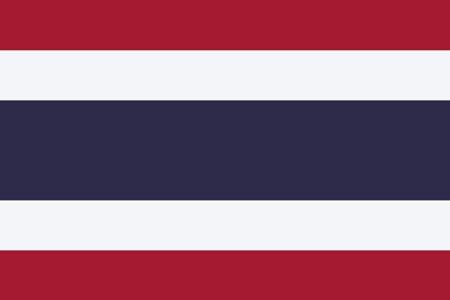 Best things to do in Thailand
UNESCO Sites in Thailand
Sukhothai and its contemporaries (Si Satchanalai and Kamphaeng Phet) were designated UNESCO sites in 1991. Excellent examples of 13th and 14th-century Thai architecture and design, these towns are confirmed to have shared a united politics and infrastructure. Innovations in art and science in this region, during this time, are foundational pieces of Thai culture today. Each town is a national park that is well protected and preserved, because

 of their religious significance to the vast, Buddhist majority of Thailand,

 to offer visitors an insight into Thai life in this era.  
The Thungyai-Huai Kha Khaeng Wildlife Sanctuaries, on the border between Thailand and Myanmar, are essential for the conservation of South-East Asian wildlife, particularly elephants and tigers. Established in the 1970's, this 600,000 hectare World Heritage Property is the largest conservation area on Mainland Southeast Asia and is challenging to access; which makes it well-preserved. The sanctuaries' plant and animal diversity guarantee their uniqueness and rare beauty. Although exploring the park is limited and challenging both due to location and the forest itself; there is a visitors centre, walkable trails, and ongoing research projects – you might even see a tiger track or two.
Top Attractions in Thailand
Fun Facts about Thailand
Thailand is promoted as "The Land of Smiles" by the tourism industry, and Thai people are friendly, but visitors looking beyond the brochure will find a more interesting and nuanced cultural reality.

Thailand was never colonized by a European country. King Rama V (of "the King and I" fame) is known for modernizing and cooperating with European powers to maintain Thai independence.

Most Thai men are ordained as Buddhist monks. Many young people study religion. However, it is more common for men to become ordained. Buddhism is an integral aspect of life for the majority of Thai people; there are over 40, 000 temples in Thailand.

Bangkok is a nickname, the city's real name is Krungthepmahanakhon Amonrattanakosin Mahintharayutthaya Mahadilokphop Noppharatratchathaniburirom Udomratchaniwetmahasathan Amonphimanawatansathit Sakkathattiyawitsanukamprasit, meaning "City of Angels, Great City of Immortals, Magnificent City of the Nine Gems, Seat of the King, City of Royal Palaces, Home of Gods Incarnate, Erected by Visvakarman at Indra's Behest." At 168 letters, this is the world's longest place name.

Logging is strictly prohibited in Thailand due to vast deforestation which has caused the demise of a large area of wilderness and jungle.

According to the World Meteorological Organization, Bangkok is the world's hottest city with an annual mean temperature of 28 degrees Celsius.

In 2016, Mastercard's Global Destination Cities Index ranked Bangkok as the world's most visited city with over 21 million overnight stays.

The Craseonycteris thonglongyai (known as "Kitti's hog-nosed bat" and "the bumblebee bat"), found in Thailand, is the world's smallest mammal.

Thailand is considered safe and is a popular destination for LGBTQ tourists, although LGBTQ Thai continue to experience stigma. Rights for LGBTQ people in Thailand continue to improve with the efforts of activism.

Ubiquitous transportation across Asia, the Tuk Tuk originated in Thailand and is named for the noise the vehicle makes as it barrels through busy Bangkok streets.
Our thoughts about Thailand
Alison says: "We haven't yet had the opportunity to visit Thailand but it is high up on our Bucket List. With the stunning beaches, rich nature, friendly people, and some of the best food in the world, how could it not be?!"