THIS POST MAY CONTAIN COMPENSATED LINKS. FIND MORE INFO IN MY
DISCLAIMER
.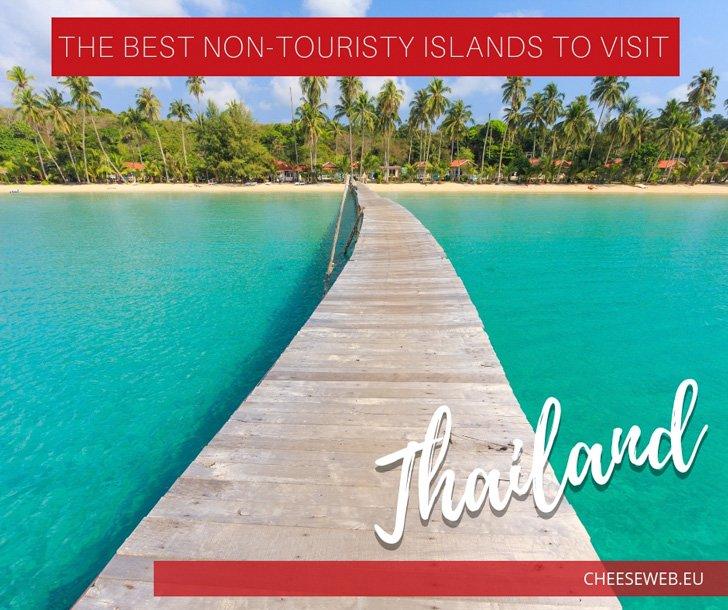 Dreaming of an island escape in Thailand that doesn't include loads of other tourists? Koh Phayam and Koh Kood are two of the best islands in Thailand most tourists don't visit. Judith shares accommodations, restaurants, and things to do on these and more of the best Thai islands to visit.
Phuket, Kho Samui;  They're popular Thai beach destinations everyone has heard of, and though you're sure to enjoy a visit there, it can all start to look the same. It's always busy, and an idyllic beach escape surrounded by nature isn't quite achievable. If you're after a Thai getaway where you can get close to nature and enjoy the beach, minus the masses of tourists, these lesser-known Thai Islands are the perfect alternative.
Koh Phayam, Thailand
If you want to experience what Koh Samui was like 30 years ago, an untouched and undeveloped paradise, visit the island of Koh Phayam. It's remote and peaceful with few buildings in sight. There are very few tourists, no cars, and it's a safe and friendly community.
How to get to Koh Phayam
It's a long trip to Koh Phayam – that's why few tourists visit – but it's well worth the effort for those who make the journey. The best way to get from Bangkok to Koh Phayam is to take an overnight coach from to Ranong, the provincial capital of the Andaman Coast. Alternatively, you can drive four hours from Phuket or two hours from Chumporn.
How to get around Koh Phayam
There are no cars on Koh Phayam island, so it relies on a motorbike and bicycle network. It's certainly a lot of fun, and there are plenty of well-worn tracks throughout the island to guide you. Motorcycle and bicycle hire is quite cheap.
Koh Phayam Accommodation
My pick of places to stay on Koh Phayam is The Blue Sky Resort for an authentic resort experience. It's situated on the edge of a lagoon on the coast of the Andaman Sea and has all the modern conveniences you aren't likely to get at other accommodations. The round thatched bungalows hidden amongst the mangroves are extremely tranquil, and you'll never want to move away from the view. Check the current prices.
Where to eat in Koh Payam
The East Coast of Koh Phayam is where you'll find a large selection of eateries and bars.
If you're keen on seafood, make your way south from the East Coast Village to find a few seafood restaurants with inviting seaside decks; the best way to eat seafood.
If you make your way inland from the pier, you'll find some scaled down seafood options, grilled meats and Thai salads.  You'll also find some good restaurants where the main north-to-south road meets the turnoff to South Ao Khao Kwai.
My recommendation if you are vegetarian or just enjoy vegetarian food is to head to Baan Nam Cha. It's on the main laneway leading from central Ao Yai.
Best things to do on Koh Payam
You can't miss a visit to the Wat Ko Phayam Buddhist temple, while on Koh Payam, and you must take a ride to Ayo Kwan Peeb beach for a spot that's really off the tourist path.
You can kayak through the abundance of mangroves on the island or go birdwatching – keep an eye out for the hornbill.
There's diving, fishing or you can rent a boat and visit the nearby uninhabited island of Koh Khang Kao. Otherwise, simply enjoy the slow pace of the island.
Koh Kood, Thailand
Koh Kood, otherwise known as Koh Kut, is the ideal getaway if you love the beach, the jungle, waterfalls and nature in general. It's quiet here at Koh Hood and doesn't get overly busy. So if that's how you like it, this is your place to kick back and relax.
How to get to Koh Kood
Passenger boats transport visitors to Koh Hood from the mainland pier at Laem Sok, Trat. These boats run throughout the year, but during the mid-May to mid-October season, services are limited. You can also get a speedboat over to Koh Kood from Koh Mak and Koh Chang during high season, or a more comfortable option may be via the new Boonsiri Ferry.
How to get around Koh Kood
The main form of transport on Koh Kood is by scooter because the island is much too big to walk from one point to the other. There are taxis, but these are usually for day tours. The scooters are reasonably priced and will give you more freedom to explore the island.
Tip: Buy your fuel from the petrol station north of the hospital, it's cheaper there.
Koh Kood Resorts & Accommodations
There are over 50 places to stay on Koh Kood, ranging from five stars right through to homestays. If you're looking for a bit of luxury right next to the beach, High Season Pool Villa Resort, Away Koh Kood, Koh Kood Beach Resort and Shantaa Resort are great options. Check Resort Availability here.
If you fancy the Bungalow Style Accommodation, I-Lay House and Mangrove Bungalows are good options.
Where to eat in Koh Kood
You will find some small restaurants on the west coast of Koh Kood, close to most resorts. Seafood is delicious at Ao Yai or Ao Salad, Koh Hood's fishing villages.
Best Things to do in Koh Kood
In addition to relaxing and enjoying the many beaches of Koh Kood, take a scooter trip to the gorgeous waterfalls, particularly Klong Chao, the area's most famous waterfall.
Add to your to-do list a visit to the 500-year-old Makka tree or 'The Big Tree,' a visit to Ao Yai village to take advantage of the beautiful panoramas, enjoy some snorkelling or diving, and visit the 20 metres tall golden Buddha statue at Ao Salad temple.
Other Lesser-known Thai islands to Visit
I could write so much about the lesser-known Thai Islands and their untouched beauty which, I hope, remains for just a little while longer. Here are a few other Thai Islands well worth a visit.
Koh Mak – Great for scenic views, exploring by bike, local Thai cuisine and escaping the busyness of other islands.
Koh Chang – Great for putting your feet up with a cocktail and reading a good book. A tranquil island.
Koh Jum/Koh Pu – Great for those who don't need to be active and are happy to just 'be.'
Koh Bulon Lae – Great for wandering, exploring, swinging in a hammock and if you like a low-key village vibe.
Koh Similan and Koh Surin – Great for those who love an underwater adventure. The archipelagos of these two islands, well northwest of Phuket, are national marine parks with amazing reefs and swim-throughs and jaw-dropping sea life.
Thailand's jungles, beaches, diving, food and affordable prices draw so many tourists every year; it can get busy.
If you're itching for another taste of Thailand's beauty but would prefer it without the hustle and bustle of tourism, I highly recommend you take a worthwhile detour to these Thai islands many tourists don't get to see. It's here you'll experience Thailand like you never have before.
Latest posts by Judith Treanor
(see all)