About Bosnia and Herzegovina
Population: 3,531,159
Size: 51,129 km2 and 19,741 sq mi
Official Language(s): Bosnian, Croatian, Serbian
Capital City: Sarajevo
Time Zone: Central European Time
Currency: convertible mark (marka)
Electrical Plug Type: Type C (Europlug) & F (Schuko Plug)
Drives on the: Right side of the road
Food You Must Try: Ćevapi – Bosnian kebabs: small grilled meat sausages made of lamb and beef mix; served with onions, kajmak, ajvar and Bosnian pita bread (somun)
Flag: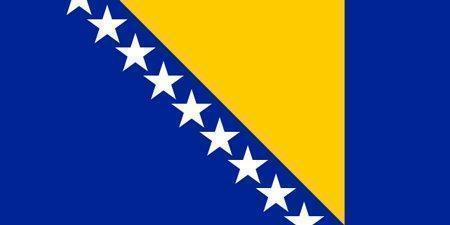 Best things to do in Bosnia and Herzegovina
UNESCO Sites in Bosnia-Herzegovina
Mostar is the fifth largest city in Bosnia-Herzegovina and one of the most important in the Herzegovina region. It was named for the bridge-keepers, or mostari, who guarded the bridge in medieval times. The Stari Most, or Old Bridge, was built in the 16th century by the Ottomans and was destroyed in 1993 during the Croat-Bosniak War. After the war, several international organisations, including UNESCO, formed a coalition to rebuild the bridge and the surrounding area. The reconstructed bridge was inaugurated on 23 July 2004.
The Mehmed Pasa Sokolovic Bridge of Visegrad, built at the end of the 16th century, crossing the Drina River, is a beautiful example of Ottoman-era architecture. This bridge has survived multiple conflicts and has maintained its authentic structure through the centuries.
Stećci Medieval Tombstone Graveyards combines 28 sites located in Bosnia-Herzegovina, Serbia, Montenegro, and Croatia. These cemeteries date from the 12th to the 16th centuries. The tombstones have a unique style that was used for all three medieval Christian communities and are representative of spiritual art and the folklore of the time.
Top Attractions in Bosnia-Herzegovina
The conflicting images of Bosnia are breathtakingly bizarre, reconstruction, vibrancy, people getting on with their lives amongst bombed out shells of churches and cemeteries full of casualties of war.
Počitelj: Added to the list of the world's 100 most endangered cultural heritage sites in 1996, by the World Monuments Watch. In 2000, the government of Bosnia-Herzegovina started a reconstruction project and encouraged Počitelj's refugees to return home.
The Blagaj Tekke is a Sufi monastery, guesthouse and mausoleum built by the Ottomans. The site has been nominated for UNESCO status, on the basis of its historical
ARK (Atomska Ratna Komanda, Atomic War Command) D-0: Now home to a biennial contemporary art exhibition, this relic buried in a Bosnian mountain was built to house Yugoslavian dictator, Tito. The bunker took over 25 years to make and was said to have claimed many lives in its construction.
Kravice Waterfalls and Štrbački Buk: Both of these natural wonders boast impressive cascades. "Down a ramp, we ambled, into a broad bowl, falls cascading on all sides. Locals splashed about in relief while the young and brave leapt dramatically from the heights."
Sarajevo Tunnel (or Tunnel of Hope): Constructed to connect Sarajevo to other Bosnian territory during the war, the entrance to the Tunnel has been preserved as a museum. A private museum, visiting the tunnel provides a small window on what living in the besieged city may have been like during the war.
Fun Facts about Bosnia and Herzegovina
Medjugorje: In 1981 a group of young people in this hillside village claimed to have witnessed the Virgin Mary. Since then, it has become a pilgrimage for Catholics.
The Marka: Bosnian currency can't be exchanged anywhere else in the world, so if you've got it, you can't take it with you!
Although the war has been over for many years, Bosnia-Herzegovina's landscape remains tarnished with landmines. It is estimated there are over 200,000 unexploded mines across the country. Visitors should be aware of and follow local directions and stay on established paths.
Sarajevo was the first European city with an electric tram in regular service.
Bosnia-Herzegovina has a jungle! Perućica is a primeval forest, and although small in size compared to the Amazon, it is dense and lush.
Bosnia-Herzegovina is known as the "heart-shaped country" for its nearly-coronary likeness.
The Sarajevo Sahat Tower is a clock that keeps lunar time.
Three official languages: you may hear Bosnian, Serbian, or Croatian during your visit but don't worry, if you don't understand one, you won't understand the others – they're quite similar.
Bosnia-Herzegovina may already sound as though it's two distinct regions, and you'd be right to think that, but Bosnia-Herzegovina is one of them, and the Republic of Srpska is the other.
2014's World Cup was the first time that Bosnia-Herzegovina played at a major football tournament
Our thoughts about Bosnia and Herzegovina
Alison says: "We've only had a one-day taste of Bosnia and Herzegovina but it was enough to leave us wanting more. While staying in Dubrovnik, Croatia, we organised a day-trip up the Croatian coast, before turning inland into Bosnia.
Our first stop was Počitelj, where we hiked up the hillside town, into the ruins of the citadel for a stunning view. From there, we continued on to Vrelo Bune, the source of the Buna River. Our final destination was the UNESCO designated city of Mostar, where we crossed the famous bridge and had a fantastic meal of traditional Bosnian cuisine. Would we go back? In a heartbeat!"
Photo Credits:
Photo 1: Alison Cornford-Matheson
Flag: By Kseferovic – Own work, Public Domain, Link
Photo 2: Alison Cornford-Matheson