THIS POST MAY CONTAIN COMPENSATED LINKS. FIND MORE INFO IN MY
DISCLAIMER
.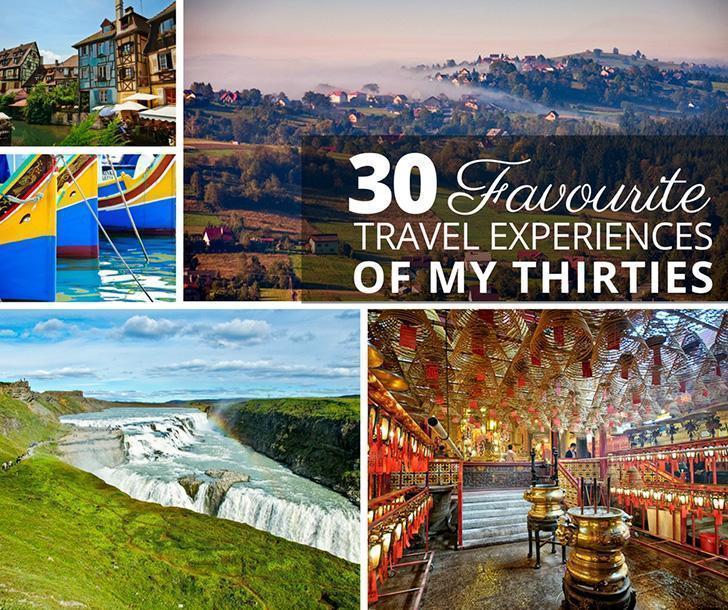 To celebrate my 40th birthday, I'm sharing the 30 best travel experiences I had during my thirties covering Europe, Africa, and the Americas!
I just celebrated one of those ominous birthdays ending with a zero. Although I'm never thrilled about getting older, I will say I'm not nearly as upset about turning 40 as I was turning 30. That could be because, overall, my 30s were my best years so far. That's not to say there weren't hurdles along the way; (the past year-and-a-half and losing my father has been particularly tough.) But, during my thirties, I became much more in tune with my personality, my career, and what I want out of life. This self-realisation has not only made me feel a lot more comfortable in my own skin, but it's also helped me understand what's most important to me – family and friends, travel, and sharing my world through words and images.
CheeseWeb also found itself during my thirties. Although it's been online since 2004 (!) it wasn't until 2010/11 I began to take it seriously and carve out my travel writing career. Just like me, CheeseWeb has evolved over the past ten years and looking back over the early posts to write this piece was eye-opening to just how far we've both come.
Over the next three posts, I'm going to share a series of my favourite experiences from my thirties in travel, food, and, because most of my thirties were spent in Belgium, I'll have a special post dedicated to my adopted home. So to begin, today I'm sharing (in chronological order) my 30 favourite travel experiences of my thirties.
1. Celebrating my 30th Birthday at La Benjamine, Monein, France (February 2007)
I may not have been looking forward to turning 30, but I got to do it in style. We had fallen in love with La Benjamine, its hosts (who became dear friends over the years), and the Aquitaine region of France (now part of Nouvelle-Aquitaine) the previous year when we passed through with Andrew's parents. As a surprise, Andrew booked a week's escape for my birthday.
The week was also pivotal because it marked the next phase of my obsession with food. In my twenties, I was still pretty closed off to eating certain things. My trust in Cedric and his cooking allowed me to open myself to try things I would never have imagined eating before; blue cheese, venison, and even pig's trotters. I can think of no better way to kick off an era; Amazing food, friends, and scenery.
2. A Weekend Escape in Valladolid, Spain (June 2007)
Our weekend in Valladolid was memorable for a few reasons. For starters, it was the first time we discovered the magic of low-cost airlines in Europe (a magic later clouded by excessive baggage fees and frustration, but nonetheless…) We booked the trip on a whim, at the last minute, and it was the first time I did nearly no research on a destination before visiting. It was also one of the first times we were really challenged by language. Neither of us spoke any Spanish at that point, and little English was spoken in Valladolid back then. Despite this, we had a lovely, relaxing weekend with zero expectations. My most memorable moment was realising none of the words on my Spanish menu were listed in my guidebook (yes, this was pre-smart phone apps) and choosing something at random from the list. It was delicious, and despite the lack of common language, we had a great chat with the owner.
3. Falling for San Francisco, California (August 2008)
In the summer of 2008, we completed a marathon North America trip, combining a trip to Eastern Canada to visit our families with a work trip to California for Andrew. It was my second trip to California, and Andrew's first and both of us fell for colourful, quirky San Francisco. It didn't hurt that Andrew's former boss and his husband hosted us in grand style. We visited galleries, ate, drank, rode the trollies, cruised through the hills and ate and drank some more. It was the first of several trips to the city and our realisation that if we absolutely had to move to the US someday – it would definitely have to be to San Francisco.
4. Exploring Malta with my Parents (October 2008)
In the autumn of 2008, my parents came to visit us in Belgium for the second time. (Their first visit was in 2006 before I hit thirty.) While the entire trip was pretty memorable, my favourite part was our time in Malta. It was the most different of all the destinations we had visited thus far and, oddly, I never wrote about our time there. We toured the island top to bottom by bus, sailed around the island by boat, and even travelled underground to some incredible archaeological sites. I took one of my favourite photos of my Dad there, and whenever I look at it, I think of that special trip.
5. Learning We Actually Like Vegas (January 2010)
2010 was the year of Las Vegas with Andrew being sent there twice for work. What was eye-opening was we actually enjoyed ourselves there. Vegas had never been on my list of places to visit, but the glitz and glamour were a lot of fun (at least for a limited time.) It's an incredible foodie city and, if you like stage shows, nowhere else compares. Again, it didn't hurt that our San Francisco friends were there and they introduced us to more new friends. (There's nothing better than having local guides when you travel.) Our new friend took us outside the city limits for a little hiking and photography in Red Rock Canyon, and we vowed to return. We just didn't think it would be so soon. (See #7)
6. A Photography Safari in Sardinia (April 2010)
Aside from our respective work trips, Andrew and I almost always travel together. But with all the travel he had been doing solo for work, I couldn't resist temptation when a photographer friend of mine in Belgium asked if I'd be interested in going on a trip with her. We chose the north coast of Sardinia, one of Italy's islands, because it was relatively cheap to get there and because it was warmer (and drier) than Belgium. It was a lot of fun to travel with another photographer and nice not to have to feel guilty about spending sunrise and sunset shooting. While it wasn't yet warm enough to enjoy swimming in the turquoise waters, we had those white sand beaches all to ourselves.
7. Hiking a River in Zion National Park (August 2010)
August 2010 found us back in Vegas for another conference for Andrew. This time we were excited to check out more restaurants and get off the strip. Our new Vegas friend asked if we'd be interested in taking a few days to go to the Grand Canyon and Zion National Park. We didn't have to consider our answer for more than a second. While we both were in awe of the Grand Canyon, my favourite part of the trip was hiking the Narrows in Zion. It was August and blisteringly hot so what could be better than walking straight up an ice cold river. It was spectacular.
8. Celebrating at a Polish Mountain Wedding (September 2010)
One of my favourite things about living in Brussels was the cultural diversity of our social network. When our friends, a Polish and Belgian couple, decided to marry, we had the perfect opportunity to visit Eastern Europe for the first time. We had a great weekend exploring Krakow, stuffing ourselves with pierogi, and visiting the UNESCO-listed Salt Mine before the main event, but the highlight of the trip was the wedding itself. The stunning setting in the Silesian Beskids Mountains was breath-taking and the tiny painted church was perfectly picturesque. The wedding celebration was unlike any other. From roughly noon until 3am we ate, drank, and danced. Then we woke up in the morning and hiked over a mountain to visit a village festival. Magic.
9. Relaxing in Vouliagmeni, Greece (October 2010)
Although we travelled extensively from our first days in Europe, 2010 was the year that set an almost unrelenting pace for the next five years. We loved (almost) every minute of the travel but it was exhausting too. Greece was somewhere we had both always wanted to visit so when the opportunity came up for a relaxing off-season long-weekend outside of Athens, we jumped on it. Our beach resort was peaceful with the season winding down. Despite our reservations about visiting Athens, we both enjoyed our day trip into the city. We rented a car and spent a day exploring the coast and had a temple entirely to ourselves. We had always been fans of off-season travel, but that was the trip that solidified it for us.
10. Living My Dream of India (March 2011)
Ever since I can remember, I've been obsessed with India. It was the place I wanted to visit more than anywhere else. In March of 2010, Andrew had the opportunity to visit Bangalore for work and we added on a week of vacation. We had a gracious invitation to stay with friends, giving us an insider's look at life in Bangalore that was priceless. I won't lie; India was hard, but still one of my favourite travel experiences of all time. Although Bangalore was fascinating, the highlight of our trip was our quick visit to Kerala where we stayed in a gorgeous resort (and scored an unforgettable upgrade) and toured the Backwaters by houseboat. I am more than ready to go back to India and see more of this magical country.
11. Road-Tripping Through Ireland (May 2011)
In the first half of our time in Belgium, it was usually Andrew who was jetting off to places I had never been. However, by some odd twist, I had been to Ireland three times before him. That all changed when I won a night's stay in a castle in Ireland as well as entry tickets to a variety of attractions. We decided to use the opportunity to do a week-long road trip through Southwest Ireland. The weather was wet and chilly but we still had a fantastic time driving along the epic coastlines. We ate a 'medieval dinner' in a castle and I got to visit Kylemore Abbey; a destination I was intrigued by since my university days.
12. A Weekend Break in Alsace (June 2011)
During our first years in Europe we made numerous trips to France, but we always headed south; Pau and Avignon being two frequent destinations. In June of 2011, we decided to explore Alsace in the Northeastern corner of the country (Now part of the region of Grand Est). We detoured through the town of Bitche because the name amused us and spent several nights in Strasbourg. We loved the architecture and the food (you'll see why in my food experiences post). Before heading home to Brussels, we spent a day driving through the Alsatian wine region, stopping in Colmar for lunch. Colmar was picture-perfect and remains one of my favourite towns in France.
13. Two Unforgettable Stop-Overs in Iceland (August 2011)
We jokingly refer to 2011 as our year of I's as our three big trips that year were to countries that start with I. The final of those trips was to Iceland, and it only came about because of a unique layover opportunity. When searching for the best price on our annual flight home to Canada, we discovered good deals through Iceland Air. Not only were the tickets affordable, but we could take a layover in Iceland for up to a week. On our way to Canada, we took advantage of the 9-hour layover to relax in the Blue Lagoon geothermal spa. It was the best layover we've ever had. On the way back to Brussels, we extended our stay in Reykjavik for a few days. We spent a day touring the city itself but the highlight was renting a car, so we could drive the Golden Circle. We took in some of Iceland's impressive natural wonders from waterfalls to geysers. It was an unforgettable country and one we're still hoping to return to visit again.
14. Deciding We Could Live in La Rochelle (September 2011)
In early September of 2011, we attended our second multi-cultural wedding of friends we met in Brussels. This time it was an American friend marrying her French guy in Rochefort, a town in Charente-Maritime. The wedding was one of the most fun we've been to (with fantastic food), but our best travel memory comes from the day we were heading home. We decided to detour through La Rochelle, on the advice of the bride, and we spent the morning exploring this coastal city. When we travel, we always ask each other 'Could we live here?' in an off-hand sort of way. With La Rochelle, however, the answer was a resounding YES from both of us. We were happy to confirm (in 2015) this feeling still held true when we revisited La Rochelle. This is one city we know we'll return to again and again.
15. Realising You Can't Always Trust the Media in Athens (February 2012)
We were excited when Andrew learned he had to visit Athens again for work in February of 2012. We loved our first visit and chose a hotel in the city centre as we were eager to see more, especially the famous Central Market. Days before we were set to travel 'rioting' and 'protests' broke out as Athens dominated European media. Needless to say we were nervous. Arriving in the city we noticed a heightened police presence but little sign of the 'chaos' the news had warned of. The only 'protest' we witnessed during our stay was a dozen bored picketers dotting the square during the changing of the guard. They looked more like they were picnicking than picketing. The experience gave us a new outlook on how situations and destinations are portrayed in the media.
16. Exploring Dubrovnik and Mostar in the Off-Season (March 2012)
Another month, another work conference for Andrew, and there was no way I was letting him visit Croatia without me. Dubrovnik is over-run by day-tripping cruise ship passengers throughout the summer, but in mid-March, we had the historic centre almost entirely to ourselves. We rented a lovely little apartment from a Canadian woman who had married a Croatian. Said Croatian offered to take us on a day trip to Bosnia. How could we refuse? With images of the war still firmly entrenched in our heads, we travelled to Mostar. While signs of the conflict were still in evidence, we could see how the city was rebuilding itself around tourism. We had a fantastic local meal before heading back and ended the day at a wine bar in the centre of Old Town Dubrovnik.
17. Beginning a Love Affair with Andalusia (April 2012)
In April of 2012, my parents visited us in Brussels for the third and final time. We decided to base our adventures in Southern Europe to take advantage of the ideal spring temperatures. We flew to Lisbon, Portugal, where we spent a few days before renting a car and circling the Andalusia region of Spain. Little did we know it was the beginning of many trips to the area. We saw the highlights of Malaga, Granada, Seville, and Ronda, but it was the white villages in the hills and picture-perfect Cordoba that stole our hearts. Returning to visit Cordoba during the annual Festival of Patios is still high up on my bucket list.
18. Exploring Colourful Copenhagen (July 2012)
2012 was a big year for visitors to our little flat in Brussels. In July, one of my best friends from home arrived and we planned a multi-stage trip through Europe. It's hard to choose my favourite among the many memories we made that summer, exploring Paris, Berlin, Budapest (which you'll see again in my foodie memories) and Brussels together. But it was our time in Copenhagen, with Andrew, that stands out as being the most laid-back, unplanned, and surprising destination of our travels. We took the requisite boat tour, experimented with public transportation, and walked – a lot. We also ate very, very, well.
19. Uncovering the Contrasts of Hong Kong (April 2013)
Our travels in 2013 were curbed somewhat as Andrew was busy with the final year of his MBA. The one benefit was his class trip to Hong Kong. Until this point, our only experience with Asia had been India, which is really a different beast altogether. Hong Kong, like Las Vegas, was never high on my list of places to go, but, also like Vegas, I loved it once we got there. While I enjoyed every aspect of our trip, it was the contrasts of this mega-city that impressed and fascinated me the most. I also loved the colourful markets and our somewhat complicated trek to visit the Ten Thousand Buddhas. The whole place was a photographer's paradise.
20. Discovering the Wilds of Malaysian Borneo (April 2013)
Because we were flying halfway around the world to get to Hong Kong we decided to take an extra week and visit somewhere else in Asia. Because we had limited funds, we looked at the cheapest flights we could find and came up with three contenders. Kota Kinabalu was the one we knew the least about. However, visiting Borneo sounded exotic, so we booked our flights. KK itself was a lovely little city and we enjoyed visiting the market and finding fun new foods to eat. But it was our excursions to the jungle that were the highlight of our trip. Originally, we were only going to do one day-trip to visit the Orangutan Rescue Centre on the opposite side of the island, but we enjoyed visiting the jungle so much we made two more excursions; one to the UNESCO-listed Kinabalu Park and the other, a boat trip to see monkeys and fireflies. Like many of our favourite destinations, we had no expectations for Malaysian Borneo but we would return to visit again in a heartbeat.
21. Having Chance Encounters in Umbria (May 2013)
It still amazes me how some of my best friendships began with random emails. One of those emails was from an American woman who was travelling to Brussels with her family and looking for advice. We chatted back and forth and hit it off. So much so, I was disappointed I wouldn't be in town when she visited. She invited us to come and visit the tiny town of Spello, Italy before they returned to the US and I told her we might just take her up on it. Long story short, we did, and we saw exactly why she and her family fell in love with this little village and Umbria in general. Another chance email and invitation landed us a wine tasting, a castle visit and a tour of Siena with a local on the same trip. The whole experienced reinforced how good things can happen when you're open to taking chances.
22. Going Back to the Land in Latvia (September 2013)
Never one to turn down an invite to travel, especially to a new country, when my Latvian friend in Brussels asked if I wanted to join her on a visit to her Grandma, I jumped at the chance. I loved touring cosmopolitan Riga with my local guide but the highlight of the trip was heading out to the countryside. Her Grandma's summer home was beautifully back-to-the-land with no running water indoors but a bountiful garden in full bloom. We ate garden-fresh vegetables under the shade of the apple tree in the back yard and did shots of vodka. Somehow Grandma and I hit it off, while she spoke only Russian and my friend played translator. We walked in the forest and to the pristine beach and I fell in love with a village whose name I still can't pronounce.
23. Finding my Career in a Tuscan Castle (November 2013)
I struggled to identify myself from a career standpoint throughout my 20s and early 30s. I had studied both journalism and photography but never felt entirely comfortable with either title. In 2011 I decided I wanted to be a travel writer and put my full energy into CheeseWeb and travel writing for other media. While I had my writing and photography published in travel media before 2013, I still had trouble calling myself a travel writer. It wasn't until I found myself in a hired car being driven from the airport to a resort in Tuscany called Castelfalfi that it sunk in. Someone invited me to come here to write about their property and paid all of my expenses because they believe I have something of value to say and I've built an audience worth telling. The trip was also memorable from a foodie point-of-view (which I'll share in the next post) but that moment in the cab was a turning point in how I viewed myself, my career, my website, and my abilities and value.
24. Making Lemons out of Lemonade in Morocco (January 2014)
Not every travel experience is memorable for good reasons. On the surface, a month in Morocco with two of our favourite people seemed like a dream come true. The trip, however, was doomed from the start. Before we even left Spain to catch the ferry, Andrew was called back to work. It should have been a sign of things to come. We were plagued with internet issues, budget problems, injuries, bad weather, and bad decisions. But, despite all of the downsides, I do look back on that month with fondness. We managed to get a lot of projects done, laugh a lot, and come out the other side with an even stronger bond with our friends. Not to mention we have some great stories to tell; just none that are fit for print.
25. Going on Assignment in Egypt (March 2014)
Hot on the heels of my trip to Morocco was another trip to Africa, and after our trials, in Tangiers, I was less than excited. Despite its incredible history, Egypt was never high up on my bucket list, but I wasn't turning down a paid assignment. My trip was only three days, but it felt like I packed a month's worth of activities in them (just none of the sleep). I was on assignment for AFAR magazine and USTOA on an Abercrombie & Kent tour. The trip was excellent if exhausting and blew away my preconceived ideas about both Egypt and package tours. (A&K completely changed my mind about the later.) Despite the complications of being a travel writer in Egypt (The other media and I had to file paperwork and have minders for the duration of the trip) it was an incredible experience and well worth the lack of sleep.
26. Finding the Good Life in South Tyrol (May & December 2014)
We love visiting off-the-radar destinations, especially if they involve great food and wine. Throw in a couple of world-class spas, and we may never leave. So when the opportunity came up to work with a farm-stay company in South Tyrol (and we had to look at a map to see where that was), we were all in. We drove from Brussels to Northern Italy in May of 2014 to discover the wine road. We fell in love with the landscape in the Dolomite Mountains, the delicious food, the warm people, and of course the wine. South Tyrol was one of those destinations we could see ourselves living in for a while. So when we were invited back in December to discover the spa culture we didn't have to think twice. South Tyrol remains one of the destinations we talk about again and again, and yes, we would still consider living there.
27. Relaxing Amongst the Stones in Brittney (August 2014)
2014 was a busy year for travel, but it was all for work or with other people. In August we decided we needed a low-key getaway for just the two of us – and no press trips. We decided to explore a little corner of Brittney, France, where we could enjoy the sea, some seafood, and hopefully some nice weather. We chose our location based on the great reviews we read about a B&B. It wasn't until we made reservations and I started doing a bit of research; I discovered we'd be near the Carnac Alignments, the world's biggest megalithic site. The stones were fascinating; The weather was great; We ate some fabulous seafood, and the Carnac Lodge lived up to the hype. Mission accomplished.
28. Finally Getting to Romania (April 2015)
Andrew jokes I draw two cultures to me: Indians and Romanians. It's true, I have multiple friends from both backgrounds, and I think it's because they are the two countries that have always fascinated me. Having achieved my goal of visiting India, in 2011, Romania shot to the #1 slot on my bucket list. However, the opportunity to visit never occurred. Finally, a month before we were set to leave Brussels, I had a chance to visit Bucharest for a digital media conference. My time in Bucharest was just a small taste, but it was more than enough to keep me interested. Slow travelling through Romania is still high up on my bucket list.
29. Living Our Dream in Amelia (May 2015)
It's impossible to choose one travel experience on this list that stands out above all the others (that's why I listed them in chronological order). It's equally impossible to choose one, or even a dozen, single moments from our motorhome adventure in France that stand out more than the rest. Achieving our dream of living in a motorhome in Europe was one of the hardest and most rewarding things we've ever accomplished, especially since we had to accelerate our plans by a year. Looking back with hindsight I know that if we hadn't left a year early it wouldn't have happened at all, which solidifies my resolve to make the best of every opportunity that comes my way. The six final six months before we left Brussels were tough – extremely tough. We had to find a motorhome, get rid of most of our belongings, plan our trip, negotiate with tourism boards, and pay off our debt, all with next to no money and while still trying to work. But driving away from Brussels on the morning of April 30th knowing we did it made it worth the struggle. The first few weeks of our journey were tough; we even ended up coming back to Belgium for repairs. But our motorhome breakdown was nothing compared to my own mental breakdown. I was exhausted, I was terrified we had no backup plan, and I just didn't know if we could make it work. But make it work we did. There were still some difficult moments along the way, but those three months in France solidified our resolve to live life minimally, with as little impact on the planet as possible, travelling slowly when we can, and living life on our terms. Also, we could totally live in France.
30. Finding France in South America (July 2015)
When we were planning our motorhome adventure, we spent a lot of time in discussions with various tourism boards, in particular, Atout France in Belgium. 2015 was the year they were promoting tourism to the Overseas Territories, and they asked if I'd like to take part. I agreed, thinking I'd be sent to a Caribbean island, only to learn my Overseas Territory was in South America. While there were some challenges in getting from rural France to Paris for my flight, my time in French Guiana was unforgettable, thanks mostly due to my fantastic local guide. I still think often about my week there, and it's impossible to choose one highpoint of the trip: swimming in the Amazon, or watching a rocket launch, or seeing a sloth or toucans in the wild, or visiting a Laotian village… The contrasts and diversity of this little territory are mind boggling, and I would return in a heartbeat.
BONUS: Rediscovering Home (August 2015 – Present)
As our regular readers know, August 2015 was when I learned of my father's cancer diagnosis, and we decided to return to Canada. While the reason for our return was the worst I can imagine and I miss my Dad every day, we will continue our travels whenever possible, knowing it's what he would have wanted. Over the past year and a half, we weren't able to travel far, but we were able to discover my home province with new eyes. Falling in love with New Brunswick was, admittedly, unexpected – but not surprising given my love of under-rated destinations.
I honestly don't know how much travel my 40s will hold. Long gone are my days of thinking anyone can travel at any time. It could be another decade of global adventures, or we could find ourselves caring for family or even ourselves. If I've learned anything in my 30s, it's that we have the ability to adapt to our circumstances, whatever those may be. While my wish is that everyone I hold dear remains healthy and independent and we're free to travel far and wide if that's not the case I know we'll find a way to work through it. I have so much to be thankful for, not the least of which are the amazing memories I was able to make over the past ten years and the special people in my life that helped make those memories happen.
Latest posts by Alison Cornford-Matheson
(see all)
Read more from this series...
The 30 Best Travel Experiences of my 30s