THIS POST MAY CONTAIN COMPENSATED LINKS. FIND MORE INFO IN MY
DISCLAIMER
.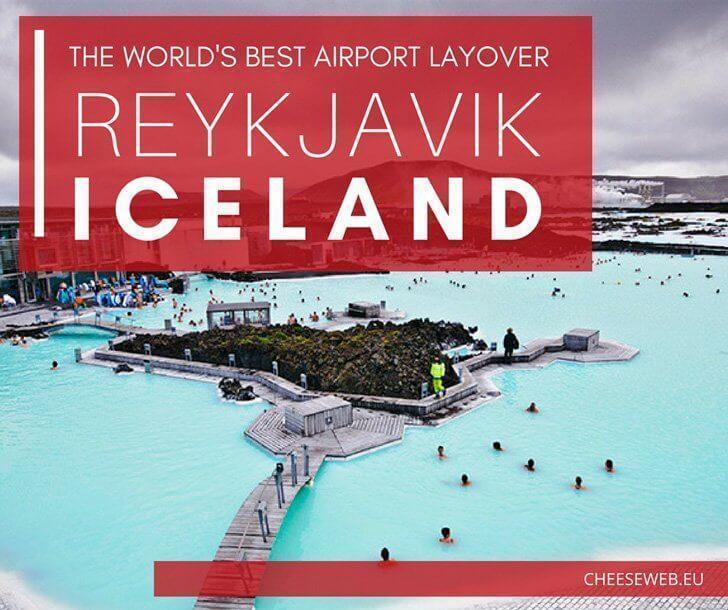 We share why Reykjavik, Iceland's Keflavik Airport has the world's best airport layover and share the top things to do in Reykjavik including the Blue Lagoon Geothermal Spa.
[Update 2018: I wrote the first version of this article back in 2011 after our trip to Iceland when tour options were limited.
The country has since become a wildly popular tourist destination and the options for day-trips and Iceland tours are seemingly endless. I've kept this article up-to-date and expanded it due to its popularity and my desire to return to this incredible country.]
Usually, when I'm booking airline tickets, I look for flights without layovers. There's nothing worse than waiting around an airport for hours for your connection, unless it's running, breathless, from one terminal to the next, before your gate closes.
But this summer, when flying from Brussels to Halifax, Canada, we had an incredible layover. In fact, it was so good; we're hoping to do it again on our next transatlantic flight.
The Best Way to Fly Between Canada and Europe – Icelandair
What could be so great about a nine-hour layover?
How about spending it in a thermal pool, surrounded by incredible scenery, with access to a swim-up bar? Where is this magical airport you ask? Reykjavik, Iceland – my new favourite transatlantic layover destination.
Andrew and I always look forward to our trips home to Eastern Canada. What we don't look forward to are the flights. We usually travel with Air Canada, and on a good trip, we fly from Brussels to London to Halifax.
But, you know how it goes when you're trying to save money. The more direct the flight, the more expensive it is. Often we end up flying from Brussels to Frankfurt to Montreal to Halifax. By the time we arrive, we feel like we've been travelling for a week.
This year, I heard that Iceland Air was reviving its flight to Halifax and, as I had always wanted to go to Iceland, I was curious how much more expensive it would be. I was shocked to discover it was slightly cheaper than Air Canada and we would only have one connection.
Nine hours is a doozy of a layover, so I started researching what we could do with our time at the Reykjavík-Keflavík Airport. That's when things started looking even better.
You see, Icelanders are smart. They knew they had a captive audience and decided to make the best of it. They did two clever things to attract transatlantic tourists and their tourism dollars and Euros.
First, there are a number of companies offering transfer services that will pick you up at the airport and take you and your carry-on baggage on one of several trips. The first excursion will deposit you in central Reykjavik, where you can spend the day sight-seeing. The second trip, the one we opted for, took us to the Blue Lagoon. There are also Northern Lights excursions and multi-day packages if you are staying longer.
One of the great things about these layover excursions is you don't have to worry about your luggage, as it is all safely checked through to your final location. Your carry-on bags can either be stuffed into your locker in the changing room of the Blue Lagoon, or a separate locked storage facility run by Reykjavik Excursions.
But I said Icelandair did two smart things. Here's the second. You can turn your layover, into a stopover of up to 7 days – for no extra cost. So, on our return flight to Brussels, from Halifax, Andrew and I were able to stay in Iceland for four days of sight-seeing before we continued on our way home. (Read about our amazing day in Thingvellir National Park).
Here are just a few of the tour options you can enjoy while staying in Reykjavik:
So with cheaper flights than Air Canada, the Icelandair flight must have been pretty bad right? Wrong! We had better service, food, and more space than we usually do with Air Canada. The ground crew at Reykjavik Airport were efficient and helpful too.
In fact, the only hiccup of the entire layover was a bit of confusion about the Reykjavik Excursion buses. Our only complaint was it wasn't entirely clear where to wait and which bus to take. Luckily we asked a few of the drivers and found where we had to be.
What To Do On A Layover in Reykjavik
Spend Your Layover at the Blue Lagoon
What could be more relaxing than spending your layover soaking in healing waters? The Blue Lagoon is an incredible geothermal spa. To whet your appetite here's a little video Andrew made of our day there.
Icelanders love their geothermal waters. And so they should – 87% of their buildings are heated by this natural resource, with plans to make Iceland 100% fossil-fuel free shortly.
While hot water powers the nation, it also powers the people. Icelanders spend a significant percentage of their leisure time soaking in the many geothermal pools dotted around the country.  If you visit Reykjavik, you should check out some of the local pools, for an authentic taste of Icelandic bathing. But don't rule out the Blue Lagoon, as a great way to spend your layover.
It's true; you'll find way more tourists at the Blue Lagoon, than locals with the popularity of day trips from Keflavik airport. But don't let the other tourists scare you off. After all 400,000 visitors a year can't be wrong.
The facilities are incredibly clean and well maintained. The change-rooms are enormous, with plenty of space to store your belongings. Skincare products from The Blue Lagoon's line are available in the showers, and it is possible to rent towels, bathrobes and even bathing suits if you don't have your own.
There is a large and airy cafeteria on site.  While you enjoy a drink or snack, you can watch the activity in the thermal pools.  Or you can dine in the LAVA Restaurant, where fine-dining menus feature local ingredients.
For me though, the Blue Lagoon is all about the water. First, let me say, it is really that blue. The colour is the first thing you notice when you arrive.
Second, there is very little smell. I had expected it to be somewhat sulphurous, but that wasn't the case.
The water averages 37–39 °C (98–102 °F), which feels perfect compared to the brisk outside air. The bottom of the pool is sandy in places and smooth lava, in others. As you float around the pools, there is plenty of room to escape the other bathers, as the irregularly shaped lava formations have plenty of nooks and crannies.
The six million litres of water is incredibly clean. Water is renewed every 40 hours and bacteria can't thrive in the silica and sulphur rich water.
Speaking of silica; wooden boxes filled with the Blue Lagoon's silica mud are scattered around the pool-side. Slathering this on your skin and letting it dry, is supposed to exfoliate and rejuvenate your skin.  Our skin did feel softer after the process, even if we felt a bit silly.
If floating around in the pool isn't enough to keep you entertained, you can also spend time in the sauna, steam bath, waterfall, relaxation area, or visit the swim-up bar. You can even get in-water massages and other treatments.
Needless to say, after a day at the Blue Lagoon, we felt relaxed and renewed. Because the flights were divided into four-hour segments, our bodies had more time to adjust to the time difference too. It was the first time we flew transatlantic and didn't suffer from jet-lag.
Explore Reykjavik, Iceland on a City Tour
Reykjavik is a compact capital city. It's easily walkable and you can see many of the highlights in a day-trip. (We'd, however, recommend spending a few days there if you can.)
If you plan to explore Reykjavik on your own, make sure you pick up the Reykjavík City Card for free admission to the cities museums and 7 geothermal pools around the city. The card also includes public transportation, but many users find the system cumbersome and it's easy to get around Reykjavik on foot.
If you'd like to learn about Reykjavik from a guide, there are a number of options. As with most major cities, you'll find the ubiquitous Hop-on-Hop-off bus tour. The ticket lasts for 24 hours and the bus will take you to all of the main tourist attractions in Reykjavik.
For a more personalised tour, try the 3-hour city sightseeing by minibus. Tours are available in English most days, with German, French, and Scandinavian options on specific days of the week.
If you prefer to explore on foot, there is also a 3-hour walking tour that covers many of the same Reykjavik points of interest.
For a completely unforgettable way to experience Iceland, you can even take a Helicopter Tour of the geothermal springs and mountain ranges. Magical!
The Top 10 Things to do in Reykjavik
1. Hallgrimskirkja
The Hallgrimskirkja or Hallgrims Church dominates the Reykjavik skyline. Construction on this Lutheran church began in 1945 and wasn't completed until 1986. The interior is quite stark, but dramatic. You can ride the elevator to the top of the clock tower for a breath-taking view of the city.
2. Museum of Photography
The tiny Museum of Photography is located on the upper floor of the library and is free to enter. It houses both contemporary exhibition and historical photos, which give a unique glimpse into the city's past.
3. See the Saga Manuscripts
The Culture House houses medieval Edda and Saga manuscripts. These tell the tale of Iceland's history and give an insight into the country's cultural heritage.
4. Einar Jonsson Sculpture Garden
Located behind the Einar Jonsson gallery, near the Hallgrimskirkja, this peaceful garden is worth wandering through. Jonsson's sculptures draw from spirituality and mythology and his use of the human form is striking. If your interest is piqued by the free sculpture garden, you can also visit The Einar Jonsson Museum.
5. The National Gallery of Iceland
The National Gallery exhibits 19th and 20th-century Icelandic art, as well as special exhibitions.
6. The City Hall
While most people in Belgium avoid going to their town hall, like the plague, Reykjavik's City Hall, or Ráðhús Reykjavíkur, is worth checking out. On the main level is a giant 3D map of Iceland and there are often art installations which are free to admire.
7. Reykjavik Art Museum
The Reykjavik Art Museum has three different locations around the city. The Hafnarhus is conveniently located on the waterfront in the city centre. The art is contemporary and very experimental so go in with an open mind.
8. Pond & Pavillion Garden
As you exit the City Hall, you'll be facing the giant pond, called Tjörnin, where children like to feed the ducks and geese. Stroll around the shore and you'll find yourself in the Pavillion Garden, a quiet spot to relax and enjoy the atmosphere.
9. Perlan
The giant dome of Perlan, or The Pearl, can be seen from various points around the city and the rooftop platform is a great place from which to view the city. It was built in 1991, on top of 4 hot water storage tanks. One of the tanks was emptied and remodelled to hold the Perlan Museum's Glacier and Ice Cave Exhibition. You can save time and skip the lines by buying our tickets online in advance.
10. Harpa
Even if you don't have time to take in a performance, it's worth admiring Reykjavik's stunning concert hall and conference centre called Harpa, located on the waterfront. The giant glass bubbles reflect all the colours of the spectrum and make for fascinating photo subjects.
Bonus: Eat Iceland on a Food Tour of Reykjavik
Iceland has a quickly emerging local food and craft-beer scene. Because of this, there are now a number of great options for beer and food tours of Reykjavik. Here are a few to whet your appetite.
Fish Company – Dining in Iceland is far from cheap, and a meal at Fish Company will put a serious dent in your wallet. That said, it's well worth it, for foodies who want to sample the best that Iceland has to offer. Fish Company prides itself on using the best Icelandic ingredients; in fact, there is even a special "Around Iceland" menu, so you can sample the best from this island nation.
Geysir Bistro – This cosy bistro serves international cuisine with an Icelandic twist. You can get everything from soups and salads to fish and lamb. The portions are large and the food is good.
Kaffitar – I fell in love with the mochas from this Icelandic coffee chain. One was located right beside our hotel and there is another at the airport for your last Icelandic caffeine fix. Kaffitar also sells baked goods and sandwiches for a light snack.
Baejarins Bestu – While a hot dog stand may not seem like your idea of gourmet food, this one is the most famous restaurant in Iceland and rated the best hotdogs in Europe. It's been visited by the likes of Bill Clinton, whose photo adorns the wall, and James Hetfield of Metallica. Hotdogs with 'the works' are topped with ketchup, mayonnaise, raw and crispy fried onions, mustard and saté sauce.
Cafe Paris – We stopped by Cafe Paris, for drinks and snacks, several times during our stay in Iceland. It has a bustling atmosphere and a heated terrace packed with locals and tourists alike. The desserts get a big thumbs up from us, as did my chocolate martini.
Where to Stay in Reykjavik
If you are opting to stay more than a day in Iceland, you'll need a great hotel in Reykjavik. We stayed at the CenterHotel Thingholt in the city centre. Our room was stunning – modern design but still super comfortable, with an enormous bathtub in the room. We loved the service and the location was perfect.
For other hotels in Reykjavik, check out the great rates at Booking.com below.
Icelandair Reykjavik-Keflavík Layover Details
Iceland Air flies from Brussels directly to Reykjavik-Keflavík International Airport and from Reykjavik direct to Seattle, Boston, Minneapolis, Washington D.C., Halifax, Orlando, New York and Toronto and has connections to other North American cities.
There are a number of airport transfer services offering airport pickup and dropoff at your hotel in Reykjavik.
Our trip to Iceland was one of our all-time travel highlights and we're eager to return. The excellent service with Icelandair and the relaxing layover at the Blue Lagoon were definitely worth the extra travel time. We'd do it again in a second.
Latest posts by Alison Cornford-Matheson
(see all)
Read more from this series...
The World's Best Airport Layover – Reykjavik, Iceland