THIS POST MAY CONTAIN COMPENSATED LINKS. FIND MORE INFO IN MY
DISCLAIMER
.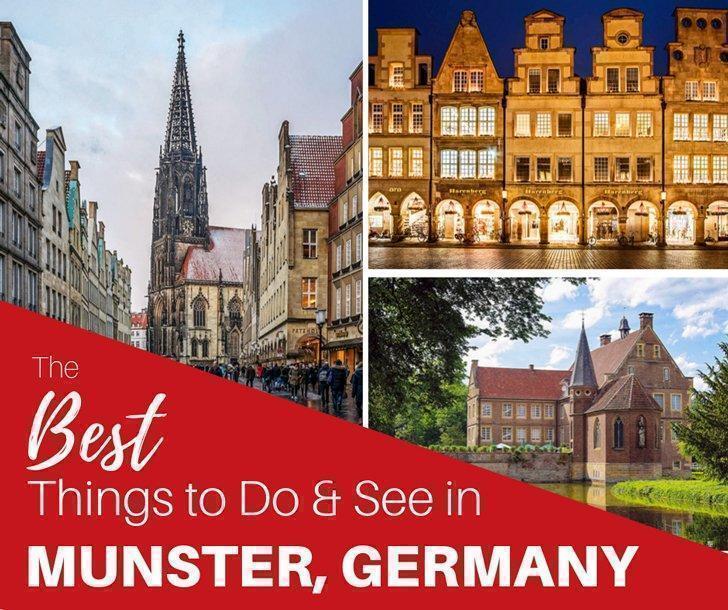 From galleries and museums to historical architecture and even nature, we share all the best things to do in Munster, Germany.
When people think of travel destinations in Germany, they usually envision Berlin, Hamburg, or Munich. However, overlooking Munster is a mistake, as this smaller city has a surprising amount of things to do. While it's centuries upon centuries-old, punctuated by stunning architecture and historical sites, Munster also has a younger vibe and hosts fun-filled events and festivals throughout the year. It's a near-perfect amalgamation, and, since it isn't on every traveller's radar, it isn't overrun with tourists.
Whether you are looking for fun things to do in Munster that will make your trip energetic and engaging or want to explore lower-key Munster, Germany, attractions, here's everything you need to know.
Where is Munster Germany?

Munster is situated in the North Rhine-Westphalia state in Germany, which is in the northwestern part of the country. The city nestled along the Munster-Aa River as well as the Dortmund-Ems Canal and is not quite halfway between Dusseldorf and Bremen.
Best Things to Do in Munster Germany
Munster offers a unique experience, blending a rich history with a youthful vibrancy. The city can trace its heritage back to the year 793, the time when a monastery was founded in the area, and many of the area's buildings have been standing for centuries or longer. But Munster also embraces the modern, making it feel current and energetic, too.
If you're trying to figure out what to do in Munster once you arrive, here are some of the best activities, landmarks, and tourist attractions in Munster and the surrounding area.
Munster Cathedral
Munster's skyline wouldn't feel complete without the
Munster Cathedral
(St. Paul's Cathedral). Constructed between 1225 and 1264, the cathedral has a Romanesque style with a hint of Gothic influence, making it incredibly beautiful and suitably ornate.
Plus, the Munster Cathedral has one incredibly unique feature. The Astronomical Clock – which was built between 1540 and 1542 – is one of the only clocks from that period that spins counterclockwise instead of clockwise. The chimes are also still operational, so there is a chance that you will hear them during your visit.
The public square (or Domplatz) outside of the cathedral also hosts the Wochenmarkt Munster, a weekly market. There, you can find tons of fresh produce and other local items for sale.
Pablo Picasso Art Museum
Located in the city center, the
Kuntmuseum Pablo Picasso Munster
is housed in a historic building that was renovated to display works from one of the best-known artists that ever lived. Across the various levels, you'll find displays dedicated to other artists as well, making visiting the museum one of the best things to do in Munster for art lovers, hands down.
Munster Prinzipalmarkt
If you are trying to decide what to do in Munster, Germany, consider heading to the historic city center and spending some time at the Prinzipalmarkt. The area serves as Munster's main street and is filled with fun shops, restaurants, fountains, small sculptures, and more.
Plus, the Prinzipalmarkt has historical significance. While much of it was destroyed during World War II, it has been painstakingly rebuilt over the years, and many of the buildings are accurate recreations of what originally stood. Tours through the Prinzipalmarkt are available in several languages, allowing your stroll to serve as a learning opportunity, too.
While there, you can also make a quick trip to the Tourist Centre, which is located just behind Town Hall. There, you'll find information about current events and various happenings, allowing you to enjoy seasonal activities during your trip.
Town Hall
If you decide to explore the Prinzipalmarkt, make sure to stop at the Rathaus, Munster's historic Town Hall. Originally built during the 14
th
century, it was severely damaged during World War II. However, it has been carefully rebuilt, with no detail being overlooked as it was reconstructed.
The Town Hall has had several important roles in history. For example, the "Hall of Peace" was one of the locations where treaties that ultimately became the "Peace of Westphalia" – an act that led to the end of the Thirty Years' War – were signed.
Lake Aasee and Allwetterzoo
If you're trying to find Munster, Germany, things to do that don't involve the hustle and bustle of the city, consider heading over to Lake Aasee. Once there, you'll discover an award-winning park around the tranquil water, making it an excellent place for a casual stroll or picnic lunch. Boating and sailing are also an option if you'd rather spend time on the water instead of next to it.
Plus, Lake Aasee is one of the best things to do in Munster for families. Along with plenty of space for children to run around, there is also the Allwetterzoo Munster nearby that just begs to be explored. Nearly 3,000 animals reside in the zoo, so there is plenty to see as you walk through the property.
You also get to stay close to restaurants, coffee shops, and hotels, so you don't have to abandon modern conveniences to spend some time in nature.
St. Lamberti
If you appreciate the darker side of history, make a trip over to St. Lamberti. The structure – which was initially built during the 14
th
century – is one of the strongest representations of late Gothic architecture in the region. Plus, the three iron cages that dangle above the clocks once served a macabre purpose, as they were used to display the bodies of Anabaptist Rebellion leaders after their execution.
Burg Hülshoff
Burg Hülshoff is a picturesque 16
th
-century castle from the Renaissance period. The building itself is stunning, especially during the warmer months when the grounds are a vibrant green, and the castle is surrounded by vibrant and colourful flowers.
Inside the castle, you'll find a museum with an audio tour. You can learn how nobles in the area lived during the Classical and Romantic periods, and also view artifacts from the life of Annel von Droste-Hülshoff, a poet who was born in the castle.
LWL – Westphalian State Museum of Art and Cultural History
At the LWL –
Westphalian State Museum of Art and Cultural History
(Museum für Kunst und Kultur), you can explore 51 rooms filled with over 450,000 art exhibits and displays. You'll find pieces dating back to the Middle Ages as well as works from modern artists. Paintings, sculptures, and cultural artifacts all have a presence in the museum, making it one of the best things to see in Munster if you are an art aficionado or a history buff.
The Promenade
If you aren't just concerned about what to see in Munster but also how to get around, the Promenade is going to be your best friend. This giant loop circles the city center, and features well-developed walking and biking paths, making it perfect for navigating the area or just stretching your legs beneath the magnificent trees. Just make sure to stick to the walking paths if you are on foot, as bicycles travel quickly on their designated pathways.
City Museum of Munster
At the City Museum of Munster – also known as the
Stadtmuseum Muenster
– you can learn about the city's long history. Exhibits and displays address critical events, cultural points, and more during the area's 1200+ year history. Plus, it's a budget-friendly choice, as entry is free. For a small fee, you can enjoy an audio tour in one of several languages, or you can call ahead and arrange for a guide (also for a fee) if you want a more in-depth experience.
Best Hotels in Munster Germany
If you are looking for amazing hotels in Munster, you've got plenty of options. There are spectacular hotels near Munster, Germany, ranging from budget-friendly accommodations to luxurious experiences.
Hotel Jellentrup
If you are looking for a comfortable hotel with modern amenities that won't break the bank, Hotel Jellentrup is a solid choice. The rooms are updated and comfortable, and you can take advantage of free Wi-Fi and parking. Plus, there is a daily breakfast buffet for guests, which is a nice bonus. The location is also relatively quiet, making it an excellent option for those who want mellow evenings or nights. Check Best Available Rates.
Mauritzhof Hotel Munster
For travellers who want something a bit luxurious, Mauritzhof Hotel Munster is the way to go. It's located in the city's center along the Promenade, making it an incredibly convenient base during your visit. The rooms are incredibly well-appointed, offering higher-end finishes and creating a sense of elegance. Breakfast, snacks, and light meals are available onsite, and there is a hotel bar that is perfect for a nightcap. Check Best Available Rates
Boardinghouse Munster
Visitors who are travelling with family members might appreciate Boardinghouse Munster, a set of apartments located near Munster Cathedral and the Prinzipalmarkt that can comfortably sleep up to four. Plus, there is a full kitchen, so you can head to a market for some fresh, local ingredients and then create your own meals instead of dining out. Check Best Available Rates
Latest posts by Catherine
(see all)