THIS POST MAY CONTAIN COMPENSATED LINKS. FIND MORE INFO IN MY
DISCLAIMER
.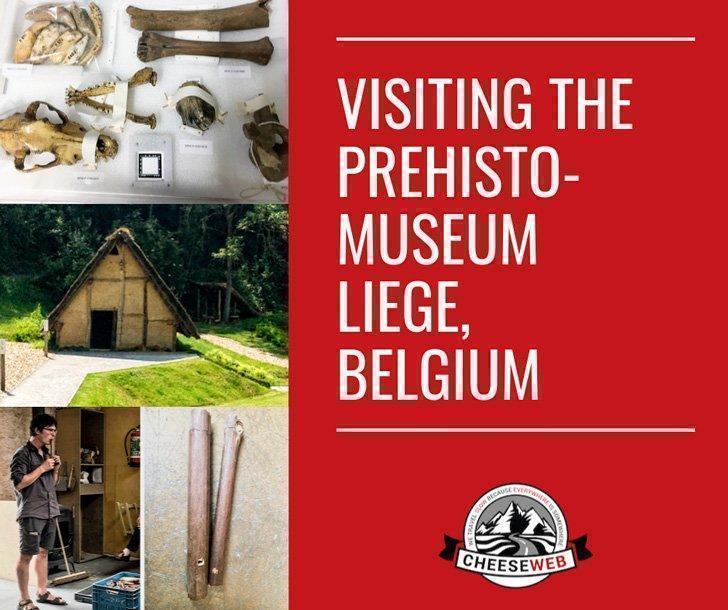 If you're looking for things to do in Belgium with kids, don't miss the interactive and educational Prehistomuseum in the province of Liege. It makes a great day trip from Brussels for families of all ages.
Belgium has plenty of activities for families; you only have to look for them (sometimes hard). I am always searching for things to do with my active 6-year-old, so when the Prehistomuseum invited us to visit, it was an easy yes. So, off we trekked to the museum in Liege on a Saturday in June.
Liege is roughly an hour and a half drive from Brussels which takes you through the scenic Ardennes. The Prehistomuseum is located in Flémalle, 20 minutes outside the city of Liege. It is situated in a classified forest and is spread around 30 acres, making it the largest prehistory museum in Europe.
The Prehistomuseum is an open-air museum, perfect for a nice sunny day, and also offers plenty to do for a rainy day in closed quarters. The museum is interactive and organised into different sections, from A to G. It provides a varied experience, from caves to forest walks, workshops where you can make your own musical instrument (just the way we did) to learning how fire was created in the good old days. There are permanent and temporary exhibitions, as well as an auditorium where you can have a presentation in a unique setting.
Upon our arrival, we were received warmly at the reception area of the museum, which also houses the gift shop. From soft toys to mementos, the gift shop has something for every age, including their very own beer.
The gift shop leads to the restaurant. There is a nice play area for children just outside, making it a perfect spot to enjoy lunch while the children play outside.
The restaurant is aptly called the Archeo. It has a wonderful ambience with its wooden seating and hanging lights. The chef, Alain, is a warm person and is very ready to help with explanations of and suggestions for the menu. The restaurant offers a unique platter which is Neolithic in nature and resembles food from that era. It included bread, salmon, meat, cheese, and nuts; all the recommendations of a modern healthful diet without delving into processed foods.
For vegetarians, the restaurant offers a very good veggie burger, which is served with fries. The burger bun was flavorful with a nice nutty flavour, and the patty was delicious as well. They also offer a regular beef burger, which is succulent and has the right texture. The kid's menu includes meatballs, fries, and salad, and was eagerly gobbled up by my 6-year-old.
After enjoying a wonderful lunch, we proceeded to discover the museum, which is divided into different sections, named A to G.
The A stands for Archaebistrot, the restaurant and also the boutique shop which we already visited.
Section B houses the permanent and temporary exhibitions of archaeological objects. Information about these collections is provided with the interactive use of a tablet.
Section C is where adults and kids can discover the bow and the arrow and shoot at objects in 3D.
You can discover a farmer's house from prehistoric times in section D.
I loved Section E which depicts human evolution over a period of 8 million years, through an interesting labyrinth. This particular section demonstrates animals and plants during and after the Neolithic revolution, an era that changed the relationship between man and nature from a hunter-gatherer economy to an economy of farmers and breeders.
A good example, you can see in the photos below, is how barley was cultivated prior to our present-day wheat, which has changed over the years.
Section F shows the first domestic plants and animals, and also has a barefoot trail where you are required to be one with nature and enjoy the trail barefoot, which I did!
Unfortunately, we could not visit Section G which is actually the Ramioul cave, due to lack of time, but I gathered that it also has two sections and contains the skeletal remains of animals. But we did revisit Section D, where an archaeologist teaches you how to create fire with flints or how to make a musical instrument with your bare hands. This session requires prior booking, and we decided to learn how to make a musical instrument. The session helped us gain quite a good insight of the music that was played during those times, and we also made our own personal flute.
The Prehistomuseum is a great experience, as it provides an opportunity to have different experiences and to see the lives of our ancestors. It is also a great learning ground for kids about evolution in general, with the teaching being fun, interactive, and not preachy.
The museum is open every day of the week, and the tickets are very reasonably priced. They offer individual and group tours, while children below the age of 4 enjoy free entry. If you are planning a quick autumn trip with your family before the winter actually hits us, this should be one your list!
Prehistomuseum
Rue de la Grotte 128
Flemalle 4400