THIS POST MAY CONTAIN COMPENSATED LINKS. FIND MORE INFO IN MY
DISCLAIMER
.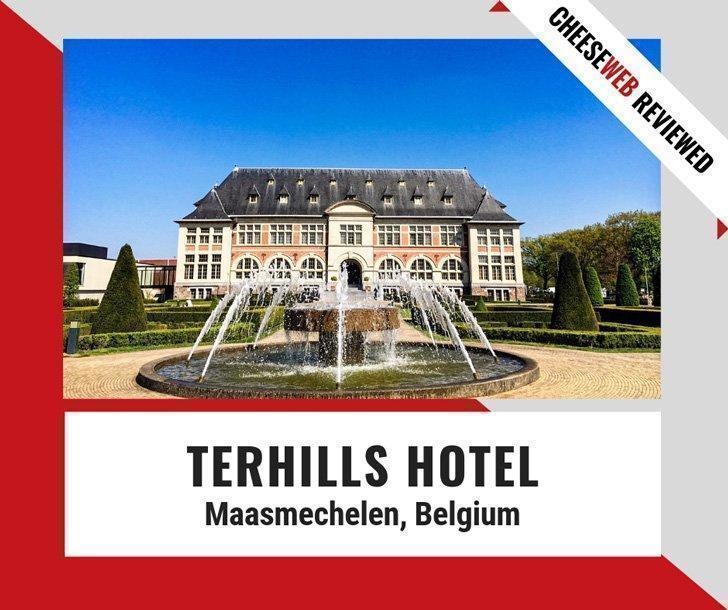 If you're wondering where to stay in Maasmechelen, Belgium, Terhills Hotel is a perfect choice. Monika reviews the hotel and shares some great ideas for things to do in Maasmechelen. (Yes, there's more than just shopping!)
When thinking of things to do in Belgium, people instinctively think of visiting Brugge or Ghent. Rarely, have I seen people discussing Maasmechelen. So, when I was invited to stay at the Terhills Hotel, I thought it would be an excellent opportunity to enjoy the hotel and also discover things to do in Maasmechlen, in Limburg province. So, we trekked off on Easter Sunday afternoon to Maasmechelen and the Terhills Hotel; roughly a one-hour drive from Brussels and a perfect weekend getaway.
The Terhills Hotel is a handsome building with a neoclassical Baroque exterior and an impressive manicured lawn.
Our check-in was quick and hassle-free. We enjoyed a nice glass of bubbly in the lounge area, which was cozy and welcoming. What I found interesting were the glass canisters of knick-knacks and coconut truffles. The guests could help themselves to a chocolate treat with their champagne, which was all very welcoming and generous!
The hotel is in a stately building, which was once the office of the Eisden Colliery, the remnants of which have been smartly integrated with the plush interiors by Domo Deco.
Our room was very comfortable with clean lines, and every detail for comfort thought about, and easily accessible. I have a thing about bathrooms; I like them really 'proper.' The shower was terrific with strong water pressure, and the ventilation was perfect. After the shower, there was no steam in a minute. However, they could improve on the line of toiletries they provide for the class of the hotel. I loved this sign in the bathroom, all needed for our dear planet Earth.
Chef, Dirk Dekinderen, heads the hotel's restaurant. Since we were visiting on Easter, we were invited to the Easter dinner the chef had specially curated. We started with some grainy bread, and oriental salmon tartar served with dashi and cucumbers. The delicate salmon was perfectly balanced with the nuanced dashi, a Japanese broth with dried sea kelp.
This course was followed by watercress soup, and then we could choose the main platter with either fish or beef. I love fish and was served a European sea bass, with pea cream and lemon infused with butter. My other half chose the beef tenderloin with mustard juice and seasonal vegetables. The fish was done perfectly while the beef tenderloin was succulent and served with seasonal vegetables.
We finished our dinner with some excellent dessert, which was not only delicious but was well presented. Don't believe me? Take a look:
We also enjoyed a great breakfast the next morning, and I was pleasantly surprised by the choice of warm breakfast options, as well as champagne (which helps you to have a frizzy start to your day.)
Terhills Hotel is located next to the famous Maasmechelen Shopping Village and is not only a perfect weekend getaway but also could be a great escape for the upcoming July discounts.
Maasmechelen Village is next to The Bakery, which every Belgian knows is a house of excellent baked goods. And like Maasmechelen Village, it is open on Sundays too.
The hotel also provides an entrance to Connecterra, which leads you to Hoge Kempen National Park, where you can find various walking and trekking trails.
While on our way back to Brussels, we stopped at Genk just to experience the Karting racing track in Belgium. It has a go-karting activity for all, adults and children and is just a 10 min drive from Maasmechelen.
Maasmechelen not only offers a variety of things to do, from shopping to hiking to go-karting, but it is also a perfect weekend getaway from Brussels. What better way to enjoy the area than to stay at Terhills Hotel, with its convenient location, warm hospitality and a competent quality-price ratio.
Terhills Hotel, Zetellan 10, Maasmechelen 3630 – Check the best available prices now