THIS POST MAY CONTAIN COMPENSATED LINKS. FIND MORE INFO IN MY
DISCLAIMER
.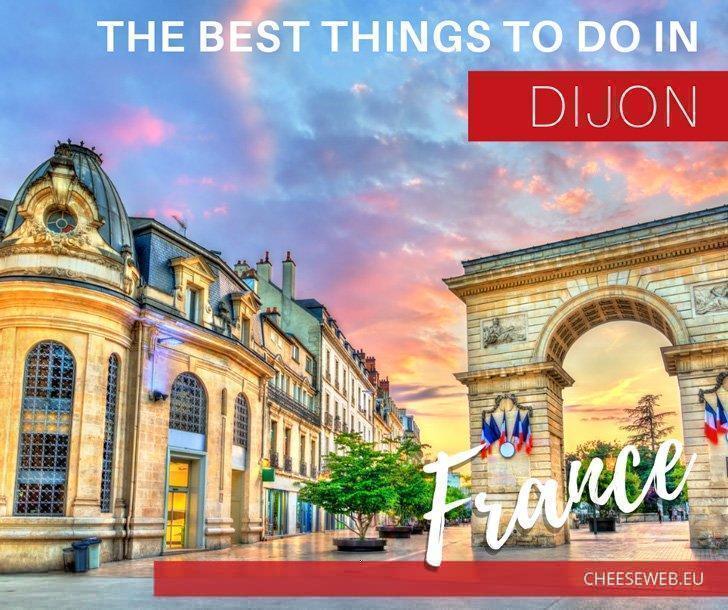 Museums, galleries, nature, food, and yes, mustard, Dijon has plenty to offer travellers. Catherine shares where to eat, sleep, and the best things to do in Dijon, France, the capital of Burgundy.
Dijon is a historic city that served as a transportation hub as far back as the 9th century. Throughout the middle ages, it was considered a seat of power thanks to the presence of the Dukes of Burgundy. It's long-standing history and well-preserved architecture, including buildings dating back to the 15th century, make Dijon an engaging destination for any history buff.
However, Dijon also has something to offer any kind of traveller. With exceptional cuisine and fine wines, foodies flock to the city to experience some of the best food France has to offer. Plus, Dijon marks the beginning of the Route des Grands Crus, one of the most enticing wine routes in the world.
If you are debating whether Dijon, France should be included on your travel itinerary, here is a look at what the city has to offer and why every traveller should make the journey to Dijon.
Where is Dijon, France?

Located in eastern France and serving as the capital of the Burgundy region, (follow the link to read our top tips for the rest of Burgundy) the city of Dijon is nestled along the Saone River and in the Rhone River Valley. Dijon marks the start of this wine region, which spreads toward the south. The city's location made it a critical part of old trade routes between Paris and Lyon.
Best Things to Do in Dijon, France
Dijon has more to offer than many travellers can squeeze in during their trip. In many cases, Dijon sightseeing journeys could easily last a week (possibly longer), depending on how many locations catch your attention.
Since most visitors don't have much time to spend in the city, narrowing down your Dijon things to do list is essential. That way, you can prioritize the most exciting landmarks, museums, and experiences, ensuring you don't overlook something you may later regret.
If you are trying to figure out what to do in Dijon, here are some Dijon attractions that shouldn't be missed.
Ducal Palace
When it comes to things to see in Dijon, the
Ducal Palace
is a must among all of the Dijon, France attractions. Serving as the home of the Dukes of Burgundy during the 14
th
and 15
th
centuries, the Ducal Palace features architectural traits reminiscent of the period. However, since the city still uses it, it has been painstakingly preserved, not showing the wear and tear one would expect based on its age.
If you are up for a little exercise, consider climbing the staircase to get a view of the entire city. While you'll have to trudge up over 300 steps, most find it is worth the effort.
Musee des Beaux-Arts
The Musee des Beaux-Arts – Dijon's Fine Arts Museum – is easily one of the best things to do in Dijon, France. It is located inside the Ducal Palace, making it a convenient attraction to visit during your time in the city.
Inside, you can marvel at art from a variety of periods, ranging from early-renaissance sculptures to paintings by 19th-century masters and more modern works.
Rue des Forges
If you want a chance to take in some of Dijon's stunning architecture, the Rue des Forges is the way to do it. The path covers the city's conservation area and is home to some of the most breathtaking buildings in all of Dijon.
Along the way, you'll see everything from quaint boutiques to massive historical mansions. Plus, you can take a moment to explore Hotel Chambellan, including its decorative gate, well-kept courtyard, and a carved wooden gallery and spiral staircase made of stone that date back to the 15th and 17th centuries.
Musee de la Vie Bourguignonne
The
Musee de la Vie Bourguignonne
is home to ethnographic collections that showcase life in Burgundy beginning in the 1700s and ending in the early 1900s. It is separated into two floors, with the first housing items like historic furniture, costumes, decorations, and tools. The second floor has ten tableaus showcasing various traditional trades.
The building is also an architectural wonder and is actually a Bernardine Cistercian monastery that dates back to the 17th century. If you want to learn something quirky during your visit, the museum has you covered. You can take a deep dive into the history of Dijon mustard, likely giving you more information about the famous condiment than you ever thought was possible.
Parcours de la Chouette
For those who want a unique experience, the Parcours de la Chouette is an easy answer to the "what to do in Dijon, France" question. If you happen to spot small brass sculptures featuring owl drawings, you've discovered one of Dijon's most interesting attractions. Marking the path of the 22-stop tour, these brass icons feature Dijon's symbolic owl. The one on the Church of Notre-Dame was created during the 1500s, and touching it is said to bring good fortune or grant a wish, as long as you use your left hand.
As a trail, the Parcours de la Chouette will bring you on a quick city tour, weaving you through the streets for about an hour. If you don't want to rely solely on your eyes to catch these brass markers, you can pick up a trail guide at the tourist office.
Church of Notre-Dame
The western façade of this 13th-century gothic church is both breathtaking and unique. Three archways dominate the large porch, and rows of columns give the building a grand stature, drawing your eyes up to the rows of gargoyles. If you take a step back, you can also see the jacquemart on the tower at the top.
Musee Magnin
Maurice Magnin, a Parisian magistrate, and Jeanne Magnin, his sister, compiled a 2,000 piece art collection between the late 1800s and 1930s, which they eventually bequeathed to Dijon. The works are on display at
Musee Magnin
, featuring all of the art the pair admired.
Along with a substantial collection of French school works dating from the 1500s to the 1800s, including pieces by artists like Bourdon, Eustache Le Sueur, and Laurent de La Hyre, you'll also get to explore works by lesser-known artists from countries like France and Italy.
Dijon Cathedral
Another prime example of Gothic architecture, the Dijon Cathedral was completed in the 15th century, but many portions of the design are significantly older. Inside, you can view the Burgundian patterned roof, which is also stunning to behold.
If you want to enter the crypt, the oldest part of the cathedral, it does cost a few Euros to get inside. But, then you have a chance to view the underground portion of the abbey, which was constructed in the 1000s to serve as the home of the tomb of Saint Benignus.
Les Halles
Officially a historical monument, Les Halles is a covered market built in the 1870s. The building itself is mostly cast iron and glass, making it impressive in its own right. Many of the spandrels have animal motifs, and you can also spot Ceres and Hermes medallions along the way. The market is also very active, brimming with flowers, fruits, vegetables, cheese, spices, and more.
Eglise Saint-Michel de Dijon
Featuring a blend of gothic and renaissance architecture, Eglise Saint-Michel de Dijon is a 16th-century wonder. Carvings of angels, designed in a gothic style, near the South Portal date back to 1537. On the Central Portal, you can see more angel sculptures though, since they were carved in 1551, these fall more into the renaissance style category.
Best Restaurants in Dijon
As a traveller, you know that figuring out what to see in Dijon is only part of the planning phase. You also need to figure out where to eat. There are plenty of restaurants to choose from inside of the city, so determining which options are genuinely the best isn't always simple.
Luckily, there are restaurants in Dijon with a long history of serving exquisite cuisine and offering stellar customer service. If you want to make sure your culinary journey through the city is exceptional, here are some of the best restaurants in Dijon, France.
Le Pre aux Clerc
Located near the Ducal Palace, Le Pre aux Clercs sits inside an 18th-century Baroque building that feels like an appropriate backdrop to the cuisine. Focusing on fresh ingredients from the Burgundy region, the menu earned Jean-Pierre and Alexis Billoux, a father-son cooking team, a Michelin Star. The restaurant focuses on many classic French dishes and flavours, making it an excellent choice for any traveller who wants an elevated but traditional dining experience.
Restaurant Stephane Derbord
Another Michelin Star recipient, the menu at Restaurant Stephane Derbord is filled with traditional dishes executed with a level of brilliance hard to find elsewhere. Plus, the restaurant is known for using local produce and having one of the most welcoming vibes around. If you want to go on a bit of a taste adventure, the dessert menu strays from tradition, giving you the ability to try a classic entrée and a unique dessert all in one location.
DZ'Envies
If you are looking for a truly unique culinary experience, DZ'Envies needs to be one your list. David Zuddas, the chef behind the restaurant, embraces the unconventional, combining Japanese and North African flavours while cooking with traditional French techniques. His approach is eclectic, brimming with passion and with a hint of non-conformity. David Zuddas even turned down a Michelin Star to ensure you could maintain his culinary freedom and keep making experimental cuisine. While it isn't traditional Dijon fare, it is certainly a restaurant that shouldn't be missed.
Where to Stay in Dijon
If you are looking for a place to stay, there are plenty of Dijon hotels worth considering. Some of the hotels in Dijon, France, are historically significant. Others are modern marvels filled with amenities.
To help you narrow down your choices, here are three of the best hotels in Dijon, France.
1. Grand Hotel La Cloche Dijon
Easily one of the best places to stay in Dijon, France, the Grand Hotel La Cloche has an opulent exterior, plush accommodations, and is just steps away from many popular attractions, including the Ducal Palace. There is also a gourmet restaurant on-site, serving up traditional French cuisine, free valet parking, a fitness center, and spa. While it is a bit more expensive than many other hotels, it's an excellent choice for anyone who wants to splurge on something luxurious while in Dijon.
2. Hostellerie Du Chapeau Rouge
Also located near the center of Dijon, Hostellerie Du Chapeau Rouge has an incredibly modern interior. The rooms are colourful and contemporary as well as a bit playful, making them incredibly unique. Plus, you can take advantage of the on-site sauna, and two Michelin Starred restaurant, which features creative dishes and an extensive wine list.
3. La Chouette d'Or
Located in the heart of Dijon, La Chouette d'Or offers unique and comfortable accommodations. Each apartment or studio has a small kitchen, as well as a washing machine. The underground suite has a few intriguing features, like a curved stone roof and an infrared sauna in the shower room. Plus, it costs less than many other options, making it an excellent choice for budget-conscious travellers.
Latest posts by Catherine
(see all)