THIS POST MAY CONTAIN COMPENSATED LINKS. FIND MORE INFO IN MY
DISCLAIMER
.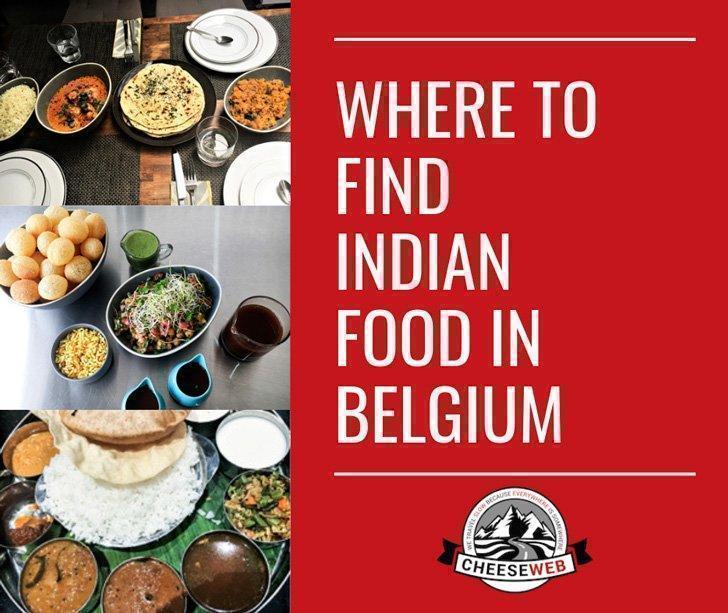 Monika shares an updated look at where to find the best Indian food in Belgium. While our favourite curry restaurants remain, there are new Indian food caterers who deliver right to your door.
I came to Belgium in 2009 and have seen the Indian food options evolving and growing from just a handful of curry restaurants in Brussels and Antwerp to more and better restaurants, newer places to shop for Indian ingredients, excellent Indian catering options, and even Indian food festivals.
For people who have been following the Indian food scene here, there used to be a lot of talk about how Indian food in Belgium meant oily curries, restaurants with a stale smell, and a sad-looking décor with the same red table runner and a Buddha statue somewhere.
Best Indian Restaurants in Belgium
The bleak outlook changed a few years ago when an Indian restaurant opened up not in the centre of Brussels, but in the green commune of Woluwe Saint-Lambert, called Indus Pride. The unique selling point was it served dishes from the South of India, as well as the better-known North Indian curries. I have been to this restaurant many times. The food has been pretty decent for most visits, although the service can falter at times. [Read our full review here]
My other favourite Indian restaurants in Brussels are at the other end of the city; Ashok's (has been a fixture in Brussels for a long time) and Everest (which opened a few years ago). Multiple visits to both of these restaurants have been good, some outstanding and some satisfactory, never bad.
Another recent addition is the Saravana Bhavan restaurant, which is always good for delicacies from South India (like idli or dosa).
I have heard good things about Parf'Inde épices in Waterloo and Mission Masala in Antwerp too, but I still need to make reservations at these places. Twice over, I have been unsuccessful with both the restaurants.
Indian Food Delivery and Catering in Belgium
However, over the past few years, several Indian cuisine caterers have started to operate in Belgium. This has created more options for people who love Indian food in Belgium, especially if you would like a take-out or want to have the lunch box delivered right to your doorstep. The woman who pioneered this concept was Nikki Garcha Batra who owns Nikki's Indian Kitchen in Everberg, Kortenberg.
Nikki's Indian kitchen
Nikki is a foodie and loved to cook for friends and guests initially. Her love for Indian food and cuisine then translated into Nikki's Indian Cooking Classes, which started in 2012.
She soon discovered her passion for cooking and organization and also recognized a wide gap in the Indian food scene in Belgium. She created her own space, a professionally designed kitchen at Everberg, from where she runs her catering services.
You can call her for your daily lunch box or catered events at your home or office. She will help you plan your menu and is flexible with creating a meal around particular choices, allergies or preferences.
Also, she has a wonderful service called The Lunch Box, which is delivered directly to your doorstep, at work or home. I called in for the lunch box one day and was surprised to find she offers both vegetarian and non-vegetarian options, freshly cooked food, and it is reasonably priced and flavourful.
The vegetarian option had fresh chapatis (flatbread), rice, sambar (a tangy lentil curry) and a cauliflower peas vegetable. The non-veg option had the chicken curry.
Being an environmentally conscious person, she is soon planning to deliver lunch in steel boxes, which are not only great for the environment but also are much healthier than plastic.
Ph: +32-496691765
Ruhi'z
Another Indian caterer in Belgium worth mentioning is Ruhi'z, located in Kortrijk. This caterer has a professional cooking kitchen and caters to events and festivals. Ruhi invited me over to her place for lunch to discover her cuisine, which is fresh and made from scratch.
For starters, we had some excellent golgappas, a spicy street food wonder from India. Golgappas are crisp deep-fried puffs, eaten along with spicy, tangy water and fillings made of potatoes and chickpeas. The golgappas were fried fresh in front of us and served with tamarind and green chutneys, chickpeas, rice crisps and sprouts.
Next, she followed it with her personal favourite butter chicken which she served with fresh naans and a quickly prepared vegetable made of sweet potatoes. The chicken was succulent and had all the flavours of the curry and went along with the freshly prepared naan.
The sweet potato vegetable dish was delightful with fresh flavours and an original taste. Ruhi also regularly organizes cooking classes and holds food stalls in food festivals.
Ph: +32-471730258
Indian Groceries in Belgium
We also have more Indian stores from where one can purchase Indian goods, primarily Suryansh (Avenue Georges Henri 382, 1200 WoluweSaint-Lambert) and City Express (Boulevard Léopold III 17, 1030 Schaerbeek). [Read our full article on International Grocery Stores in Brussels for even more ideas]
I have personally never ordered online because I usually like to see and then buy the produce, but there are online stores which deliver Indian cuisine to the comfort of your home (instabasket.eu, spicevillage.eu, ekirana.nl).
The Indian Confluence of Belgium is also celebrating the Indian food festival on the 27th and 28th July, at Parc Cinquentenaire. The festival is being held for the fifth time and offers plenty to do (henna, handicrafts, workshops, and cultural entertainment) in addition to indulging in Indian food. Go visit!