THIS POST MAY CONTAIN COMPENSATED LINKS. FIND MORE INFO IN MY
DISCLAIMER
.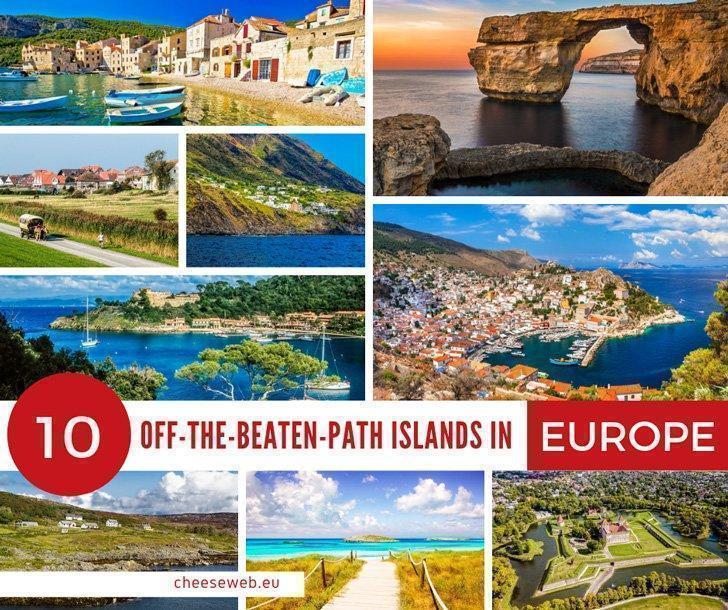 If you think an island holiday in Europe means crowded beaches, overpriced menus, and thumping music, think again. We share 10 of the best off the beaten path islands in Europe to visit to get away from it all.
When you think of European islands, destinations like Corsica, Ibiza, and Santorini probably come to mind. But, since these islands are popular with tourists from around the globe, they don't always offer the best experience. You could find yourself spending more time wrestling with the massive crowds than appreciating what these beautiful islands in Europe have to offer, turning a dream getaway into something much more stressful.
Luckily, when it comes to the most beautiful islands in Europe, not all of them are beacons for travellers. Some are a bit off the beaten path and genuinely not on most tourists' radar.
Best Islands to Visit in Europe
Not everyone who hopes to head to islands in Europe for a vacation wants to deal with the massive crowds that flock to some trendier destinations. Instead, they prefer something that feels a bit like a secret, an unspoiled environment that isn't brimming with tourists all year-round.
Luckily, some of the best islands in Europe to visit fall in the latter category, offering amazing views, magnificent beaches, quaint towns, and much more to travellers who are willing to shirk the norm and choose an off the beaten path location.
Each island is unique, and there is something for nearly everyone at these destinations. If you are looking for the best holiday islands in Europe, here are some hidden gems that are worth exploring.
Juist, Germany
If you are looking for a unique island destination, Juist in Lower Saxony,
Germany
, should be on your list. One of the seven inhabited East Frisian islands that dot the edge of the Wadden Sea, Juist has miles of windswept beaches that are ideal for enjoying some sun or a relaxing stroll. Whether you want to soak in a thalassotherapy spa or hike the mudflats, a trip to Juist is more than just a traditional beach vacation.
By heading to Juist the late spring, you can enjoy the island's music festival. But, if you are a fan of crime fiction, then plan to come in September when there is a festival dedicated to the genre.
Juist is also a car-free island. If you want to get around, you'll either need to walk, bike, or hop in a horse-drawn carriage.
Where to Stay in Juist
Formentera, Spain
While Ibiza is a beautiful island in
Spain
, not everyone adores the party atmosphere. If you want a similar tropical island in Europe experience with a vibe that is a little more chill, then Formentera is one of the best tropical islands in Europe for you. The turquoise waters of Formentera are magnificent and the beaches pristine. But, instead of the high-energy, slightly hedonistic attitude of Ibiza, this island is much more relaxed.
You can spend time wandering through nature and watching the wildlife in its natural habitat, including the prairies of Posidonia, part of Salinas Natural Park and a UNESCO World Heritage site. For those who'd rather be in the water, consider a swim to Espalmador, a tiny neighbouring island brimming with rejuvenating sulphurous mud. If you head to the easternmost tip of Formentera, you can head up La Mola Lighthouse for amazing views. Rent a scooter to get around the island or indulge in a catamaran tour of the Balearics.
Where to Stay in Formentera
Sardinia, Italy
An alternative to Corsica,
Sardinia
feels like nothing short of paradise. Along with amazing Italian cuisine and a vibrant local culture, you can enjoy a massive array of activities that are sure to please. Check out a few amazing options below:
Grab a snorkel and explore ancient Roman shipwrecks or take a hike to find one of the island's lighthouses. Take a journey to Doira Castle, which is now the home of a museum dedicated to art and weaving. If you'd rather relax, kick up your feet and enjoy the shimmering sapphire waters while sitting on the sandy shores.
Sardinia is also known for its fantastic wine. While you might not recognize some of the varieties at first glance, they are worth exploring if you consider yourself an oenophile. Take a cheese and wine tour to sample some of the islands best flavours.
Where to Stay in Sardinia
Colonsay, Scotland
When most people imagine taking an island vacation, Scotland isn't typically a country that comes to mind. But, if you're looking for peace and tranquillity or an escape from modern life, it's hard to beat
Colonsay
. This remote island is just eight miles long and three miles wide, but it is brimming with wildlife. Plus, the natural setting is ideal for spending some time just listening to the waves as they crash upon the shore.
If you are feeling more adventurous, take some time to hike the McPhies – the 300-foot peaks located throughout Colonsay. You can also take in some history by visiting Colonsay House, which dates back to 1722 or enjoy the magnificent beach at Kiloran Bay.
Where to Stay in Colonsay
Saaremaa, Estonia
Saaremaa has a lot to offer history buffs and is easily one of the best islands in Europe for a holiday. The largest of the islands in
Estonia
, Saaremaa feels like taking a step back in time, allowing you to experience a period when the Vikings and pirates once called the island home.
Wander through the dense forests or marvel at the quaint thatched-roof houses. Stroll the streets of towns that feel like they belong in fairytales or head to the beach and enjoy a swim during the summer.
If you want to take in some fantastic architecture, head to Kuressaare Castle, a large moated structure near the seashore with fortified walls that line up in a star-shape. If you travel to Saaremaa in August, you can attend the Kuressaare Maritime Festival, a fun-filled event brimming with music, food, and open-air markets.
Where to Stay in Saaremaa
Hydra, Greece
Pebbly beaches, turquoise waters, and colourful buildings abound in Hydra,
Greece
, making it one of the most visually engaging islands in Europe to visit. While you can easily
head to the island from Athens
, Hydra can feel like it is anything but part of the modern world at times. Cars and bikes aren't allowed here. Instead, people travel on foot, though you can get a donkey to help you transport your luggage through the cobblestone streets to your hotel.
Several nautical museums offer great learning experiences, while the local restaurants and bars serve up local favourites. The boat harbour is also quite picturesque, making it ideal for professional or amateur photographers alike.
Hydra also played an important role during the Greek War of Independence in 1821, so the island is historically significant as well. Artists also flock to Hydra, partially because Leonard Cohen bought a property on the island during the 1960s. Every other year, there is even a celebration in his honour.
Where to Stay in Hydra
Port Cros, Hyeres Islands, France
If you want to experience the
French Riviera
without having to deal with the typical Cote d'Azur crowds,
Port-Cros
is an excellent option. The entire island is a nature reserve, teeming with sea life and an extraordinary landscape. To keep the area pollution-free, cars and bikes are banned on the island.
If you want to soak up some sun, head to the white sand beaches of Plage du Sud. Rather spend your time in the water? Try Plage La Palud for amazing snorkelling.
Where to Stay in Port Cros
Vis, Croatia
If you are looking for fresh seafood, magnificent local wines, and a vibrant nightlife, head to Vis. This island is furthest from mainland
Croatia
and features breathtaking scenery, like dramatic cliff sides and sapphire waters. If you want to go on an adventure, consider kayaking through some of the caves or hiking to the top of Hum Mountain.
It's also easy to catch a ride to nearby Blue Cave, a true natural wonder with shimmering blue water and stunning rock formations. For those who prefer something more leisurely, sail through the bays or settle in on the beach of a peaceful lagoon.
Where to Stay in Vis
Stromboli, Italy
Home to one of the most active volcanoes on the planet, Stromboli,
Italy
, has stunning black sand beaches that are genuinely unique. At night, you can occasionally spot golden lava bursts, casting a glow into the dark sky. While the volcano erupts nearly continuously, the explosions are minor. Most locals don't even notice them and, after a bit, neither will you. For those with a sense of adventure, you can even
climb the Stromboli Volcano
and check out an eruption first-hand, something you can't do nearly anywhere else.
If you want to take the road less travelled, make sure to visit Ginostra, a small former fishing village that isn't typically a stop for tourists. Just make sure you travel to Stromboli during the warmer months. Once it hits October, most of the hotels and restaurants close until spring.
Where to Stay in Stromboli
Gozo, Malta
One of the small islands in Europe, Gozo is mainly rural but is dotted with ancient temples, making it historically significant and very intriguing. The island also has some of the best diving spots in all of the Mediterranean and isn't as frequently visited as the
island of Malta
.
Plus, the entire island is close to the size of Manhattan, so you can get around the cities and towns mostly on foot. If you are a Game of Thrones fan, make sure to head to the Azure Window, as this geological formation was once used as a backdrop in the popular show.
Where to Stay in Gozo
Latest posts by Catherine
(see all)