THIS POST MAY CONTAIN COMPENSATED LINKS. FIND MORE INFO IN MY
DISCLAIMER
.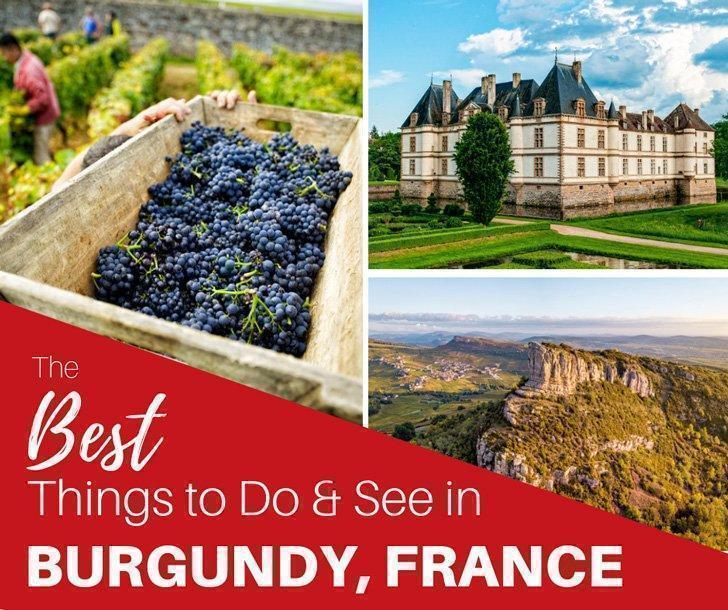 With wineries to tour, ancient castles to explore, vibrant cities and charming villages there are plenty of things to do in Burgundy, France for every style of traveller. Catherine shares the top things to do in the heart of French wine country.
Burgundy may be best known for its wine. The fertile landscape creates ideal conditions for growing the grapes used to make many of these regional delights. However, Burgundy, France, also has a lot more to offer thanks to the region's rich and colourful history, stunning countryside, mouth-watering cuisine, and beautiful capital city.
Travellers can experience so much more than a fantastic glass of wine – though that alone can certainly make the journey worthwhile – particularly if they are open to immersing themselves in the magnificent culture and ambiance Burgundy has in spades.
Where is Burgundy, France?

Burgundy – or Bourgogne, in French – is a region located in the eastern central area of France. At the center of the region lie the Rhone and Saone River valleys, areas known for their fertile soil and waterways that support many of the vineyards that exist in the region. Dijon serves as the regional capital of Burgundy and is the area's largest city.
Best Things to Do in Burgundy, France
Brimming with history and culture, Burgundy has a lot to offer travellers. Once the home of the Dukes of Burgundy, the region is especially historically significant, featuring architectural wonders and a rich heritage.
The diverse geography also makes Burgundy, France, an excellent destination for nature lovers. Magnificent rivers course through the region and the breathtaking valleys and forests are just asking to be explored.
If you are looking for things to do in Burgundy, France, here are a few destinations that should be on every traveller's list.
1. Bibracte
A pre-Roman settlement that was once abandoned and only rediscovered in the 18
th
century,
Bibracte
was once Gual's largest city, and it is still being uncovered. The Museum of Celtic Civilization at the site showcases the discovery of the city and subsequent excavations while also illustrating Bibracte's connection to Celtic Europe.
Along with amazing structures, you can view pottery, jewelry, and tableaus that highlight what has been learned and how life was lived during Bibracte's height. Plus, the surrounding landscape is incredibly beautiful, making Bibracte a perfect location for an easy stroll filled with exploration.
2. Rock of Solutré
Located in a lush forest on the edge of one of the best vineyards in Burgundy, the
Rock of Solutré
is a stunning limestone ridge that is just begging to be climbed. Travellers who are in reasonable shape can easily handle the journey on foot and, once you reach the highest point, you can enjoy the breathtaking panoramic views of the surrounding area.
When the sun is shining on a cloudless day, you can even catch glimpses of snow-covered Alpine peaks to the southeast of the Rock of Solutre. At the foot of the rock, you can also find the Museum of Prehistory which houses tools, animal bones, and flints left behind by the nomadic hunters who once crossed through the region or even called the area home.
3. Chateau de Cormatin
If you are looking for things to do in Burgundy, this chateau should land on your shortlist. Built on an island sitting in the River Grosne,
Chateau de Cormatin
is a 17
th
-century estate featuring clean lines and a simple exterior. If you join one of the available tours, you can explore the interior architecture, some of which has remained completely unchanged for about 400 years.
The grand staircase near the entrance is nothing short of a masterpiece. Many of the rooms feature magnificent gilt painted panels dotted with lapis lazuli. As you make your way to the grounds, you can take in the lavish garden of this formally landscaped property.
4. Parcours de Chouette
If you make your way to Dijon [be sure to read our full article on the capital city Dijon here], dedicate some time to the Parcours de Chouette. This tourist trail encompasses 22 stops, each marked by a brass owl whose design was inspired by the lucky symbol of the Notre Dame church.
As you follow the trail, you'll have the chance to explore various historic neighbourhoods, including Moses, Rousseau, and Zola. Since you control the speed of the tour, you can always step away and enjoy more of what Dijon has to offer, ranging from quaint cafes to museums.
There are loads of great things to do in Dijon. Check out a few of the great activities on offer:
5. Hospices de Beaune
After the area was ravaged by the 100 Years' War and battled against plague outbreaks, the
Hospices de Beaune
was created as an almshouse and hospital in 1443. Today, the buildings are considered architectural wonders, featuring timber framing, wooden galleries, and the polychrome glazed roofs that are characteristic of the region.
The hospices are also located amid two vineyards and serve as the site of a charity wine auction each November. There is also a museum on site featuring a polyptych considered a prime example of 15th-century gothic art.
6. Musee des Beaux-Arts de Dijon
The
Museum of Fine Arts in Dijon
is located in the city's former ducal palace. The exhibits are incredibly varied, ranging from art by masters like Boudin and Monet to Korean stoneware, Tibetan sculpture, and Renaissance-era tombs. You can even view Fayum mummy portraits in the museum's Egyptian collection, allowing you to see realistic paintings depicting Egyptian burials from over 2,000 years ago.
7. The Canals of Burgundy
If you enjoy spending time outdoors and want to know where to go in Burgundy to soak up some sun and explore the region, the two canals in Burgundy – Canal du Bourgogne and Canal du Nivernais – are an ideal choice. Originally, the canals assisted with the transport of goods, especially timber from Morvan. Today, you can tour the canals by boat, allowing you to marvel at the historic locks, stunning chateaux, quaint villages, and numerous vineyards with ease.
If you prefer to travel by foot or bicycle, take advantage of the former towpaths. They follow the canal and can serve as guides, ensuring you can enjoy all the waterways have to offer while remaining firmly on the ground.
8. Abbaye de Fontenay
This UNESCO-listed former monastery allows you a glimpse into the life of 12th-century monks. You can tour the cloister, refectory, and dormitory, along with the bakery, bathing area, and even the forge.
The architecture of Abbaye de Fontenay is also breathtaking. Featuring Roman and early-gothic influences, much of the original feel of the monastery has been painstakingly preserved.
9. Cathedrale Saint-Lazare d'Autun
Also known as Autun Cathedral, Cathedrale Saint-Lazare d'Autun is a 12th-century Roman Catholic cathedral that also stores various relics of S. Lazarus. Magnificent sculptures and artwork are found throughout the cathedral, though the architecture alone can make it worth the trip.
10. Guedelon Castle
Guedelon Castle
is an ongoing project embracing old techniques to create a 13
th
-century style castle in an old quarry. Since the structure isn't likely to be complete for several more years, you can witness how these amazing buildings were created first-hand, giving insights into the work of masons, carpenters, tiles, and blacksmiths from the medieval period.
Best Wineries in Burgundy
If you are looking for a fine vintage, heading to a region that lent its name to its fantastic wines is undoubtedly a way to find an exceptional selection. Many wineries welcome travellers, enticing them with their wines and allowing them to explore the stunning vineyards that make it all possible.
While most wine-lovers would likely enjoy a chance to explore them all, few have the time to trek out to every vineyard. As a result, focusing on the best wineries in Burgundy can help ensure you get to explore the pinnacle of what the region has to offer.
With that in mind, here is a look at the not-to-be-missed wineries and some of the best vineyards in Burgundy, all of which should make every oenophile's list.
1. Maison Joseph Drouhin
Considered one of the finest winemaking houses in all of Burgundy, Maison Joseph Drouhin kept its doors closed to visitors for nearly 133 years before welcoming guests starting in 2013. While you have to book a tasting and tour in advance, getting a chance to see the historic cellars that were once part of the ducal parliament adds a layer of history you can't easily find elsewhere.
You can view a winepress that dates back to 1570 (and is still in use) and marvel at the architecture, some of which dates back to the 10th-century. The tasting room has an ancient Roman wall, creating a magnificent backdrop while you enjoy the various wines.
2. Chateau de Pommard
This world-renown vineyard is considered one of the best wineries in Burgundy, France. Created in 1726, the vineyard even offers wine training courses to those who truly want to understand the heritage and complexity of Burgundy wines. However, it is also an ideal destination for novices, as
Chateau de Pommard
wants to make their experience educational, engaging, and entertaining to everyone who crosses through their doors.
3. Bouchard Pere & Fils
With a long-standing heritage developed over nine generations, Bouchard Pere & Fils is one of Burgundy's oldest wine estates. Based at Chateau de Beaune, a 15th-century fortress, this winery offers a fascinating tour that examines both the wine itself as well as the history of the cellars and the region.
4. Chateau de Chassagne-Montrachet
With magnificent cellars dating back to the 11th– and 14-century, Chateau de Chassagne-Montrachet also has a vaulted cellar dedicated to events. For those who would like to stay at the property, five deluxe rooms accept reservations in the detached guesthouse nestled in the vineyards. The wines themselves also make it worth the trip as they are considered both magnificent and unique.
5. Chateau Andre Ziltener
A winery and boutique hotel, Chateau Andre Ziltener is an excellent choice if you want to sample wines you can't find in retail outlets. The Ziltener family believes the best wine experiences connect the producer directly to the wine, creating a unique experience worth having. Plus, the chateau itself was built on the foundations of a former Cistercian abbey, making the architecture an engaging element of the tasting rooms and surrounding area. While it might not be as well known as some others, it is certainly one of the best wineries to visit in Burgundy for those who like to take the path less travelled.
Book a Burgundy Wine Tour
Let someone else do the driving and take you to the best wineries in Burgundy. Here are some great options:
Where to Stay in Burgundy
If you are trying to figure out where to stay in Burgundy, France, you'll likely notice there are a lot of solid options available. However, the best hotels in Burgundy, France, usually have something more to offer than just a roof over your head, so it is smart to take a close look at everything a hotel has to offer before you make a reservation.
Some of the best places to stay in Burgundy, France, are incredibly luxurious. Others offer well-appointed accommodations for a reasonable price. If you aren't sure how to begin when you need to decide where to stay in Burgundy, here are some great choices that are worth exploring.
1. Le Petit Faubourg
If you prefer to have a bit more space, Le Petit Faubourg is an apartment property that features comfortable accommodations and a full kitchen in the heart of Beaune, making it one of the best places to stay in Burgundy. The property is conveniently located near the Hospices Civils de Beaune and is just a 13-minute walk from the Burgundy Wine School. While the accommodations may seem lavish, including access to amenities like free WiFi and a dishwasher, this apartment is also surprisingly affordable, making it ideal for budget-conscious travellers as well. Check Prices and Availability.
2. Chateau de Chailly
For travellers who prefer a luxurious experience and want to stay in a medieval castle, Chateau de Chailly is more than just one of the best hotels in Burgundy, France; it's a genuine experience. The chateau is listed as a national monument and has many traditional features. However, you also gain access to modern amenities like air conditioning and a television. Chateau de Chailly is also a golf course property and has tennis courts, a heated outdoor swimming pool, and a cellar for wine tasting. The Vinesime and Charme d'Orient Spa is on site as well as two restaurants – The Armancon and The Rubilon – both of which serve regional cuisine and, of course, Burgundy wines. Check Prices and Availability.
3. La Loubertine
Located in Geanges, La Loubertine is a quaint bed and breakfast. The location is convenient yet peaceful, and the rooms feature modern design coupled with original features, like amazing natural stone walls. Each of the guest rooms is named after a type of wine and has a colour scheme based on the name. Many of the rooms have garden views, giving the space a sense of tranquillity. Check Prices and Availability.
Latest posts by Catherine
(see all)