THIS POST MAY CONTAIN COMPENSATED LINKS. FIND MORE INFO IN MY
DISCLAIMER
.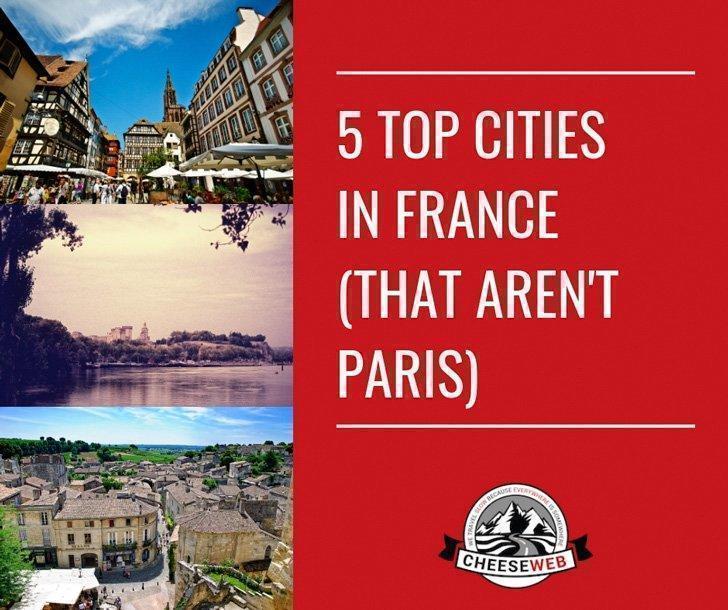 While we've fallen in love with Paris, and soaked up the sun on the French Riviera, our favourite French destinations aren't the typical first stops on the tourist trail. Here are our top five cities in France, to inspire your own French holiday.
Avignon
A long-weekend road trip to Avignon was our first big holiday, after moving to Belgium, and our first introduction to Provence. It was a hot, late-summer weekend, but everything about it was magical. The sun was golden; the stone houses were golden; even the air smelled like the golden summer sun. The days seemed elongated compared to our busy Belgian days. Everything slowed down, including us.
We spent our days exploring different sites around Provence and taking long, wine-soaked lunches in the shade. In the evening, we wandered the nearly deserted streets of Avignon, emptied after the tour buses pulled away for the day. We found small, cozy restaurants, filled with locals, and ate until we could barely waddle back to our hotel. In short, it was the perfect long-weekend getaway.
Since then, Avignon has come to represent Provence to me. We've returned numerous times and hope to return again. We recently featured Avignon in our CheeseWeb Escapes Ezine and wrote in detail about our favourite places to eat, stay, shop and visit in the city. (Sign up for free to gain access to the Ezine archives.)
La Rochelle
Avignon may have been the first city in France we fell in love with, but La Rochelle was the most recent and most surprising for us. In fact, we didn't choose to go there. We were invited to the wedding of dear friends, who we met in Brussels, in the neighbouring city of Rochefort. After the wedding festivities, Andrew and I decided to spend a day exploring La Rochelle, and we're so glad we did.
We spent the day wandering the streets of this coastal city, on the Bay of Biscay. It was a revelation to be back on the Atlantic Coast (albeit the opposite side from where we grew up). Walking along the Vieux Port, the heart of the city, I looked at Andrew and said, "I could live here." I probably said it a dozen more times during the afternoon, and each time he agreed.
After exploring the old town, and filling our bags with gourmet seafood treats, from La Belle-Iloise, we headed to the opposite side of the harbour. Here, the ancient gives way to the uber-modern, and we found ourselves looking longingly at for-rent signs.
There's plenty to do in La Rochelle: museums, galleries, an aquarium, shopping. But the truth is we did none of it. We were just too busy falling in love with this city by the sea.
Pau
Speaking of cities we could live in, Pau, in southwest France, is near the top of our list. Like La Rochelle, Pau is a city we discovered by accident. We stopped overnight to visit some family friends and began a relationship with the city and new friends that would eventually lead us to Wales.
If you've been following CheeseWeb for a while, you may remember our many visits to La Benjamine. We returned time and again to the hospitality of our friends Dawn and Cedric. We followed them when they moved to Herefordshire and opened the equally stunning Holling Grange Cottages and were able to fall in love with a whole new region.
But back to Pau. It's a small but character-filled city, perched on a rock, overlooking a stunning valley. There are excellent restaurants, curious little shops and the marvellous Pau Market. Oh, and, of course, there is a castle.
Drive a little over an hour from the city, and you're smack in the middle of the Pyrenees, and some of the most stunning mountain scenery anywhere. Drive a little further, and you're on the coast, with a choice of eating foie-gras in Bayonne or tapas in San Sebastian. Surrounding Pau are rolling fields of vineyards producing the sweet, local Jurancon wine (which I've been lucky enough to photograph). Yes, we could easily live here too.
St. Emilion
Like La Rochelle, we had a mere taste of what St. Emilion has to offer, but we sure liked what we tasted. With a population of a little over 2000, St. Emilion is not actually a city. It's barely a village. But it's a village utterly dedicated to the production and consumption of wonderful wines – in other words, our kind of place.
We stopped in St. Emilion to meet with friends for lunch and were thoroughly enchanted. From the top of the town, it feels as if the vineyards stretch to the ends of the earth. The earliest vines were planted here by the Romans, in the second century. We figure they know a thing or two about winemaking in these parts.
St. Emilion dates from prehistoric times, and the village is as picturesque as its surroundings. It's been declared a UNESCO World Heritage site and wandering through the narrow alleyways, you can see why. A long lunch, paired with the rich local red wines, in a cozy square, under the shade of ancient trees, is the perfect way to pass an afternoon here. That's exactly what we did. Santé!
Strasbourg
All of our favourite French cities are different, but Strasbourg is probably the most unique of them all. The capital of Grand Est (formerly Alsace), Strasbourg shows its German roots as much as it's distinctly French culture. We fell in love with Strasbourg on yet another long-weekend road trip.
Everything about Strasbourg, and indeed the Alsace Wine Region in general, is distinct: the food, the wines, the architecture and it couldn't have been more inviting. How could I not fall utterly in love with a city that boasts an all cheese restaurant? It also makes the perfect base for a trip along the Alsace Wine Route. Perfection!
UNESCO gave Strasbourg's Grand Ile the nod, as well, and wandering through the timber-framed buildings, you can understand why. But Strasburg isn't one of those too-quaint cities which feel preserved under glass. It's a bustling, living city, filled with people who are proud to be there. We were pretty happy to be there too.
France is a huge country, filled with unique and vibrant cities with distinct cultures and traditions. So far, we've fallen in love with these five cities, but we're sure there are more just waiting to be discovered. We hope we've tempted you to travel to some of the lesser-known cities of France. Do you have a favourite French city? Tell us about it in the comments below.
Love castles, palaces, and ruins like in this article? Us too! Don't miss the full listing of Castles we've visited in Europe and beyond.
Latest posts by Alison Cornford-Matheson
(see all)