THIS POST MAY CONTAIN COMPENSATED LINKS. FIND MORE INFO IN MY
DISCLAIMER
.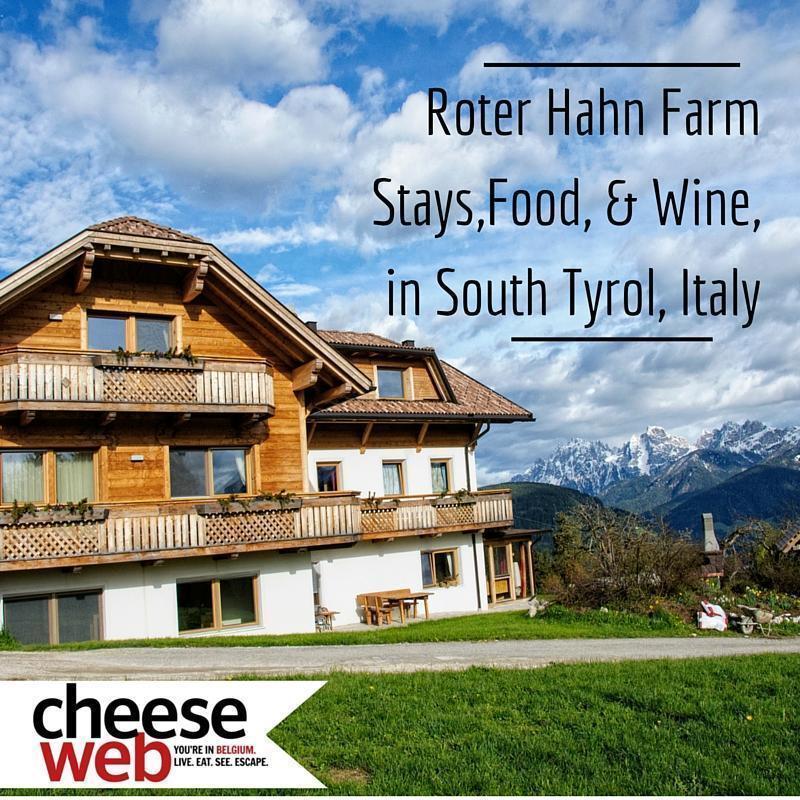 If eating mouthwatering local products, tasting sun-soaked wines, and exploring some of Europe's most beautiful mountain scenery sounds ideal, South Tyrol, in Northern Italy, may be just the place for you and Roter Hahn is the company to experience it with.
Last weekend, Andrew and I returned from a part of Europe we hadn't even heard of a year ago. In fact, we both had to look up South Tyrol on the map. It is now firmly on our 'top places we've ever visited' list. The valleys packed with apple orchards, vineyards, and some of the most adorable towns we've ever seen, contrasted with the jagged snow-capped mountains. At times, it felt like we were on a film set.
What made it all the more special was connecting with passionate local people who are producing some of the best food and wine we've ever tasted (and you know we've tasted a lot of food and wine!)
They've opened their homes, farms, and restaurants to the wider public through a company called Roter Hahn (Red Rooster in English) and this company was the reason for our visit to South Tyrol.
Andrew had a chance meeting with one of Roter Hahn's representatives, at an event last year. When we researched the company together later, we couldn't believe how well it fit with CheeseWeb's mission – to explore undiscovered corners of the world, meet passionate locals, and eat the very best local produce. When Roter Hahn invited us to stay in two of their properties, we jumped at the chance to share them with you.
In short, Roter Hahn connects travellers with local farms who rent apartments. But it's not what you're thinking. These are not rustic rooms above the cowshed. Here's a small taste of the two beautiful properties we stayed in. (Details of each coming in future posts.)
Roter Hahn sets tough standards farms need to attain, before coming on board. But they also provide the farmers with the tools to get there. One of our hosts showed us a huge binder full of resources and talked excitedly about some of the training courses he had participated in. Roter Hahn offers everything from hospitality training to language courses to breakfast preparation techniques to their members.
What this means for the guest is a guaranteed level of quality. Each of the properties is rated out of 5 flowers, on the website, categorized by theme (organic, good for hiking, historic, family-friendly, wine tasting, even spa farms), and sorted by area, so you can find exactly what you're looking for in a holiday home.
There are more than 1600 farmhouses in the Red Rooster family, so there is definitely something for everyone.
But apartment rentals aren't the only thing in Red Rooster's bag of tricks. Here's where it gets really interesting. 1600 farms produce heaps of great ingredients and Roter Hahn provides two ways to get your hands on them.
First, there are the farm bars. These are small, local restaurants, featuring either meat or wine produced on the farm itself. The products used in the farm bar have to come from the South Tyrol region, whenever possible, and, like the apartments, must meet Roter Hahn's quality standards.
The food consists of traditional, local dishes that are largely forgotten in the town and city restaurants. This food provides an even deeper connection to the people, culture, and land of the South Tyrol – and it's incredibly delicious.
We'll share more about the farm bars we visited in our upcoming articles, but here's a sneak peek.
One of the things I love to do when I travel to a new region is buy local products, so I can recreate some of the dishes I tried, once I get back home. I get to relive a little of my travels, and experiment in the kitchen at the same time. This brings me to the second way to taste test some of the farm's produce -Roter Hahn certified quality products.
These products come from Red Rooster farms and are sold to the public, either directly from the farm or through shops like Pur Sudtirol. When I walked into this shop in Brunek, I might have been a wee bit excited…
Roter Hahn farms produce a dizzying array of incredible products: wine, cheese, meats, pasta, preserves, dried fruit, juices, tea and herbs, spices and sweets, to name a few. I was like a kid in a (somewhat healthier) candy shop. Our car was definitely heavier coming home…
Roter Hahn has also recently launched an initiative to promote local handicrafts as well. Currently, there are only a few farms involved, producing crafts from wood and wool. The Red Rooster folks hope they can help encourage an interest in reviving these traditional hobbies.
It's not often we find a company we are so excited to tell our readers about. If you share our passion for local food, culture, and beautiful, undiscovered places, stay tuned for more details of our adventure in South Tyrol, coming soon.
Looking for more of our favourite hotels in Belgium and beyond? Visit our Hotel Reviews page to find out where we've been sleeping.
We couldn't do what we do without the kind support of our sponsors. We'd like to extend our thanks to Roter Hahn for inviting us to stay in two of their properties and experience their farm bars, as well as to South Tyrol for helping support our travels in the region. As always, our opinions are entirely our own.
Latest posts by Alison Cornford-Matheson
(see all)
Read more from this series...
Roter Hahn Farm Stays,Food, and Wine, in South Tyrol, Italy