THIS POST MAY CONTAIN COMPENSATED LINKS. FIND MORE INFO IN MY
DISCLAIMER
.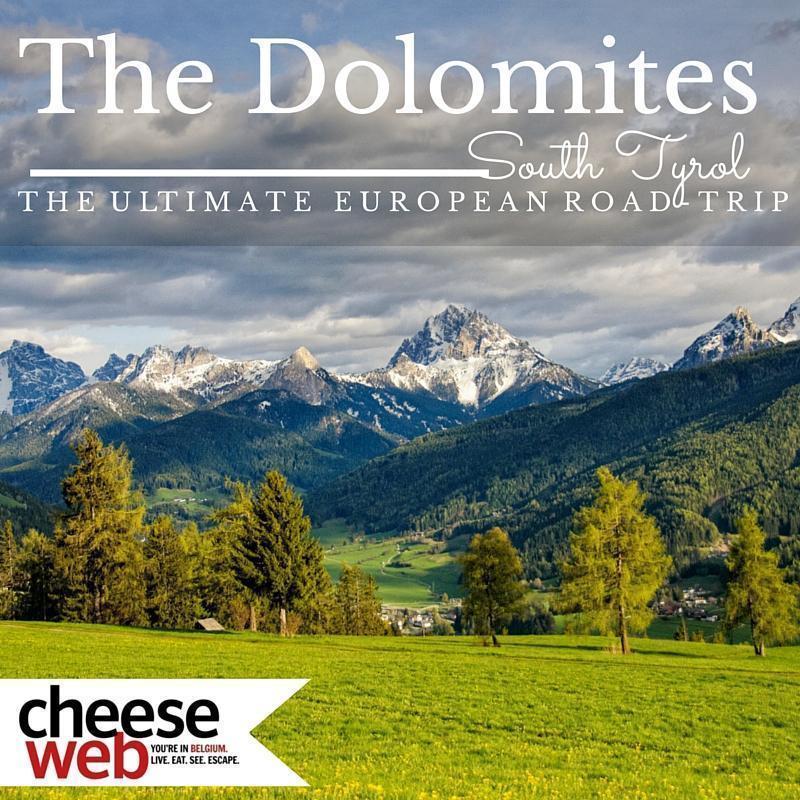 Part 2 of our road-trip adventure in South Tyrol has us driving up into the Dolomites Mountain Range and staying at the gorgeous Tiefentalhof, a Roter Hahn farm-stay.
With our Prius loaded down with boxes of wine and a crate of fresh apple juice from Wolfganghof, we set off on the second half of our South Tyrolean adventure.
When we had mentioned our next destination, Tiefentalhof, to our hosts at Wolfganghof, they smiled and assured us we were in for a treat. "The breakfasts are amazing," insisted Wolfgang and Elisabeth spoke of the spectacular scenery. It seemed we were truly headed for the mountains.
Now, most normal people would look at the map and take note of the perfectly good highway that would take us halfway to our destination. The GPS suggested route would take about an hour and a half, door-to-door. However, we were in South Tyrol, home of the UNESCO designated Dolomites mountain range and we are NOT normal people.
Before our road-trip, we bought the trusty Michelin atlas of Italy
. We flipped to the appropriate pages and stared at the endless choices of 'green roads'. We've been fans of the 'green roads' since our first European road-trip. Michelin does a great job of highlighting the most scenic routes, and in South Tyrol, we were spoiled for choice.
Andrew pointed out a particularly twisty road and I dusted off my navigator cap and switched off the GPS. CheeseWeb was going off-piste.
It didn't take long to start climbing and as we increased in altitude, we decreased in road size. At first, the mountains were distant and the valleys were dotted with picturesque towns. We found ourselves stopping for photo-breaks frequently.
About halfway through, it became clear we would not be able to continue all the way on our intended route. The pass we had hoped to take was still snow-covered and closed. We could still continue part way, through the Sella Pass and then rejoin the highway. I'll admit to being a bit concerned about the state of our all-season tires, but Andrew couldn't pass up a switchback challenge.
Up, and up, back and forth, we climbed. The road hugged the mountainside and I hugged my door handle. My side of the car was up close and personal with the looming mountain; although I did prefer this to gazing down into the precipice below as we rounded a corner.
I relaxed my white knuckles for a moment when we reached the top of the pass. I have to admit, the view was worth it.
Once we reached the bottom again, it was time to get a move-on to our home for the next two nights. We rejoined the highway for a few exits and turned onto the local highway at Brixen.
At Bruneck, we made a pit stop to visit the Pur Sudtirol shop (mentioned in our post on Roter Hahn). While I could have spent all day filling my shopping cart there, it had been a long day of driving and we were looking forward to putting our feet up.
We had been given directions from the folks at Roter Hahn. It seems the main road to Tiefentalhof was damaged during the winter and was closed for the foreseeable future. My favourite instruction read, "Drive left until you see a sign saying that you are not allowed to drive further. Ignore the sign and keep on driving." We were definitely going rural this time.
When we rounded the final bend and saw the big wooden Tiefentalhof sign, we had to pause for a moment and catch our breath. Wow.
The view inside Tiefentalhof was almost as stunning as the outside. The Sapelza family: Peter, Hildegard, and their youngest of three daughters, Sandra (enlisted to translate), greeted us warmly and showed us to our room.
Yes, this would do.
Even if our two-bedroom apartment wasn't beautiful (and as you can see by the photos that certainly wasn't the case), all we had to do was step onto one of our two balconies and look at the view…
Tiefentalhof is a working dairy farm and once we settled into our room, we were introduced to the animals. A herd of happy cows munched away in the barn, while the four youngsters wandered freely around the front yard.
There are also two short little goats who serve as pets and hedge trimmers, a few cats lazing about in the sun, and a small flock of chickens who contributed their eggs to our breakfast.
After driving all day, we were ready to relax and enjoy the view.
We dined on our picnic supplies, which seemed to be increasing rather than depleting, over the course of our trip, and called it an early night.
The next morning, we were up early and greeted by Hildegard's impressive breakfast spread. I was in dairy heaven, with a selection of yoghurt, fresh butter, and even a tasty drink made from the whey, in addition to local meats, cheeses and fresh-laid eggs.
Our intention was to hit one of the mountain hiking trails outside Brixen, to walk off some of the cheese, meat and dumpling calories we'd been stockpiling. With the help of a trusty hiking guide borrowed from our hosts, we found ourselves driving into the mountains once more.
This time we headed for Plose Mountain and a walking trail that began at the Plose Refuge. These were seriously local roads we were climbing – the kind where you pull over for oncoming traffic.
Sadly, just like the day before, our plans were thwarted by snow. We made it to the refuge, but the hiking trails were still snow-covered. Not prepared to hike in the snow without snowshoes, we enjoyed the view and then headed back down into Brixen.
In lieu of our mountain hike, we found a trail beginning in the town square that followed the river. It turned out to be a lovely path and a lovely town. We even made mental notes to return here and spend more time, when we set off on our caravan adventure.
After our walk, we were both getting a bit peckish and I had spotted somewhere on our drive into town that morning, which required further investigation.
We pulled in beside a huge sign with a photo of wheels of cheese. It read Capriz – Goat cheese museum, shop, bistro, and wine boutique. Now, this had my name all over it.
We began in the quirky museum, where I met a goat, and we learned all about the cheese making process. It was a fun, interactive museum, that was very kid-friendly.
Then we headed upstairs, where I contained myself long enough to walk by the cheese and wine and take a seat at the bright and sunny bistro. Unfortunately, it was too windy to enjoy the terrace, but we certainly enjoyed the cheese.
Needless to say, Andrew didn't escape without me buying cheese to take home. I did restrain myself, however, knowing Debbie's cheese of the month box would be waiting for me in Brussels.
After our goat cheese extravaganza, we headed back to Tiefentalhof to relax before, you guessed it, eating again.
Our dinner that evening had been prearranged by Roter Hahn. We climbed down our mountain and up another nearby, to find ourselves at Niedristhof, the farm of Margareth and Paul Niederwolfsgruber.
Margareth greeted us warmly and ushered us into the cozy dining room. Although, after our meal, we did spend time chatting with her daughter as well, Margareth held her own in the English department and cheerfully told us all about her farm and the dishes we were eating.
Niedristhof is also a cattle farm, but unlike Tiefentalhof, these cows are used for both dairy and meat. Conveniently, the Niederwolfsgruber's son is a butcher and we started our meal by sampling some of his specialities. Andrew also opted to try the traditional soup, a barley and root vegetable medley with ham.
After my cheese-fest, I went straight onto the main course of, you guessed it, dumplings (all in the name of research dear readers.) I think these may have been my favourite yet (although they were all very different and very, very delicious.)
We waddled out the door and were in a food-coma induced sleep within an hour.
Of course, we woke to another breakfast of epic proportions. This time, at least we had someone to share it with, as we met with Valentina from Roter Hahn. We talked travel and learned all about the company we had grown to love over the past four days. We vowed to return to this stunning region. Four days in South Tyrol is not even close to enough.
Finally, it was time to say goodbye, and with one last look at those gorgeous mountains, we headed for home. South Tyrol, we will be back. Please don't change. We love you just as you are.
Want to hear more of our impressions about South Tyrol? Have a listen to our interview with the Amateur Traveler Podcast:
Amateur Traveler Episode 425 – Travel to South Tyrol, Italy
Looking for more of our favourite hotels in Belgium and beyond? Visit our Hotel Reviews page to find out where we've been sleeping.  For more great restaurants around the world, check out our Restaurant Review page.
We wouldn't be able to do what we do without the generous support of our sponsors. We'd like to extend a huge thank you to Roter Hahn for our meal at Niedristhof and accommodation at Tiefentalhof and to the Sapelza family for being such warm and wonderful hosts. We'd also like to thank South Tyrol for helping support our travel costs in the region. We at CheeseWeb are committed to always sharing our honest opinion of any product or service we write about, whether sponsored or not.
Latest posts by Alison Cornford-Matheson
(see all)
Read more from this series...
The Dolomites and Tiefentalhof, South Tyrol, Italy