THIS POST MAY CONTAIN COMPENSATED LINKS. FIND MORE INFO IN MY
DISCLAIMER
.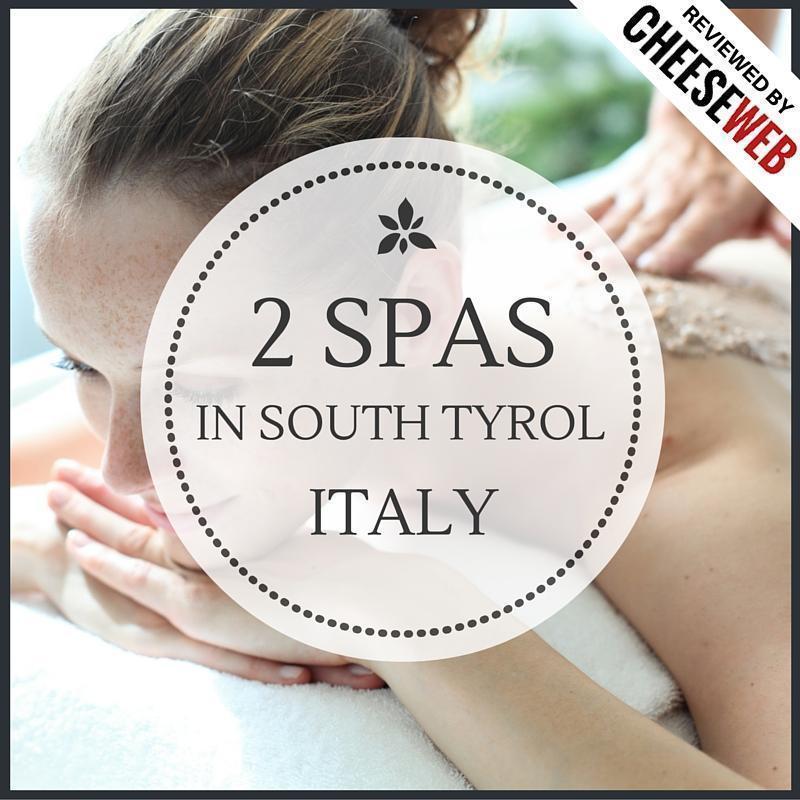 While the Arosea and Terme Merano spas, in South Tyrol, Italy, have different wellness philosophies, they both use the best regional products for their treatments. and Terme Merano spas, in South Tyrol, Italy, have different wellness philosophies, they both use the best regional products for their treatments.
When we first moved to Belgium, we discovered European spa culture. At first, it was just a relaxing way to spend the day together. However, over time, we began to see the benefits to our own mental and physical wellness. The ability to unwind, unplug, relax, and pamper ourselves from time to time gives us both mental clarity and physical recovery – and it's still a great way to spend a day together without distractions.
When South Tyrol tourism invited us to discover what wellness means in the mountains of Italy, we jumped at the chance. What we found were two very different styles of spa, with a shared aim to use the best of the region's products to make people feel great.
Arosea Life Balance Hotel
For our first spa experience in South Tyrol, we headed for the mountains. About an hour's drive from Bolzano, the Arosea Life Balance Hotel is set in the stunning Val d'Ultimo. Overlooking the Lago di Zoccolo, the wood and glass hotel settles comfortably into the mountain landscape.
Arosea is not a day spa. The facilities are only for hotel guests, making it calm, quiet, and exclusive – particularly in the off-season. Sadly, we weren't staying at the Arosea overnight, but we did get to tour the beautiful facilities before beginning our spa treatments. (Travel writing does have some advantages.)
The rooms at Arosea feature materials from the region: wood, wool, and stone. The mountain water, the main feature of the spa, is so pure rooms have a special tap for drinking water rather than bottled water. (We tried the water and it is that good.)
Rooms range in size from spacious doubles to luxurious multi-room family suites, complete with Jacuzzi tubs and private saunas. The views aren't half-bad either.
Arosea's restaurant is just as beautiful as the guestrooms, capitalising on those gorgeous views and South Tyrolean materials. The food is seasonal, local, and organic – a modern take on traditional recipes.
However, we were here to discover the spa and Arosea had two different treatments for us to sample, both featuring South Tyrolean products.
Andrew enjoyed a hot stone massage using stones from the nearby Ulten Brook. The hot oil is massaged into the skin with hot stones, rather than the masseur's hands. The stone massage helps to increase circulation and overall wellbeing and Andrew felt relaxed and toasty-warm, despite the chilly December day.
My massage was a bit more unusual. When it was over, Andrew asked me what it was like, my reply:
"It was like being wrapped in a sheep and massaged with kittens."
Andrew's expression was suitably blank.
Unlike a traditional massage where you lay on a cotton sheet, a blanket of raw sheep's wool covered my massage table. My masseuse sprinkled some dried mountain herbs and rubbed them into the wool before I lay down. Once on the table, she covered my head and back with the rest of the wool. She burned more of the herbs so I could smell the herbal smoke. Then she proceeded to rub my body, very lightly, with extremely soft wool. It was incredibly relaxing.
When it was over and I was back in my robe, my masseuse asked me to wait a minute. She then bundled up the huge piece of wool and stuffed it into a paper bag – it was mine to keep. (How I crammed it into my carry on only suitcase on the way home is a whole other story.)
After our treatments, we chilled out in the relaxation room with cups of herbal tea, before making our way to the spa.
Being December, our swimming options were limited to the indoor/outdoor pool. In the warmer months, the 700m2 biological swimming pond is available to enjoy. During our visit, the pond sported a thin sheet of ice and neither of us was in the mood for a polar plunge.
We made our way to the outdoor Finnish sauna just in time for a sauna ritual featuring more South Tyrolean herbs. (After the sauna we did both take that polar plunge but in the frigid pool rather than the pond.)
We also checked out the steam bath, several other saunas, various relaxation spaces.
Unfortunately, our time was limited, as we needed to make our way back to Bolzano. We were relaxed, refreshed and initiated into the world of South Tyrolean wellness.
Terme Merano
The following day, we made the half hour drive to Merano, South Tyrol's traditional spa town. People have been coming to Merano for wellness since the 1500s. Later during the Hapsburg Empire, Empress Elisabeth of Austria, known as Sisi, came here for her health, putting Merano firmly on the exclusive spa and wellness map.  However, these days, wellness isn't just for the rich.
Right in the heart of the city is the ultra-modern Terme Merano, a complex of 25 indoor and outdoor pools, capitalising on the mineral-rich mountain water. Its location in the city-centre demonstrates Terme Merano's philosophy of wellness for everyone and locals use the spa as well as the visiting tourists.
The 15 indoor pools were busy with people of all ages, during our mid-week visit. In the warmer months, the grounds outside turn into an inner-city oasis, with 10 more pools and stunning views of the surrounding mountains.
Beyond the additional pools, including a lily pond pool, are extensive gardens planted with roses and South Tyrolean flora. There is even a pond for abandoned turtles. (The setting makes us wish we were abandoned turtles too…)
We headed for the treatment area, for a quick tour, before indulging ourselves. Like Arosea, Terme Merano uses local products in its treatments. They have even created their own line of skin-care products using South Tyrolean apples. Other treatments include wool, whey, goat's milk, wild mountain herbs, hay, and even beer and wine.
The treatment rooms are modern and comfortable. There's even a special room for couples' treatments with side-by-side massage tables, a Jacuzzi tub for two and a double bed for relaxing.
Once again, Andrew and I split up to investigate our treatments. This time, mine would feature Edelweiss from the mountains in the form of a body wrap and Andrew would sample a South Tyrolean mountain pine peeling.
After being slathered in delicious smelling edelweiss lotion, I was wrapped in a water-filled pack, the solid platform I was laying on descended into a tub of warm water, where I floated ensconced in my wrap for about 20 minutes. It was a bit like being wrapped inside a waterbed.
Unlike traditional spas, where you are in a darkened room, at Terme Merano they believe the mountain views and connection to nature are part of the wellness experience. Once I was safely enclosed in my wrap, my technician threw open the curtains so I could enjoy the view. Unfortunately, most of the mountains were shrouded in a December mist, but the overall effect of the treatment was warm, weightless, and relaxing.
Meanwhile, in another treatment room, Andrew was massaged with a scrub featuring mountain pine oil. After the scrub was complete, he was washed down with warm water, leaving his skin smooth and soft, and a little bit pine scented too.
Once Andrew and I were reunited, and again, on a limited timeframe, we decided to forego the busy pools and head straight for the more secluded sauna area.
Terme Merano has eight saunas, as well as a steam bath, multi-sensory showers, and a snow room with, you guessed it, real snow.
Even in the sauna area, we could see attempts to bring nature inside, with a central courtyard and views to the outdoor relaxation area. There is even a large Finnish sauna outside with views to the surrounding mountains.
In the midst of it all is a small bar serving drinks and light snacks. It's a calming oasis in the city and we could definitely see ourselves being frequent visitors if we lived here.
By the end of our second day in South Tyrol, we had experienced wellness treatments, featuring the best of the region's natural products, at two very different spa facilities. Whether you are looking for a modern complex close to the amenities of the city, or a total escape from civilisation, South Tyrol's spas have something to offer the wellness-seeking visitor.
Stay tuned for one final wellness escape in South Tyrol, Italy, that's so isolated, we had to take a cable car to get there.
We wouldn't be able to do what we do without the generous support of our sponsors. We'd like to extend a huge thank you to South Tyrol for inviting us to discover these two amazing spa facilities and allowing us to express our honest opinions about South Tyrol. As always, if we don't recommend a destination, you won't see it here on CheeseWeb.
Latest posts by Alison Cornford-Matheson
(see all)
Read more from this series...
Indulging in Wellness at 2 Spas in South Tyrol, Italy