THIS POST MAY CONTAIN COMPENSATED LINKS. FIND MORE INFO IN MY
DISCLAIMER
.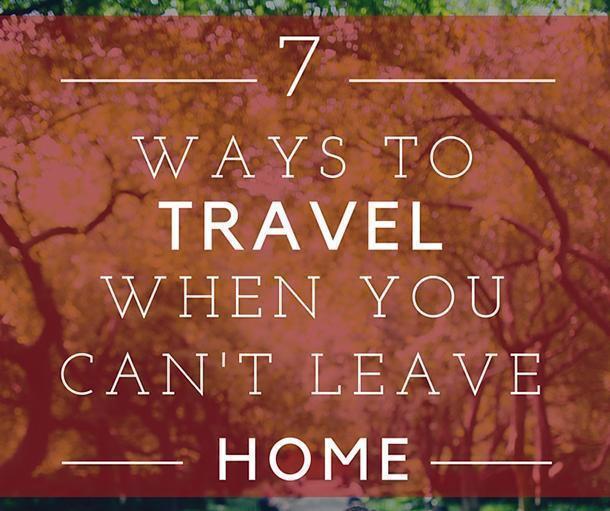 Sometimes you just can't travel for health, money, or family reasons. We share 7 ways you can travel when you can't leave home.
If you're a regular CheeseWeb reader you probably love to travel as much as we do. But just because you love to travel doesn't mean you can do it – All. The. Time.
While we believe lots of folks who could travel make excuses, because they fear taking the leap, we also know there are lots of reasons why you simply can't travel, at least not right now.
Maybe you need to pay off debt and save some cash before you can hit the road (been there!), maybe you have children or elderly parents who need you to stay in one place at the moment, perhaps your own health issues make it difficult to go far, or maybe you aren't prepared to give up your home, pets, or career just yet. Sometimes there are solutions to these problems and sometimes the only (or best) solution is to stay put. We fully believe in seizing the moment while you can but we know that life isn't always that simple.
As our newsletter subscribers know, we're currently staying put in Canada (sort of, and we'll get to that in a bit), to be with my family during my Dad's health issues. While we wouldn't want to be anywhere else right now, we'd be lying if we said we don't miss the open road.
We were in a similar situation this time last year. We were focused on saving enough money to buy our motorhome, Amelia, and have enough cash for a year on the road in Europe. When Andrew was laid off, our budget was cut drastically which meant we had to get creative when it came to entertaining ourselves on the cheap.
During that time, we devised a few strategies to help satisfy our travel urges without leaving home and without spending a lot of money. Today we want to share our favourites with you. Some may seem obvious but (we think) a few are pretty creative.
Here are our Top 7 Ways to Travel Without Leaving Home:
1. Cyber-stalk your favourite traveller
But not in a creepy way. There are thousands of travel blogs on the internet so it's easy to travel vicariously anywhere in the world, with any age, gender, and style of travel. When we were saving up for our motorhome adventure, we followed the blogs of several other full-time motorhomers in Europe. It not only gave us inspiration but also motivation to continue to save and practical tips for what to do once we got on the road.
Being travel bloggers ourselves, we've had the opportunity to meet (on-line and in person) others in our community and we can say without hesitation, the vast majority of them are genuine, passionate people who simply love to share the world with others. Pick a few favourites and travel vicariously while you can't travel yourself.
For global travel inspiration, here are a few of our international favourite travel blogs:
There are so, so many more great ones it's impossible to mention them here. Many are destination specific. Here's a huge list of the top travel blogs to give you inspiration.
2. Indulge in Travelporn on Pinterest
My name is Alison and I'm addicted to Pinterest. If you are a visual person, like me, Pinterest is the ultimate in inspiration. It also goes hand in hand with reading travel blogs. While I don't have as much time as I'd like to check in with my favourite travel blogs individually, I follow them all on Pinterest. That way, I can see at a glance if there are any articles I just have to read and I can save anything interesting to my own boards. I've learned about so many new places this way.
I sort all my boards by destination, so when I do have the opportunity to travel again I can go back to the board for the country I'm heading to and read through all of the pins I've saved. It's inspiration and research all in one.
If you want to indulge in my addiction with me, follow us on Pinterest. I follow hundreds of other travel bloggers so I promise you'll never be lacking for visual goodness.
3. Escape Your Daily Routine with Travel Podcasts
Podcasting has been around for years now and although we've been interviewed by a number of travel podcasters, it wasn't until recently I started listening to them regularly myself. I'm a reader and that's normally how I consume information. The nice thing about podcasts, though, is I can multi-task.
As we're in the middle of Canadian winter (and I sit at a desk all day writing) I've been using my parents' treadmill for daily exercise. While I'm walking, I listen to my favourite podcasts to learn something new or just to inspire me. I know lots of folks who listen to podcasts on their daily commute or while they are doing things around the house.
Like blogs, there are podcasts on every topic you can think of. Here are a few of my favourite travel podcasts:
4. Escape into Global Fiction Books
For as much time as I spend online, I still prefer to do my reading from a physical book (or our first generation Kindle). I read a lot of travel books and there are still a few excellent travel magazines, but even fiction can offer a look at a completely different way of life in another part of the world.
It would take me all day to list all of my favourite travel related books, so I'll just keep it to the books I read last year, that inspired me to travel.
5. Travel to another Country in your own Livingroom
Now we're getting to the really good stuff. We call this one 'Livingroom Bed' and it's our hybrid creation of a few ideas we heard from other people. Because we spend so much time online, we like to have occasional days completely away from the internet. We had been given a suggestion to put a blanket on the living-room floor and put everything we would need for the day on the blanket – leaving computers and mobile phones elsewhere. Once you're on the blanket, you can't get off (bathroom breaks being the exception). But what would we do all day? Idea number two was to pick a country or region and gather all of the movies or TV shows we could find either about or set in this place. We love travel shows and have a big collection of them (You can see our favourite travel documentaries here) so it was easy to intersperse these with some movies to fill a whole day of relaxing.
The first time we did this, we piled pillows and blankets on our living-room floor (complete with cats of course) and chose Hong Kong as our destination. We watched everything from a 70s Kung Fu flick to a modern Chinese movie (subtitled) to our favourite Anthony Bourdain episode on HK. It was so much fun we weren't even tempted to look at our phones.
Because we had to eat, we also combined this with #6…
6. Travel with your stomach
For us, food and travel go hand in hand. We love to try new foods from around the world and I'm always up for the challenge of cooking them. You can go easy on yourself and find a recipe online to try for supper, or you can go all in like I occasionally do.
In the example of our Hong Kong day above, we decided the only time we could leave the living-room bed, was to make food. We also wanted to stick with our Hong Kong theme. So, I scoured food blogs for some authentic Hong Kong recipes and we indulged in a total sensory Asian immersion.
The food doesn't all have to come from the same region. Another time, we decided to declare 'National Dumpling Day' and we made a variety of dumplings from around the world; pierogies, Singaporean pork dumplings, and Knodle from our South Tyrol travels.
If you don't like to cook and budget isn't a big issue, you can always try a new ethnic restaurant. (If you're in Brussels you're spoiled for choice.) Even here in my small hometown of Saint John, we have Thai, Indian, Japanese, Egyptian, and more to choose from. Nothing transports you into a new culture quite the way food does.
Need some food blog inspiration? Check out this list by the Brussels Food Friends.
7. Travel at Home
When you're stuck in the same place, especially when you've been there a long time, the tendency is to stick to the same routine. We rarely look at our hometowns as travel destinations. Hell, we lived in Belgium for four years before we actually decided to explore it in depth rather than jet off to a different country. We've been told countless times, by Belgians, we've seen more of the country than they knew existed.
But we're guilty of this too. One of the biggest tourist attractions in my home province of New Brunswick is whale watching – Cool, right? I had never gone whale watching until years after we moved to Belgium. A few summers ago, when we were home to visit my parents, we all decided to go. As you've probably guessed, it was incredible and I wondered why I never did it before.
While you may not have whales where you live, I promise there is something interesting to do nearby you've just never bothered to do before. Check out your local tourist office online or in person and see what they are promoting to visitors – then go do it. Approach your hometown (state or province) as you would a brand new place. Be open minded and I bet you'll see a whole new side to your home.
This is exactly our plan for the coming months. We've reached out to New Brunswick tourism and some of the nearby city tourist offices and we're excited to day-trip our way around my home province. We've discussed doing some very typical things here neither Andrew nor I have ever done before. Of course, we're excited to share Eastern Canada with you, so you can either travel vicariously or plan for a future trip – to the best part of Canada.
Now we want to hear your tips. What else can we do to scratch our travel itch, while we can't travel far from home? Leave your suggestions in the comments below.
Latest posts by Alison Cornford-Matheson
(see all)