THIS POST MAY CONTAIN COMPENSATED LINKS. FIND MORE INFO IN MY
DISCLAIMER
.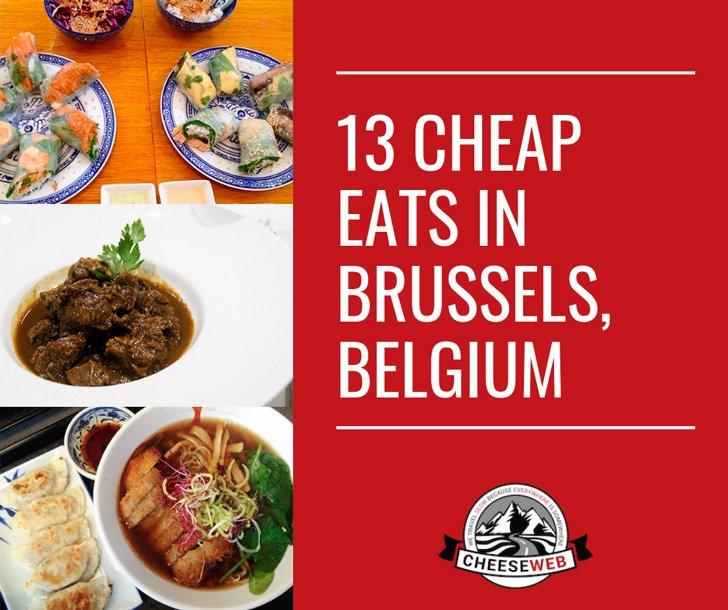 If you love to eat tasty, healthy food but are on a tight budget, you'll love our selection of cheap restaurants in Brussels. From Asian cuisine to traditional Belgian food these are our picks for 13 of the best cheap eats in Brussels, Belgium updated for 2018!
A few years ago, I wrote an article on Cheap Eats in Brussels for RTW Expenses. It's been a hit with visitors to Belgium, as Brussels can be a tricky spot to find an affordable meal if you don't know where to look.
Of course, we've always had the traditional Belgian foods in Brussels – waffles and frites. I list my favourite spots to get these traditional 'cheap eats' in the RTW article, as well as my favourite budget seafood, pizza, and brunch restaurants.
At that time, healthy, interesting, and affordable food was just starting to make an appearance in Belgium's capital. In recent years, creative meals on a budget have sprung up all over Brussels and now we are spoiled for choice.
Today I want to share my latest favourite cheap places to eat in Brussels with these Cheap Eats!
1. Peck 47 Café
Just steps from Brussels best fish and chips restaurant, Bia Mara, (see below) is Peck 47, a cosy little sandwich shop. This café has been popping up all over Brussels food blogs since it opened.
While the sandwiches are tasty and there are some nice budget brunch options, I love Peck 47 for their drinks. While they offer tasty cocktails, it's actually the non-alcoholic beverages I crave – big, thick smoothies, organic juices, great coffee, and lovely herbal teas. They even have a tea called Alison's Secret Garden – how could it not be a winner?
If you want to visit Peck 47, plan ahead, especially on weekends for brunch. This cafe is so popular there is often line outside the door.
Peck 47
Rue Marche Aux Poulets 47
1000 Brussels
2. MexiGo Mexican Take Out
We've written about MexiGo's Mexican food delivery service and their ethnic grocery shop filled with Latin American treats. However, MexiGo also offers a small but yummy budget dining option.
On-site, you can enjoy their burritos, empanadas, taquitos, and other takeaway treats if you just can't wait to get them home. We especially think the burritos are a cheap, healthy, filling and delicious treat for lunch.
MexiGo
47 Francois Dons
1050 Ixelles, Brussels
3. King Kong Peruvian Restaurant
King Kong is another cheap restaurant in Brussels that has taken the blogosphere by storm of late. In fact, we had been hearing so much about it, we decided to host a Brussels Food Friends planning meeting there.
Maxine did a great job of reviewing our tasty Peruvian sandwich experience. I recommend the Chicharron hot pork sandwich. Yum!
King Kong
227 Ch. de Charleroi
1060 Saint-Gilles, Brussels
4. Knees to Chin Spring Roll Restaurant
I LOVE spring rolls. But, I'll admit, I was skeptical about a whole restaurant dedicated to rice paper rolls. But I'm now a Knees to Chin convert and, if it were any closer to my house, I'd be eating there every day.
The concept is simple – there are six fresh and healthy spring rolls to choose from. You can order them a la carte or as part of a menu. Because we wanted to be thorough, (for you dear readers) we ordered one of each, plus a bowl of rice and salad, all to share. We loved everything, including the homemade sauces.
My favourite was actually the vegetarian roll, featuring sweet potato, pineapple, fresh mint and avocado sauce. Not only are the spring rolls healthy and very affordable, but they are also virtually gluten and lactose-free (great for special diets!). Knees to Chin is definitely cheap food in Brussels that needs to be on your bucket list.
Knees to Chin
rue de Livourne 125
1000 Brussels
5. Pho Pho Vietnamese Fast Food
My ideal lunch (or dinner, or breakfast for that matter) is a big bowl of fresh, Asian noodle soup. I can't get enough of the stuff. We recently discovered Pho Pho and loved it so much, we've eaten there repeatedly.
What's even better is it is GREAT for foodies on a budget. The soups are HUGE. I couldn't finish my medium, let alone the large one Andrew slurped down. They are filling, fresh, healthy AND cheap. What more could you ask for in a cheap restaurant in Brussels?
Pho Pho Vietnamese Fast Food
Rue de la Paix 27,
1050 Ixelles, Brussels
6. Samourai Japanese Ramen Bar
Speaking of noodle soups, Samourai Ramen is not to be missed. Just like Pho Pho, it's healthy, hearty, cheap and delicious. It's also conveniently located for taking in the sights of Grand Place or shopping in Rue Neuve. Read our full article on Samourai Ramen for more information.
Since I originally wrote this article, Samourai Ramen has expanded. I visited the gorgeous new Toison d'Or location with my Mom in December 2017. Both locations offer the same simple but delicious menu and both are excellent cheap food options for Brussels. They are also available on UberEats. I definitely could have used THAT option when I lived in Brussels!
Samouraï Ramen
Rue Fossé-aux-loups 28
1000, Brussels
Rue Capitaine Crespel 1,
1050 Ixelles
7. Le Nid Savoureux Authentic Chinese
While we're on the topic of Asian food, we can't forget our amazing meal at Le Nid Savoureaux. This was the BEST authentic Chinese food we've had in Belgium. It was spicy, fresh, and packed with flavour. The best part was we had mountains of food for under €20 each. It was a steal! For the money, this is easily the best cheap Chinese restaurant in Brussels.
Le Nid Savoureux
Rue de la Cambre 325
1150 Woluwé-Saint-Pierre
8. Café Novo Belgian Restaurant
One of our most frequently asked questions is: 'Where can I find a great Belgian Restaurant, on a budget.' Now I'm about to share a little hidden-gem, so listen up – Café Novo has my favourite Stoofvlees/Carbonnade in Brussels. (Believe me; I've tried loads of them before coming to this conclusion.)
They also serve up traditional dishes like stoemp, boulettes, and filet Americain. Beyond the typically Belgian dishes, there are plenty of surprises, like kangaroo steaks and Moroccan tajines.
In fact, their menu caters well to vegetarians, as well as carnivores. Café Novo's falafels are my favourite summer dish when carbonnade is just too heavy. The restaurant is close to Grand Place, so it's tourist-friendly, but it's out of the way enough to still be a little secret. (You're welcome.)
Café Novo
Vieille Halle aux Blés 37
1000 Brussels
9. Bia Mara Fish & Chips in Brussels
Whenever we recommend the best fish & chips in Brussels, it is hands down, Bia Mara. The fish is sustainably sourced, the restaurant is near Grand Place, it has a modern, lively interior, and, best of all, it is simply delicious. Did I mention it's affordable too? You guessed it, Bia Mara is one of our top cheap restaurants near Grand Place, Brussels! Read our full review here.
Bia Mara Urban Seafood Kitchen
Rue du Marché aux Poulets 41,
1000, Brussels
10. Mo Mo Tibetan Restaurant Brussels
Mo Mo is one of the many cheap international restaurants that has popped up in the St. Gilles neighbourhood of Brussels. They followed their original location with a second restaurant in Ixelles. Mo Mo's menu is short and to the point. Fresh, delicious, hand-made Tibetan dumplings. There are vegetarian and vegan options and Mo Mo is a member of the Brussels slow food restaurant movement. Best of all, it's cheap and delicious.
Mo Mo Tibetan Restaurant
27 rue Defacqz,
1050 Ixelles
7 avenue des villas,
1060 St Gilles
11. Mamma Roma – Best Pizza in Brussels
Like every major city, there are hundreds of pizza restaurants in Brussels. Our favourite, hands down, is Mamma Roma. This local chain has expanded over the years and you can find locations all over the city.
Mamma Roma offers a selection of pre-made pizza options, with and without meat (my favourite is the potato truffle pizza). You simply point at the pizzas you'd like, and the server will cut you off a hunk and grill it in the pizza oven. You can mix and match your pizzas as much as you like and then you pay by weight (the pizza's, not yours.) Mamma Roma's offers a great lunch deal; 2 slices of pizza and a drink as well as regular specials.
Mamma Roma
Multiple locations around Brussels
12. Noordzee – Mer du Nord
Noordzee is one of our favourite restaurants in Belgium and it's a true Brussels classic. Nordzee is a fishmonger, but their outdoor food counter is one of the best cheap eats in Brussels.
Noordzee's grey-shrimp croquettes are the best I've ever tasted and nothing warms you up on a grey, Belgian day like their fish soup. A local favourite is a plate of fresh-shucked oysters washed down with a glass of champagne. The best part? Most menu items are under €10.
Noodzee/Mer du Nord
Sint-Katelijnestraat 45,
1000 Brussels
13. Food Trucks in Brussels
Another budget solution for great food in Brussels is sampling the food trucks, popping up like mushrooms, all over town. In fact, there are so many I want to mention, I've dedicated an entire article to our favourites. Read about our top 9 favourite food trucks in Brussels and beyond!
We love not having to break the bank to enjoy great food in Belgium. We hope our selection of cheap eats in Brussels
More of the Best Restaurants in Brussels, Belgium
pick up a copy of our book, the Foodie Guide to Brussels, for our top tips on the best Belgian dishes, where to buy quality, locally made products, and which museums and festivals are musts for foodies.
Latest posts by Alison Cornford-Matheson
(see all)
Read more from this series...
13 Cheap Eats in Brussels, Belgium