THIS POST MAY CONTAIN COMPENSATED LINKS. FIND MORE INFO IN MY
DISCLAIMER
.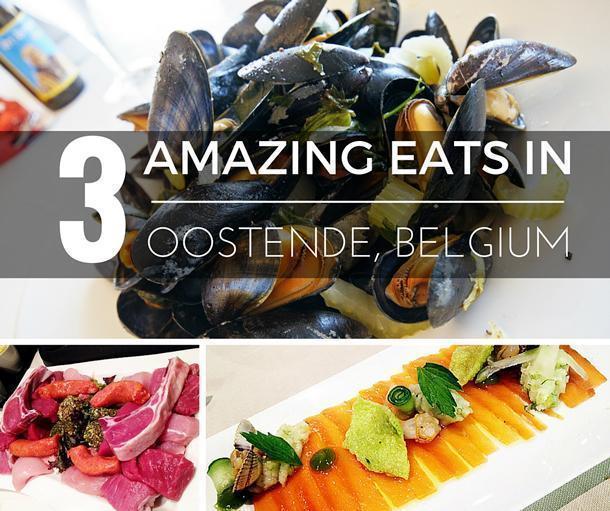 When Andrew and I visit a new Belgian city for a weekend, one of our first missions is to scope out recommended restaurants and make reservations. Over the course of two and a half days, we normally have one exceptional dining experience and one or two good meals. If we're really lucky, there will be two stand-out meals. Dining in Oostende surpassed our expectations. 
I'll be the first to admit, I wasn't expecting stellar things from the food scene in Oostende. After all, it's a beach town; a tourist town. After eight years in Belgium, I should know better – Exceptional food is in the most unexpected of places here.
So, with a little sleuthing on our own part, and some excellent help from the folks at Visit Oostende, we discovered three incredible restaurants in Oostende and we want to share them with you.
Restaurant Eclips
We knew Visit Oostende was arranging our meals for Saturday and that those meals would be showcasing the wonderful fresh seafood available in Oostende. So, left to our own devices for Friday night, we wanted to find something a little different. I headed to Trip-Advisor, and there, in the number one ranking, was Restaurant Eclips.
Restaurant Eclips is a cozy, trendy feeling spot, just off the beach promenade. The focus is on tableside fondues and grills and it is a meat-lovers paradise.
Owners, Chris and Sharon Verdonck, greeted us warmly and explained the menu and concept to us. In addition to their role as restaurateurs, they are also the chefs, servers, and even cleaners – they run the entire show themselves and are dedicated to excellent service. And that's exactly what we received.
After downing delicious cocktails, and nibbling on our amuse-bouches, Chris began to construct our 'kitchen.' Andrew had opted for the fondue and I had ordered the gourmet grill, so we could experiment with each.
Soon, a mountain of fresh meat appeared before us and we dove in.
The generous portions had our bellies so full, we couldn't manage dessert, but there was no way I could pass up one menu item – authentic Irish Coffee, made table-side. I am an Irish coffee snob, and can't stand being served coffee with whipped cream squirted on top and having it passed off as Irish coffee.
So when Chris lit up the burner at our table and began to do his thing, I was practically giddy.
The result – a perfect Irish coffee and possibly the best one I've ever had.
While all of this was going on, Andrew was being served from a beautiful fresh tea selection that smelled heavenly.
Throughout our meal, we enjoyed chatting with Chris and Sharon about their restaurant business and our shared passion for travel. The pair spends a portion of each year in Thailand where they buy gorgeous jewellery to bring back to Oostende to sell.
The Verdonck's friendliness and passion for what they do shines through in this excellent must-visit restaurant in Oostende.
Restaurant Eclips
Van Iseghemlaan 85
Oostende
+32(0)59433453
Galerie Beau Site
We almost didn't make our lunch at Galerie Beau Site, or rather we almost ended up next door at the Beau Site Bistro (Take note – the bistro may be lovely but it is not the same place.) When we mentioned our reservations through Visit Oostende, we were met with confused stares. Then recognition dawned and we were directed next door.
We were the first guests through the door that morning and, at first, we weren't sure we were in a restaurant at all. That's because the Galerie Beau Site is much more than a restaurant. As the name suggests, it is an art gallery, featuring the work of local and international artists. It is also a shop selling vintage furniture, decorative items and even clothing.
Head upstairs and you find the open kitchen, some cozy seating arrangements and one long white table stretched out in front of a bank of three large picture windows. The window-seats have fluffy cushions and are surrounded by art books and board games. It's the perfect place to relax and watch the world go by.
We sat ourselves at the table and were immediately mesmerized by the view. Watching the surf, the activity on the beach, and people of all ages passing by on the promenade, was better than television and infinitely more relaxing.
Beau Site doesn't have a set menu. In fact, the menu is whatever the owners, Ann and Gilbert, have in their kitchen. Fortunately, Ann is an incredible cook with a passion for fresh, local ingredients. We took her suggested starter of an artichoke with homemade dipping sauce and were also treated to some sweet Belgian grey shrimps (my personal favourite).
When our meals arrived, we were impressed by the sophistication that came from the simple kitchen. Andrew opted for mussels and I had a risotto of grey shrimps and sea greens. Both dishes were perfect.
While we ate, we chatted with Ann and Gilbert, who, like Chris and Sharon, manage everything themselves and are passionate about what they do. We were told Beau Site is quickly becoming a place for artists and locals to congregate, relax, and sometimes even spend the entire day. We could see why. We only tore ourselves away from the view and the food because we had more activities planned for the day. If I lived in Oostende, Beau Site could easily become my home-office. Now there's an idea…
Galerie Beau Site
Albert I Promenade 39
Oostende
+32(0)59278519
Bistro Mathilda
For our last meal in the city, Visit Oostende had arranged a gastronomic seafood feast, à l'Ostendaise, at the acclaimed Bistro Mathilda.
À l'Ostendaise is a restaurant venture running until the end of September 2014 (so you still have a whole year to try it out) in which local fishermen challenge the chefs of Oostende to use different seasonal seafood products each month. On certain days, there are even special 'Fisherman's Dinners' where the fishermen join you for a meal and answer questions about their trade.
Bistro Mathilda is an elegant and bustling restaurant beside the lovely Léopold Park. It is run by Luc Deklerck and his wife Gerda Maenhout who were friendly and professional while attending to each and every detail in their lively restaurant.
Luc explained the à l'Ostendaise menu to us, made sure we had no food allergies and our gastronomic tour of Oostende seafood began.
The dishes were artfully presented and each of the featured ingredients shone. It was impossible to choose a favourite dish as each offered something unique and tasty. We were also impressed with the wine pairing choices and the final tea and coffee ending.
If you are looking for a place to have a special meal featuring all of the best ingredients from the Belgian coast, we highly recommend Bistro Mathilda.
In fact, we highly recommend all three of these restaurants. Although they are different in their menus and styles, they share the commonalities of passion for good ingredients, warm and friendly service and attention to each and every detail. We definitely won't be waiting another eight years to dine in Oostende.
Bistro Mathilda
Leopold II Laan 1
Oostende
+32(0)59510670
Stay tuned for more articles from our visit to Oostende on the Belgian Coast, coming soon.
For more great restaurants in Belgium and beyond, check out our Restaurant Review page.
We would like to thank Visit Oostende for sponsoring part of our visit to their lovely city. As always all opinions are our own and are expressed freely here. 
Latest posts by Alison Cornford-Matheson
(see all)
Read more from this series...
3 Must Eat Restaurants in Oostende, Belgium