THIS POST MAY CONTAIN COMPENSATED LINKS. FIND MORE INFO IN MY
DISCLAIMER
.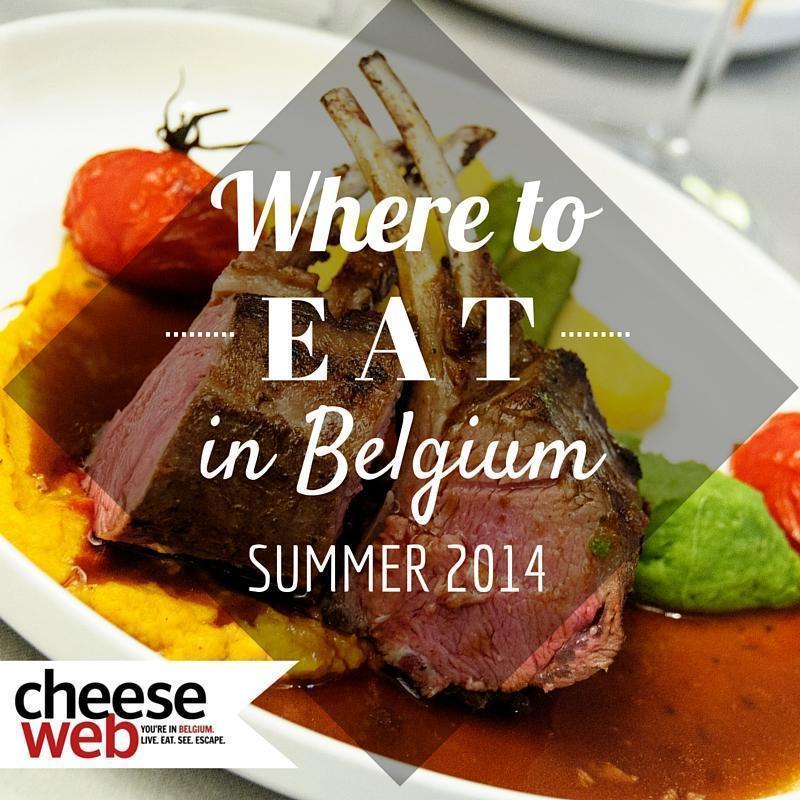 Every few months I write a round up of the restaurants in Belgium we've enjoyed recently. Some are places we've written entire reviews on, others are places we enjoyed, but didn't write full articles about. If you're venturing beyond the borders of Brussels, here are five great restaurants in Flanders and Wallonia worth a taste.
Restaurants in Wallonia
Moulin de Val-Dieu, Aubel, Province of Liége
We visited this charming restaurant for lunch, after our trip to the Val-Dieu Abbey. The service was friendly, there was plenty of variety on the menu, including many regional ingredients, and we washed it all down with some beautiful wine (of course the local beer is a great choice too!)
We Especially Loved: The little shop on site where we could purchase some of the local goodies to take home, like beer, cheese, foie gras and bread.
Read our full review of the Moulin de Val-Dieu.
Le Moulin de Val-Dieu
298 Val-Dieu,
4880 Aubel
Tel: +32 (0) 87 68 01 70
Aux Berges de la Bel, Aubel, Province of Liége
If I could only pick one restaurant from this list to revisit, it would be Aux Berges de la Bel. Their vast sunny terrace is a beautiful place for an apéro on a summer evening. Moving into the pretty dining room for four-courses of local delicacies is a great follow up too!
We Especially Loved: In addition to the terrace, we loved the warm, friendly service and the fact we could stay overnight in the guest rooms upstairs.
Read our full review of Aux Berges de la Bel.
Aux Berges de la Bel
112, Route de Val-Dieu
4880 Aubel
Tel: +32 (0) 87 76 69 52
Restaurants in Flanders
G&G Cucina Tradizionale Italiana, Maasmechelen, Province of Limburg
Italian Restaurants can be found in every corner of Belgium, however high-quality, authentic Italian food is another story altogether. The last place you'd expect to find an excellent Italian meal (or any meal for that matter) is a shopping centre, but G&G Italian Restaurant in Maasmechelen Village is the real deal.
From our first sip of our Bellinis, to the crispy crunch of our pizzas, to the perfectly al dente pasta, we loved the whole experience. The service and fun, fresh atmosphere were as good as the food. Shopping mall food will never be the same!
We Especially Loved: In addition to the great food, we loved décor, especially the Italian flag behind the bar, made from Martini bottles.
Read our full review of G&G Italian Restaurant.
G&G Cucina Tradizionale Italiana
Zetellaan 100,
Maasmechelen, Belgium
Tel: +32 (0) 89 20 49 93
Passage, Poperinge, Province of West Flanders
We stopped at Passage for lunch, while visiting the Hops Museum and Talbot House in Poperinge. As the name suggests, we made our way down a little passage to find ourselves in a fresh and modern looking restaurant.
I have to admit, I was expecting casual fare, but what we were served surprised me. The dishes weren't complicated but excellently executed. I was particularly impressed by my grilled mushroom starter.
The prices are affordable and there are several menu options: a 3-course (with three choices for each course) menu for 39€ or a weekday lunch menu for 16€. It's a great little spot if you are in the area.)
We Especially Loved: The young, fresh atmosphere and attention to detail.
Passage
Veurnestraat 11-13
8970 Poperinge, Belgium
Tel: +32 (0) 57 36 42 62
Ariane Restaurant, Ypres, Province of West Flanders
We've eaten at the Ariane Restaurant twice, when staying in Ypres at the Ariane Hotel, but I've never written about it before. This situation must be rectified as the Ariane is well worth a visit. Unlike many hotels, the Ariane's restaurant is a winner, with friendly and attentive service.
The food is fresh, seasonal and delicious. The menu changes regularly. In fact, you can choose from a 3-course menu of the day, a weekly menu, a seasonal menu, or you can order a la carte.
On our last visit, I had a lobster bisque that was velvety perfection. My main-course rack of lamb was flawless and offset by fresh spring pea shoots. Andrew's beef skewer was almost as big as his head and the meat was perfectly cooked.
If you're in the Ypres area, we highly recommend the Ariane Restaurant. The hotel is also a nice, affordable, friendly place to stay as well.
We Especially Loved: The variety of fresh, seasonal, local produce highlighted in the various menus.
Ariane Restaurant
Slachthuisstraat 58,
8900 Ieper, Belgium
Tel: +32 (0) 57 21 82 18
For more great dining suggestions, check out our Restaurant Review Page. In the coming weeks, we'll be bringing you more restaurant suggestions for Brussels, for both fine-dining and cheap eats, so stay tuned.
Latest posts by Alison Cornford-Matheson
(see all)
Read more from this series...
Where to Eat in Belgium, Summer 2014