THIS POST MAY CONTAIN COMPENSATED LINKS. FIND MORE INFO IN MY
DISCLAIMER
.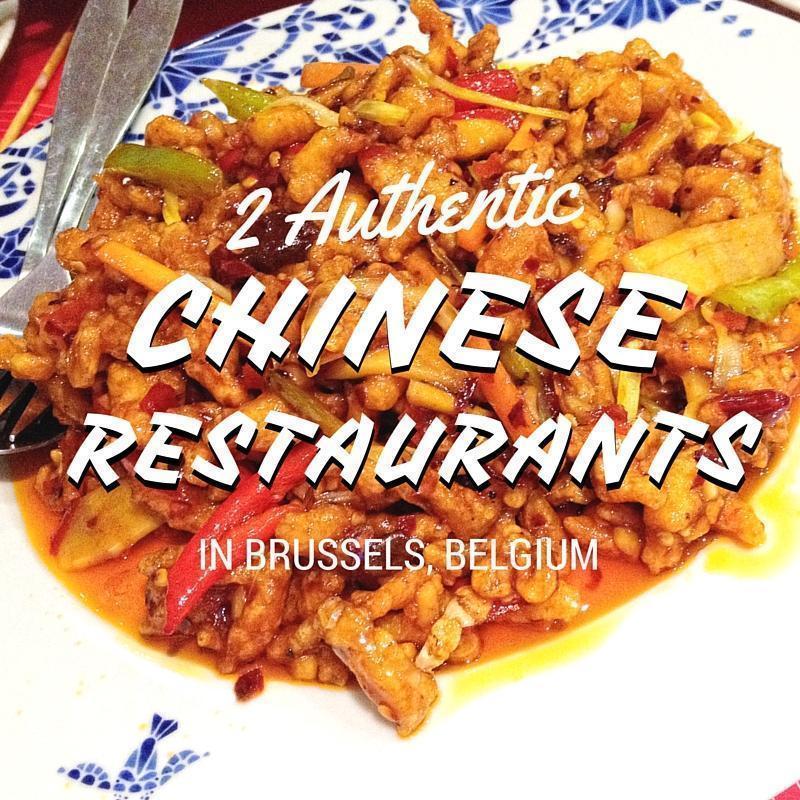 Not all Chinese food is bland and boring in Belgium. We recently found two authentic Chinese restaurants in Brussels that aren't afraid to spice up your life!
While we are spoiled for choice when it comes to international cuisines in Brussels, some restaurants are much less authentic than we would hope. In an attempt to accommodate the Western European palate, a number of restaurants have opted to 'dumb down' their offerings, by eliminating spices and textures that are less familiar to euro-taste buds.
In our opinion, no nation's food is more poorly represented in Belgium, than China (although India is a very close runner up). You can find a 'Chinese' restaurant in just about every small town in Belgium, but despite the wide and varied cuisine of this vast country, you'll only find a dozen dishes appearing on menu after menu. For the most part, they are pale imitations of the real thing.
The few Chinese restaurants we had discovered, with varied menus and appropriate spice levels, were much more expensive than we would expect. In fact, we had more or less given up on eating Chinese food in Belgium at all. That is, until we recently discovered two affordable and authentic Chinese restaurants in Brussels.
Our first discovery was not off the beaten path at all. In fact, we had probably walked by it 100 times, without ever bother to step inside. That all changed with a Google search.
Hong Kong Delight Chinese Restaurant
I developed an addiction to soup dumplings (Xiaolongbao) in Hong Kong and Andrew was tired of listening to me lament their absence in my life. He was on a mission to find soup dumplings in Brussels. The only restaurant with Xiaolongbao on the menu was Hong Kong Delight so off we went to cure my cravings.
Hong Kong Delight isn't fancy, but it's bright and clean and the service was friendly. Best of all – Soup Dumplings.
Our first clue to the authenticity of Hong Kong Delight's dishes was the Chinese families surrounding us. Asian faces at an Asian restaurant are always a good sign. Clue number two was a number of dishes definitely not catering to Western tastes, like duck tongues.
As to spice, I spotted Sichuan hot-pot and decided to give it a go. I was warned no less than four times, it was "very, very, spicy." When it arrived, it was swimming in chillies, just as it should be. I was a very happy chilli-head. Andrew may or may not have cried a little at the spice-level, but was thrilled to down the crispy duck and pork.
Overall, we were satisfied with the meal, spiciness, service, and the price.
Hong Kong Delight
Rue Sainte-Catherine 35
1000 Brussels
Le Nid Savoureux Northern Chinese Restaurant
Then, earlier this week, a foodie friend introduced us to a new and very authentic Northern Chinese restaurant, we never would have found on our own. Le Nid Savoureux is tucked away on a tiny side street near Montgomery. The restaurant only seats 22, but is open for lunch and dinner and also offers take-away.
While it was helpful to have a Mandarin-speaker among us, so we could order a few off-menu treats, the husband and wife owners were extremely sweet and welcoming in any language.
As we sat back, dishes started streaming from the kitchen. First up, homemade dumplings. While they weren't soup dumplings, they were still delicious and a welcome change from the packaged, frozen, dumplings served at most Brussels Chinese restaurants.
Also for starters, we had spicy, grilled squid and a pickled cucumber salad that was refreshing with a touch of chilli heat.
When the main courses started piling up on the table, things got serious: sautéed noodles with beef, tofu in spicy sauce, fried aubergine, chicken in spicy sauce, sautéed cabbage… by the time we finished we practically waddled to the metro.
We had plenty of leftovers, even with a party of five diners. But the most incredible part was our bill – only 18 euro each, including our drinks. It was concrete proof that you don't have to spend a bundle to dine like royalty in Brussels – you simply have to know where to go.
Le Nid Savoureux
Rue de la Cambre 325
1150 Woluwé-Saint-Pierre
Will we be returning to these authentic Chinese restaurants in Brussels? Absolutely! I'll still get my soup-dumpling fix at Hong Kong Delight, but for everything else, you'll find us hidden away at Le Nid Savoureux.
Do you have a favourite authentic restaurant in Brussels, Chinese or otherwise? Tell us about it in the comments below or drop us an email.
For more great restaurants in Belgium and beyond, check out our Restaurant Review page.
Latest posts by Alison Cornford-Matheson
(see all)
Read more from this series...
2 Authentic Chinese Restaurants in Brussels, Belgium