THIS POST MAY CONTAIN COMPENSATED LINKS. FIND MORE INFO IN MY
DISCLAIMER
.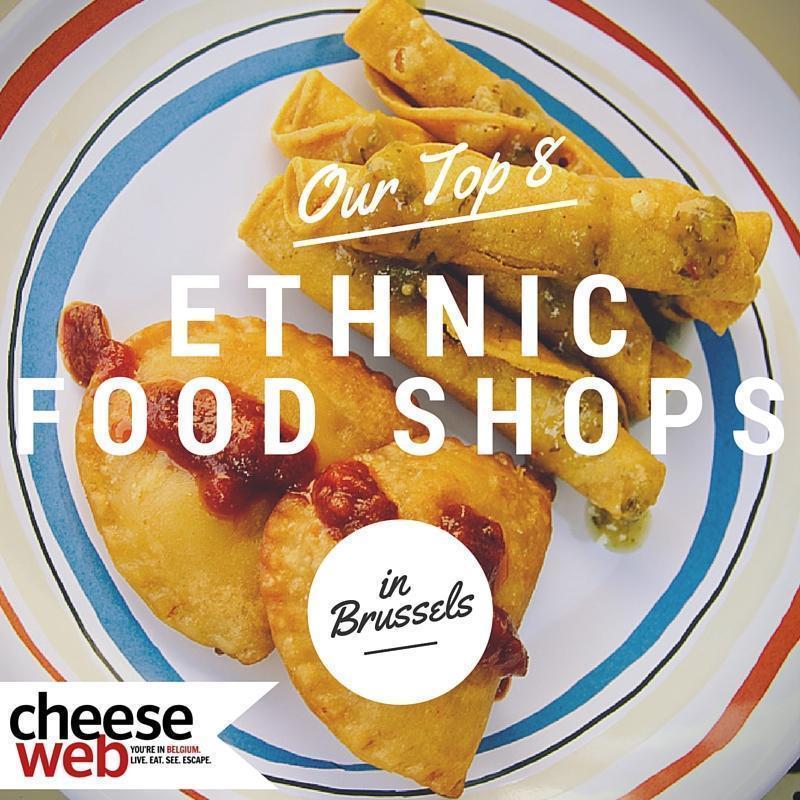 Our weekend shopping excursion turned into a scavenger hunt for international cuisine. The result was discovering a variety of great ethnic stores in Brussels.
I always joke that when we travel I only buy edible souvenirs. I love buying regional ingredients when I'm on the road, so I can recreate the dishes we enjoyed on our travels back at home.
There's a problem though. Eventually those wonderful products run out – usually after I'm addicted to them. Much as I'd love to travel back to their place of origin to stock up, it's not practical.
The good news is we live in Brussels, were just about everything is available for sale – if you know where to look for it.
Here in our little St. Josse neighbourhood, we're spoiled for choice. Within a few minutes' walk, we have shops specialising in Polish, Turkish, Moroccan, Indian, Lebanese, Bulgarian and Romanian foods. I love diving into these little groceries and seeing what weird and wonderful ingredients are available.
A few weekends ago, we decided to seek out some new ethnic food shops. I consulted this great list, from my friend Apolina, and found some new favourites. Below, I'm sharing some of our old favourites with some new finds.
1. Ideal Cash & Carry Indian & Pakistani foods
If I could only shop at one store in this list, Ideal Cash & Carry would be the one. I discovered this wonderful store years ago, thanks to Apolina. I go there to stock up on rice, spices and lentils, which are so much cheaper here than at the regular grocery stores. Andrew loves their homemade Indian sweets and I'm a sucker for the savory snacks. I've written an entire post about my love for Ideal Cash & Carry.
Ideal Cash and Carry
Chaussée de Gand, 33
1080 Molenbeek-Saint-Jean
2. Kam-Yuen Asian Supermarket
Kam-Yuen is my go to store for all things Asian. I have a love/hate relationship with Kam-Yuen's quirky randomness. I never leave without buying something I didn't have on my list, but I hardly ever leave with everything on my list either. My rule for KY is 'buy it when you see it,' because you very well may never see it there again. That said, KY has a HUGE selection of sauces, noodles, sweets and frozen foods. Read my full review of Kam-Yuen Asian Supermarket.
Kam-Yuen
Rue de la Vierge Noir 2-4
1000, Brussels
3. Mexigo Mexican Food Shop
Another long-time favourite ethnic food shop of ours is Mexigo. We started using Mexigo back when it was just a (tasty, tasty) delivery service. When they opened up their little shop and take-away, we started doing monthly 'Mexican runs' to stock up on tortillas, beans, chillies, and salsas. Read all about why we love Mexigo.
MexiGo
47 Francois Dons
1050 Ixelles, Brussels
4. Stonemanor British Store
Although it's not actually in Brussels, Stonemanor is close enough and big enough to be a firm favourite with expats from all over Belgium. The original Everberg location was our lifesaver when we first moved to Belgium, especially since it was just down the street from our old home. Now there is a second shop in Waterloo as well.
With three stories packed with food, drinks, English magazines, books, cards and more, it really is a little oasis of all things Anglo. Stonemanor also allows you to order from UK shops like Waitrose, John Lewis and Argos and they've recently opened a tearoom – fresh scones anyone? We don't get there as often now that we live in Brussels, but when we do, we come home loaded down with British cheeses, fresh baked samosas, and tea… lots of tea. Stonemanor also carries a good variety of Gluten-free products for folks with dietary issues.
Stonemanor
Steenhofstraat 28
3078 Everberg
5. Apni Hatti Indian (and more) Grocery
Apni Hatti is one of my newest finds, right here in my own neighbourhood (with my thanks again to Apolina!) I call Apni Hatti Indian (and more) because it really is a little hodgepodge of a shop. Much like my multicultural neighbourhood, Apni Hatti is a mixed bag of ethnicities. In addition to a surprisingly wide array of Indian products, there are goods from North Africa, Latin America and various parts of Asia. I will definitely pop in here again for Indian spices and the yummy frozen pakoras and chapattis.
Apni Hatti
Rue Verbist, 32
1210 Saint-Josse-ten-Noode
6. Tagawa Japanese Shop
I had been hearing about Tagawa for ages now, both from Japanese friends and friends who love eating and making sushi. When we finally ventured inside we found a wonderful two-storey shop filled with Japanese goodies. The ground floor has freshly made sushi and other items to take-away. There are also several freezers filled with ingredients and pre-made items like dumplings and steamed buns. There is also a fish counter selling sushi-grade fish, so you can roll your own at home.
Upstairs is a dizzying array of noodles and sweets, as well as sauces, alcohol and small selection of dishes and kitchen items, and Japanese books and magazines. If you're looking for hard-to-find Japanese ingredients, it's likely you'll find them at Tagawa. You can even shop online!
Tagawa Japanese Shop
Chaussée de Vleurgat, 119
1000 Bruxelles
7. Luso Loja Portuguese Shop
We don't know a whole lot about Portuguese food, but we do know we love the foods we've tried so far. We have a number of Portuguese and Brazilian friends in Brussels who have fed us well. We also enjoyed tasting our way around Lisbon. So when we heard there is a Portuguese shop not far from us in Schaerbeek, we decided to have a look. This was definitely a case of not judging a book by its cover. The exterior of Luso Loja gives little indication of how large the store is inside. There's a nice variety of Portuguese wines and Port, lovely fresh meats and cheeses, and a good selection of dry goods and olive oils. We spotted whole octopus in the freezer nestled beside a whole lot of cod. We will definitely be broadening our Portuguese cuisine horizons thanks to Luso Loja.
Luso Loja (Be warned, the website plays unstoppable music!)
Avenue Chazal 29,
1030 Schaerbeek
8. Raices Latinas South American Shop
We discovered Raices Latinas, just a few doors away from Luso Loja. This little Latin American shop packs a lot of goods into its tiny storefront. There are dried chillies, refried beans, dried beans and lentils, nuts, salsas, grains and frozen goods. We even found and Inca Kola stocked fridge. We'll be back to check out more of the Latin goodies in this shop.
Raices Latinas
Avenue Chazal 45,
1030 Schaerbeek
These are a few of our favourite ethnic shops in Brussels, but now we need your help. We've  created a database of all of the great international grocery shops here in Brussels, so new expats won't have to struggle to find them as we did. Help us out by leaving your favourite ethnic grocery shops in the comments or drop us an email.
Latest posts by Alison Cornford-Matheson
(see all)