THIS POST MAY CONTAIN COMPENSATED LINKS. FIND MORE INFO IN MY
DISCLAIMER
.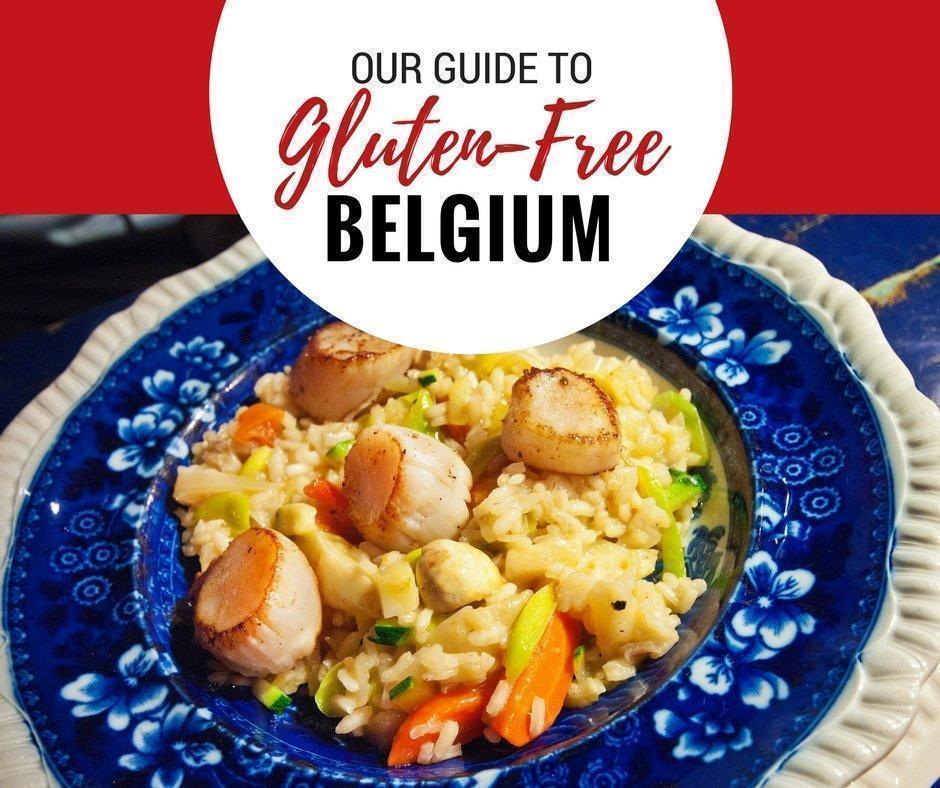 Belgium is a wonderland for foodies, but if you have a food allergy, it can be a nightmare. We share how to survive gluten-free and celiac dining in Belgium. We share where to buy gluten-free food and the best gluten-free restaurants in Belgium. 
What is Gluten?
Gluten is a composite found in many grains and is what gives the dough its elasticity and ability to rise. It's found in high concentrations in wheat, but also occurs in rye, barley and spelt in varying doses.
About 1% of people are intolerant to gluten and have an abnormal immune reaction to it, called celiac disease. Another small fraction of the population suffers from an allergy to wheat, commonly misdiagnosed as celiac. These allergies and intolerances can range from mild discomfort to extreme sickness.
Over the past few years, several of my close friends have been diagnosed with gluten intolerances. In this land where a meal without bread is unthinkable, I've watched them struggle to find viable (and tasty) alternatives to wheat and gluten.
Both wheat and gluten appear in places we don't always expect. Of course, bread, cakes, and pasta are typically made from wheat flour, but gluten is also present in imitation meats, soy sauce, ice cream, ketchup and even (gasp) beer.
While gluten-free living is becoming more common and accepted in North America and the UK, Europe has been slower to get on board. But living gluten and wheat free in Belgium is possible and more and more resources are becoming available.
This post is a bit different usual. We have not tested every place listed, as we usually do on CheeseWeb. Instead, I would like this post to be an ongoing resource for people living with celiac disease and gluten-free. For that, we need your help. If you know of a restaurant, shop or service catering to gluten-free diets, please leave a comment below or email it to us.
[Update Jan 29th] We've had loads of reader feedback so far, which we've included below, with the dates it was added, so check back often!
Gluten-free Shopping in Belgium
While I was home in Canada for the holidays, I noticed many more gluten and wheat free products on grocery store shelves. Similar offerings are still few and far between in Belgium unless you know where to look.
Delhaize – As one of the primary grocery stores in Belgium, Delhaize is beginning to recognise the importance of catering to special diets. While offerings vary from store to store, the CaddyHome delivery service is offering some gluten-free products. You can also find a listing of gluten-free brands and products on their website.
Bio Shops – Bio or organic, shops are popping up all over Belgium, and most carry products catering to special diets as well. Again, the number of gluten-free products varies depending on the size of the store, but as most are locally owned, there is a better possibility of building a relationship with your local bio shop owner.
Asian Grocery Stores – Your local Asian grocery may not spring to mind when you're searching for gluten-free ingredients, but many Asian staples are naturally gluten-free. Things like rice noodles and rice flour are available from Chinese groceries, and chickpea flour is a common ingredient in Indian cooking. For a wide variety of Asian products, check out the Kam-Yuen supermarket in central Brussels. For a great selection of Indian products, including chickpea flour and a great selection of lentils and spices, visit the Ideal Cash and Carry in Molenbeek. (Another bonus to Asian groceries – prices usually are lower than bio shops.) We 've created a database of all of the best international grocery shops here in Brussels.
Stonemanor – This well-loved British shop in Everberg has recently spotted the gap in the Belgian gluten-free market and is starting to fill it with a variety of products. On my last visit to Stonemanor, I spotted gluten-free pasta, cookies, sauces and cake mixes. The owners are also willing to special order specific products, so if it's available in the UK, there's a good chance they can bring it into Belgium for you.
Cirkle.be – Our organic produce delivery service, Reason2.be, (now called Circle.be) has recently expanded their selection to include products catering to special diets. Although the gluten-free offerings are still sparse (other than naturally gluten-free items like organic fruit, vegetables, meat and seafood), they are always open to product suggestions.
Allervita – [Added Jan. 29th] On-line shopping for people with many different food sensitivities. There are various pick-up points in Flanders, and the website is only available in Dutch.
Amazon.co.uk – [Added Jan. 29th] The UK version of Amazon now has a HUGE selection of Gluten Free Grocery
items. Not everything is deliverable to Belgium, but if you scroll down the sidebar and select Amazon.co.uk under the seller heading, most items can be shipped to us here. I recently received a massive order of wheat free granola bars at a fraction of the cost I can buy them locally.
Generous Gluten-Free Cookies – A Brussels-based bakery is offering organic and gluten-free cookies in Belgium. Even better Generous Cookies taste fantastic. Read our full review here.
Gluten-free Restaurants in Belgium
Restaurant dining can be challenging for celiacs and the gluten intolerant, particularly in traditional Belgian restaurants. Bread and pasta are prevalent, and sauces are often thickened with wheat flour. While choices of meat, salads and (thank goodness) Belgian frites are generally gluten-free, wheat can be hiding in unexpected places, so it's always a good idea to chat with your server.
Awareness of these special diets is still uncommon in Belgium, but the following are restaurants we've discovered that cater to Gluten-free diets. We haven't taste-tested many of them so we'd love your feedback in the comments and your help in expanding this list (especially if you know of any restaurants in Wallonia!).
[NOW CLOSED] Soul – We've loved this restaurant for years now, and it's a great place to visit if you have one or more special dietary requirements among your party. The restaurant is macrobiotic, meaning everything is organic, locally sourced, where possible, and the chef is aware of the effects ingredients have on your body. Soul caters to a variety of special diets including gluten and lactose intolerance, food allergies and vegan and vegetarian diets. Just speak to your server before ordering.
Vegetarian restaurants – While vegetarian and vegan dishes aren't necessarily gluten-free, there is often a better awareness of food intolerances in these restaurants. Special requests for gluten-free meals tend to be better received in vegetarian restaurants in Brussels, than elsewhere. Here are a few we enjoy:
You can also refer to the Happy Cow listing for more vegetarian-friendly restaurants in Brussels.
Asian Restaurants – Keep in mind that many Thai, Japanese, Indian, and other Asian foods are naturally rice based and gluten-free. Just be sure to ask about any extra additives.
Il Veliero Italian Restaurant – Italian certainly isn't the first cuisine that comes to mind when you're looking for gluten-free options. However, this restaurant, just off of Place Jourdan, has a full gluten-free menu including pizza and pasta. They also offer lactose-free pizza. I dined there recently with a friend, and she was pleased with her gluten-free pizza. My regular old wheat-based pizza was great too. Book a table at Il Veliero online now.
Exki – For quick and easy lunch options, the Exki chain offers a variety of salads and dishes including quinoa and other gluten-free grains.
While researching I also found the following options, recommended by celiacs, but I have not tested them personally:
It is always a good idea to call ahead to make sure the restaurant is still offering gluten-free options and has the proper ingredients in stock.
For more great restaurants in Belgium and beyond, check out our Restaurant Review page.
Gluten-free Belgian Beer
It seems many of Belgium's favourite treats aren't gluten-free; waffles, pastries, carbonnade and sometimes even chocolate can contain gluten. Of course, Belgian beer is also on the gluten-free chopping block – at least most of it. A few Belgian brewers are dabbling in gluten-free beer, and it seems it's not half bad. Andrew reviewed several gluten-free beer options in this article.
I'm not a beer-drinker, so I can only base this on anecdotal experience, but it seems the most popular Gluten-free Belgian beer is from Brunehaut. They produce both a blond and an amber ale which are organic as well as gluten-free.
Glutaner is another gluten-free Belgian beer made from sorghum. It is brewed in Melle by Brouwerij Huyghe. Information about Glutaner is scarce, so if you've tried this beer, we'd love to hear your thoughts.
Brouwerij Huyghe also brews Mongozo Gluten Free beer. This beer has the gluten removed from it leaving the taste of a traditional lager. It won a gold medal at the World Beer Awards in 2012 for the best gluten-free pilsner, so it's either pretty good, or the competition is terrible.
Green's Beers is a UK company which brews in Belgium under contract at de Proef Brewery. Green's offers three 'Belgian style' gluten-free beers: Discovery Amber (6%), Endeavour Dubbel (7%), and Quest Tripel (8.5%). They are advertised as being free of most allergens including gluten, barley, wheat, crustaceans, eggs, fish, peanuts, soybeans, milk, lactose, nuts, celery, mustard, sesame seeds, sulphur dioxide, and sulphites.
In researching this post, I stumbled across this list of the 14 Best (and Worst) Gluten-free beers. Most of them are produced in the USA or the UK, but it is a good overview of what's available globally.
Other Gluten-free resources for Belgium
Have a gluten-free friend coming for dinner and aren't sure what foods are safe for them to eat? Wiki has an excellent article on gluten-free diets, listing foods that often contain hidden gluten sources. There is also a good article on Coeliac disease, which explains the differences between Celiac and wheat allergies.
The Celiac Society of Belgium has a good list of resources, although their English site is pretty limited. If you don't speak French or Dutch, google translate is your friend. The site offers a forum where you can ask questions of others living with celiac disease as well as travel information for European countries.
Just because you're living gluten-free, doesn't mean you have to miss out on all the traditional Belgian goodies. Here's an excellent recipe for Gluten-free Speculaas Cookies.
If you don't speak Flemish but want to be sure you can explain your allergy to the chef at your next restaurant, CeliacTravel.com has created a series of printable restaurant cards in different languages including Flemish and French. Don't forget to look up the language for your next trip abroad as well.
There is a new Facebook page called Gluten Free Brussels that has been actively building a list of restaurants and other resources in the city. The community is helpful, and new items are added regularly.
We would love your help to expand this page to help make life easier for our gluten intolerant and celiac friends in Belgium. We're also considering creating resource pages for other special diets (vegan, lactose-free, etc.) so do let us know if these would be useful to you or someone you know in Belgium.
Looking for more resources for living in Belgium? Check out our Expat Resources page.
Latest posts by Alison Cornford-Matheson
(see all)