THIS POST MAY CONTAIN COMPENSATED LINKS. FIND MORE INFO IN MY
DISCLAIMER
.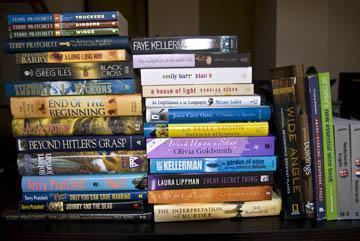 It's not hard to find English reading material in Brussels. In fact, most of the French and Dutch bookstores carry a range of English best-sellers. But where do you go if you are looking for something besides the latest Dan Brown thriller?
It's no secret that Andrew and I read – A LOT. I tend to go through 2-4 books a week. Our bookshelf is one of the first things people notice, when they walk into our flat. While we certainly stock up on new and second-hand books every time we visit Canada, I do have some favourite bookshops right here in Brussels.
Waterstone's
The obvious choice for English books in Brussels is Waterstone's. This UK chain has a fairly large store here in Brussels and, along with the usual best-sellers, they have a decent selection of magazines, cookbooks, reference and children's books. Waterstone's isn't cheap but they often have 'buy 2 get one free' deals and discounts on best-sellers.
Waterstone's
Boulevard Adolphe Maxlaan 71-75
B-1000 Brussels
Belgium
Sterling Books
Not far from Waterstone's, you can find Sterling Books. Sterling is a bit more expensive and doesn't have as large a selection as Waterstone's, but they do have some more unique choices. I find their travel literature section particularly good. As the largest English independent bookseller in Brussels, you can sleep easier knowing you aren't lining the pockets of yet another chain store.
Sterling Books
38, Rue Fossé aux Loups
1000 Brussels
Belgium
Stonemanor
If you have a car, or a lot of patience to ride the De Lijn bus, you can head out to my old stomping grounds in Everberg and visit Stonemanor. Besides having all of the British food delicacies you may be craving, Stonemanor has a small selection of English books. While there aren't as many books to choose from as at the actual bookstores, there are often decent discounts on older books, as they change their stock frequently. Even better is their selection of English magazines. The cooking section alone is worth the trip.
Twice a year (spring and fall), Stonemanor hosts my favourite book event in Belgium – the charity book sale. During this sale, second-hand books are donated and sold for a euro an inch! That's right – you stack your books beside a ruler and pay by the inch. We always leave with a box full of treasures.
Stonemanor
Steenhofstraat 28
3078 Everberg
Belgium
Cook and Book
You may have read my post several years ago on my discovery of Cook and Book in Woluwe. This is still a favourite haunt of ours, for a weekend lunch. Where else can you marry my two favourite things – books and great food? The English section in Cook and Book is small and quite expensive but it is a comfortable place to browse. You can also find great English art and travel books if you are prepared to dive into the predominately French areas of the store. Even if you only browse (and eat!), Cook and Book is definitely worth a visit.
Cook and Book
Ave Paul Hymans 251
1200 Brussels
Belgium
Filigranes
Filigranes is a mostly French bookstore but there are a few reasons why it is on my favourites list. First, it's right around the corner from my house. Second it has a coffee and snack bar – something that is seriously lacking in the Belgian bookstore scene. Third there is a decent selection of English paperbacks in the basement and a few English magazines can be found if you poke through the magazine section. Mostly though, I enjoy the art and travel sections. True, most of the books are in French but I have spotted a few English gems as well.
Filigranes
Avenue des Arts 39
1000 Brussels
Book Festival
My final favourite place to get English books isn't a shop, it's a book festival. This is run by a Dutch company and visits major cities in Belgium and the Netherlands. I've only attended the book festival once, but I would love to go again. (Sadly the next one in Brussels will be while we are away). I wasn't sure what to expect when I visited but I was shocked by how many English books were available and how cheap they were. If you are looking for last season's best-sellers, at up to 90% off, this is the place to go.
Other English Book Options
There are tons of second-hand bookstores in Brussels and most of the larger ones carry at least a limited selection of English books. If you are looking for bargains (and sometimes freebies), check out the expat forums in spring and fall when the annual expat migration is in full swing. Oxfam also carries second hand books as well as other second hand items. The libraries are also a good source for books. Amazon UK delivers to Belgium, usually very quickly in my experience. If you have a Kindle or other electronic reader, then the delivery is very fast indeed!
It may take a bit more searching to find that elusive English book at a reasonable price, but there are a lot worse places on the continent for an English book-lover to be located. Do you have a favourite place to buy English books in Brussels, which I missed? Leave it in the comments section so I can check it out! Happy Reading!
Latest posts by Alison Cornford-Matheson
(see all)