THIS POST MAY CONTAIN COMPENSATED LINKS. FIND MORE INFO IN MY
DISCLAIMER
.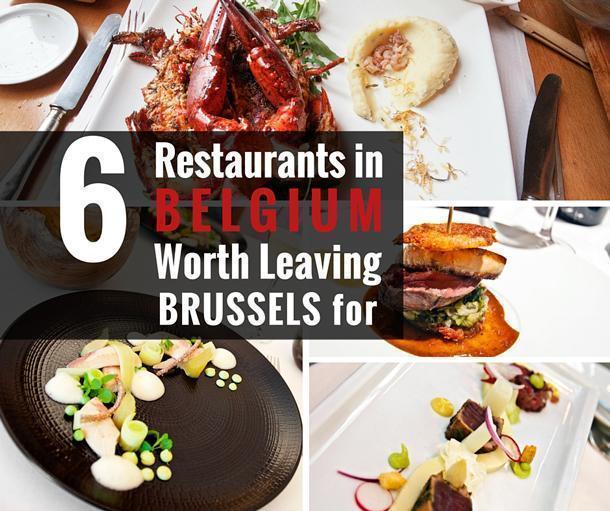 Stuck in a Brussels Restaurant rut? We share our 6 Restaurants in Belgium worth leaving Brussels for.
We Brussels-dwelling expats can get a bit lazy about leaving the city. After all, we have everything we need right here.  We could eat at a Brussels restaurant, every night for a year, without ever having to repeat. Heck, some expats hardly leave their communes.
But we know there are lots of great reasons to venture outside our city borders, not the least of which are food related.
To inspire you to venture further into Belgium, today we round up 6 of our favourite restaurants outside of Brussels; 3 restaurants in Flanders and 3 in Wallonia, because we're fair like that.
3 Great Restaurants in Flanders
'T Cuyperke – This is a great starting point for your 'Beyond Brussels' adventures. You barely have to leave the city, as it is located in nearby Zaventem and the owners speak about 5 languages better than most folks speak their mother-tongue.  This was our 'local' hangout when we lived in Flanders. The service is great. The food is whatever is in season. The portions are big and you always get a little amuse bouche to start with. My favourite is the Scampi van de Huis (Scampi of the house – grilled shrimp in a lobster cream sauce with pasta – delish). It's a family style place so children are welcome and the terrace is a lovely shady hideaway in the summer.
Het Pomphuis – A quick trip by train or car will deliver you to lively Antwerp, (Come on, we know you can do it.) As the Flemish name suggests, Het Pomphuis was originally a huge pumping station for the dry dock. In 2002, it reopened as a modern bar and restaurant. This trendy restaurant maintains its original high ceilings and industrial feel while serving a high standard of delicious food in a warm atmosphere. It can get a bit noisy here, but the food and décor are classy, as are the Antwerpenaars who dine here. Book a table at Het Pomphuis online now.
[NOW CLOSED] The House of Eliott – We fell head-over-heels in love with Ghent, last summer, so it is definitely worth leaving Brussels for, even without the food.  But let's face it, we never go anywhere without checking out the food and eating here is definitely a unique experience. Let me start by saying, they had me at "lobster six ways." When I spotted this on the menu, I knew we had to visit. One of the quirkier restaurants we've visited in Belgium, and that's saying a lot in this country, the decor is a bit like dining in your crazy Auntie Harriet's attic. I particularly loved the homage to Coco Chanel in the restroom. The food, however, is far from frivolous. This is the best lobster I've had in Belgium (possibly in Europe) and that's saying something coming from an Atlantic Canadian gal. If you aren't a fan of the crustacean, there are still plenty of options on the menu to choose from.
3 Great Restaurants in Wallonia
[NOW CLOSED]  Nuns – If you're travelling by train, this restaurant in Liège is the easiest of our Walloon choices to get to. Tucked away, in a back alley near the Montagne de Bueren, Nuns boasts a beautiful terrace for those long summer evenings. Inside, the bright modern decor avoids feeling cold by contrasting with the period post and beam architecture. The menu combines local specialities with an Asian vibe and the service is warm and helpful.
La Broche – This restaurant is rated in the top 5 on Trip Advisor for Dinant, and no wonder. We had a fantastic 3-course menu of the season here. (It also came with an amuse bouche and treats with our coffees.) The service was excellent, the decor modern and the food was fantastic. There is no discount on Sundays for lunch so our menu, with a bottle of wine, came to 100 euro, for the two of us but through the week, the lunch menu is more affordable.
[NOW CLOSED]  Restaurant Duo – Even after 7 years in Belgium, I'm still surprised at the seemingly out of the way places we find world-class restaurants. Duo is one such place and, trust us, it's worth the trek. Located on the outskirts of Eupen, it is one of the very last houses before you reach the Hautes Fagnes Nature Reserve. It's completely unassuming from the outside. Inside, the restaurant is decorated with muted earth tones, but there is nothing muted about the food. Dish after dish of colourful, artfully plated and creatively paired food appeared before us. The ingredients are all locally sourced from nearby farms and waters and we were blown away by the flavours. We would expect a huge price tag for a meal of this calibre but the menu prices are very reasonable. There is even a 'Wallonie Saveurs' 3-course menu for €35. Go now before word gets out and take that special someone for a perfectly romantic meal.
So come on Brussels-dwelling expats, venture into the wilds of Belgium… we promise the food is worth it.
(And for those of you outside of Brussels, who never venture into our fine city, check out our 5 Must Eat Restaurants in Brussels.) For more great restaurants in Belgium and beyond, check out our Restaurant Review page.
Latest posts by Alison Cornford-Matheson
(see all)
Read more from this series...
6 Restaurants in Belgium Worth Leaving Brussels For