THIS POST MAY CONTAIN COMPENSATED LINKS. FIND MORE INFO IN MY
DISCLAIMER
.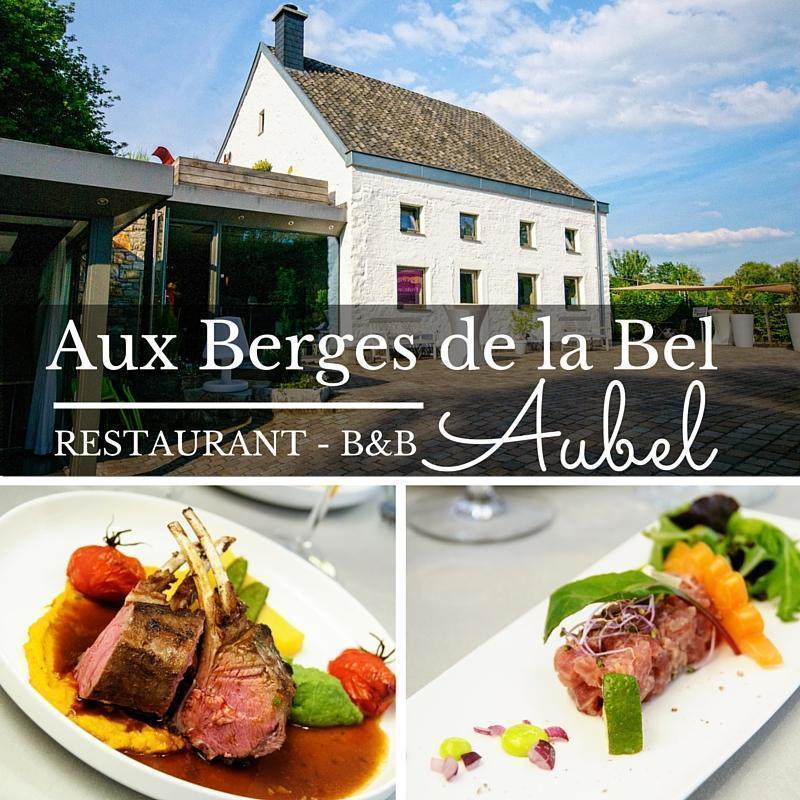 The Aux Berges de la Bel bed and breakfast in Aubel, Belgium, has a sunny terrace, quiet rooms and a fantastic restaurant. It's the perfect weekend escape from Brussels.
We love exploring different corners of Belgium. While just about everywhere in this tiny country is an easy day-trip, we often like to spend a night or two getting to know a new area. On our recent trip to Liege, to visit the Blegny Mine, we had the opportunity to spend a night at a charming rural Bed and Breakfast. The best part – the fantastic on-site restaurant at Aux Berges de la Bel.
We had been to Aubel once before, several years ago. We love this corner of Belgium, with its rolling hills and shady woodlands, not to mention the super-smelly Herve cheese!
When we pulled up to Aux Berges de la Bel on a sunny Saturday evening, we couldn't have been happier with what we found. We couldn't wait to relax on the sprawling terrace, soak up some sun, and prepare ourselves for a gastronomic meal in the Brasserie.
First, we dropped off our overnight bag in our cozy little room. Each of the rooms is named for a different apple variety, grown here in the Herve region. We were sleeping in 'La Melrose,' a hot pink room, with a big tub and a view of the terrace. It was clean, comfortable and had everything necessary for a weekend escape. Our only wish would have been for a shower curtain to avoid spraying water everywhere. (No matter how many times we see it, we'll never get used to the 'hold the shower and clean yourself at the same time' thing that seems so common in Europe.)
But we had some sunshine to enjoy, so we grabbed a table on the terrace and ordered the cocktail of the house. Our bright green drinks arrived and tasted of green apple. It was a perfectly refreshing way to start the evening.
Before too long a little nibble from the kitchen arrived: a dainty finger sandwich and a shot of creamy asparagus soup. (Oh how we love asparagus season!)
As the sun began its decent and the air began to chill, our hostess asked if we'd like to move inside and begin our meal. So, we followed her into the brightly coloured dining room, admiring the vibrant artworks along the way. The dining area maintains the feeling of separate rooms, from the original family home this once was, giving it an intimate feeling.
We opted for chef Pascal Demarsin's 3 course menu and were promptly presented with a parade of beautiful dishes.
My first course was a gorgeous tartar with hints of wasabi and lime and a slice of heirloom tomato. A good seafood tartar will win my vote any day and this one was excellent. Andrew opted for a carpaccio which was also colourful and tasty.
My main dish was another winner – rack of lamb with pureed and roasted vegetables. The lamb was perfectly cooked and the veg were fresh and delicious. When Andrew spots pork on a menu, it's what he always chooses. He was very happy with his choice.
And, as if the chef was intentionally preparing all of my favourite things, my chocolate-y dessert arrived, topped with ice cream. Perfection! Andrew's raspberry and pastry concoction looked equally lovely.
We slept soundly in the countryside with very full bellies. So full, in fact, we had a hard time appreciating the lovely breakfast served the next morning. The big cups of coffee and fresh juice would have been enough for us, but we did our best to do justice to the bread and pastries, (all in the name of research of course.)
Aux Berges de la Bel is just minutes from the Val Dieu Abbey, which we visited Sunday. We'll tell you all about what we found there in a future post [Spoiler Alert: there was more food and beer!]
Aux Berges de la Bel
112, Route de Val-Dieu
4880 Aubel
Looking for more of our favourite hotels in Belgium and beyond? Visit our Hotel Reviews page to find out where we've been sleeping. For more great restaurants in Belgium and beyond, check out our Restaurant Review page.
We'd like to extend our thanks to the Province of Liege Tourism for inviting us to experience Aux Berges de la Bel. We at CheeseWeb are committed to always sharing our honest opinion of any product or service we write about, whether sponsored or not.
Latest posts by Alison Cornford-Matheson
(see all)
Read more from this series...
Aux Berges de la Bel Bed & Breakfast and Restaurant, Aubel, Belgium