THIS POST MAY CONTAIN COMPENSATED LINKS. FIND MORE INFO IN MY
DISCLAIMER
.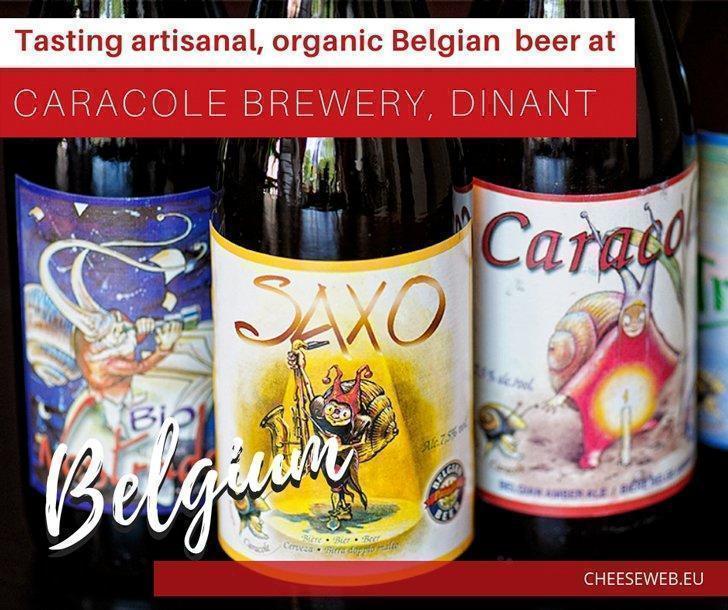 Dinant's Brasserie Caracole brews artisanal and organic Belgian beer over an open fire, just as they have since the 18th century. You can take a Belgian Brewery tour or enjoy a beer tasting in their charming bar.
When our Wallonia Food Tour pulled up outside a brewery, in Falmignoul (near Dinant), I admit I was less than thrilled. I'm not a beer drinker, and a 'certain someone' has dragged taken me to a fair number of Belgian Breweries over our years here.
Stepping inside, however, I could tell the Brasserie Caracole, was something special.
As a fan of all things artisanal, nothing excites me more than stepping into a place that looks the same as it did 100 years ago. When my eyes adjusted to the dim light, I could see this Belgian brewery was just such a place.
In the centre of the front room stands one large vat for mixing the 850kg of malt with hot water. (Caracole is the last beer to be brewed over an open fire in all of Europe.) Hops and spices are added to the mix as the beer gradually ferments. From there, the beer is piped into a holding tank, for 15 days, where it will become clearer as it cools.
The main vat was being cleaned when we visited. Interestingly, the brewing waste was being picked up by a local farmer. It turns out that even Belgian cows enjoy the results of the beer making process.
My favourite part of the Brasserie Caracole was tucked behind the brewing room. Here, the building opened into a large hall, filled with tables, and the prominent bar displaying Caracole's Belgian beer varieties. The walls were decorated with posters of the colourful and quirky beer labels, each one sporting a 'caracole' or snail-shell.
The room was filled with character, and as we were there for a Walloon Foodie Tour picnic, it quickly filled with food too! We had brought the spoils we had gathered on our tour so far: Wépion strawberries, Flamiche, bread from Wallonia's best bakery, some beautiful goat cheese and patés to spread on the lovely bread, and perfectly crisp frites (from a stand near the Freyr Castle viewpoint. You know, in case you want to recreate our picnic for yourselves).
Of course, my fellow diners washed it all down with Caracole beer. Andrew was pretty happy I brought mine home for him instead. However, there was a small string attached to his gift. He had to promise to review each beer for this post. So, I now turn the tasting notes over to Andrew.
Caracole produces four beer:
Saxo (8%) is a strong blond, somewhat dry and fruity with hints of apple/pear. A good all-round beer to have with friends.
Troublette (5%) is a cloudy, lightly spiced white beer. Its refreshing hint of citrus and dry finish make it a nice aperitif on a sunny terrace before dinner.
Caracole (8%) is an amber beer which is quite round and fruity, with hints of orange rind, and caramel. Enjoy this to finish off a nice evening with friends.
Nostradamus (9.5%) is a strong, full-bodied beer with strong hints of chocolate and pear. Enjoy this beer during a cold evening, preferably with a nice warm fire.
Some of these beer are also available in organic versions which does alter the flavour palette somewhat. However, they are still a very good beer.
The Brasserie Caracole is well worth a visit. It's open every day during July and August and Sunday afternoons the rest of the year. To organize a tour, be sure to contact them in advance.
Brasserie Caracole
Côte Marie-Thérèse, 86
5500 Falmignoul
Tél : 082/74.40.80
Find out more about Belgium's favourite beverage on our Guide to Belgian Beer and Breweries in Belgium page.
Latest posts by Alison Cornford-Matheson
(see all)
Read more from this series...
Artisanal, Organic Belgian Beer at Caracole Brewery, Dinant