THIS POST MAY CONTAIN COMPENSATED LINKS. FIND MORE INFO IN MY
DISCLAIMER
.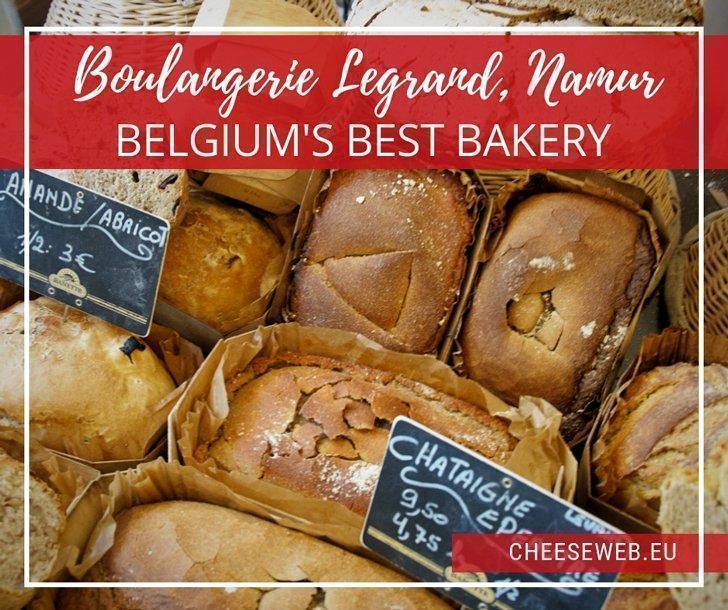 Tucked away in central Namur is Wallonia Belgium's finest bakery. Using only organic ingredients, Boulangerie Legrand makes bread just as they have for the past six generations, with love and passion.
With a bakery on every other corner in even the tiniest villages in Belgium, what makes one stand out more than another? The answer is threefold: hand selected organic ingredients; skills built on tradition, passed from generation to generation and, most of all, the passion to create the perfect loaf of bread. All three of these are present at the Boulangerie Legrand in Namur.
I'll be honest, when I looked over the schedule for our foodie tour of Wallonia, the one thing that didn't stand out was the visit to a bakery. After all, I've lived in Belgium for eight years now, and I've visited many wonderful bakeries in that time. What could be so special about this one?
I was about to find out.
We entered the tiny shop and were immediately engulfed in warmth. While some of it was coming from the bread oven out back, most of it emanated from the thousand-watt smile of the baker's wife, Angela.
She greeted us, (and everyone else who set foot in the shop, during our visit) as if we were long-lost friends. Her enthusiasm for the bakery and its products was contagious, and we were eager to learn its secrets.
We stepped into the small kitchen, where we found the baker, Dominique Legrand. Dominique seemed almost shy in comparison to the effusive Angela but warmly shook our hands before returning to his bread.
As Dominique went about his work, with the ease of someone who has been baking bread his entire adult life, Angela gave us a tour of the kitchen and their bread-making philosophy.
The space is dominated by a huge oven and only one machine, a mixer, into which Dominique pours only organic ingredients: stone-milled grains, sea salt from Guérande and natural leavening agents or yeast. The exact combinations are a closely guarded secret, to which not even Angela is privy.
"I am the muse," she laughed, "not the baker." With a muse like Angela, it's easy to see why Dominique's bread is edible poetry.
Dominique has been baking bread since he was 18, but the history of the Legrand Bakery runs much deeper. Six generations ago, in 1831, Dominique's ancestors founded Boulangerie Legrand, and little has changed since those days.
Dominique and Angela had a mission when they took over the Boulangerie Legrand and moved it to its current location in Namur. Their goal was simply to create the finest breads from the best ingredients they could find. This is the reason people drive all the way from Brussels and even as far as Northern France, just to buy their breads.
As we watched transfixed while Dominique went about his work, Angela asked the question we had been waiting for, "Are you ready to try some bread?"
We stepped back into the shop, where the breads are lovingly displayed, and Angela described the ingredients. Some of the grains come from as far away as Egypt, and their natural fermentations take anywhere from 18 to 24 hours. These are live breads, and we could taste the difference, as the flavours danced on our tongues.
From deceptively simple baguettes to sweet brioches to rich loaves made of chestnut spelt, it was impossible to choose a favourite. None of us could resist the lure of the dense, nutty breads and we left the shop clutching paper bags of small tasty loaves.
If our first stop on our Wallonia food tour was a bakery this good, we were more than ready to continue the adventure.
To get your hands on the best bread in Belgium, you can visit the Boulangerie Legrand in Namur on Rue Emile Cuvelier, 18 or visit the bio-market on place St. Catherine on Wednesday mornings. You'll find Legrand Bakery products at the stand of Ignace Sepulchre.
Want to know what my companions thought of Boulangerie Legrand? Read the posts from Sherry and Charlie. Thanks to incredible tour-guide Evelyne and Brussels-Wallonia Tourism for organising our tour. Stay tuned for more Wallonian foodie finds from our day!
Latest posts by Alison Cornford-Matheson
(see all)
Read more from this series...
Boulangerie Legrand, Namur, Belgium's Best Bakery