THIS POST MAY CONTAIN COMPENSATED LINKS. FIND MORE INFO IN MY
DISCLAIMER
.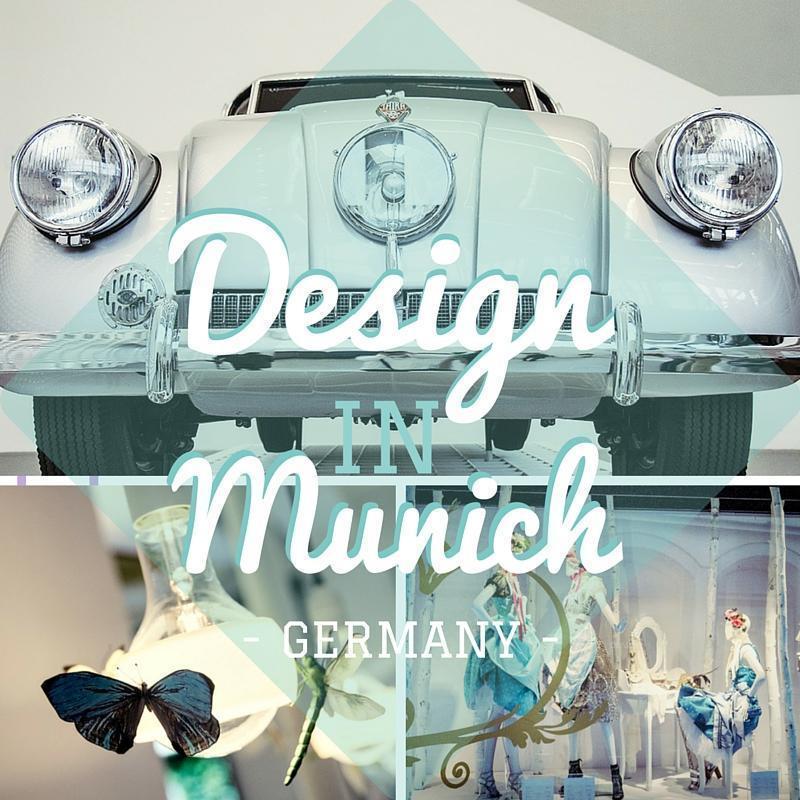 While visiting Munich, I was surprised by its vibrant and creative food scene and how deep its Bavarian roots run. However, my biggest surprise was Munich's distinctive modern design culture. Far from the traditional biergartens and lederhosen, Munich innovates in fashion, architecture, and industrial design. Munich radiates an entrepreneurial spirit and creative flair I wasn't expecting but was thrilled to find.
Creative Design on a Budget at Motel One
My first taste of Munich's creative modern design was my home base throughout my stay in the city – Motel One. Motel One is a German budget hotel chain with a difference; it offers stunning, unique design, at an affordable price.
Stepping through the entrance, I'll be the first to admit, Motel One was unlike any budget chain hotel I had stayed in before. The lobby and vast open breakfast area are light, airy, comfortable and distinctive. These contrast with the sumptuous leather-clad library area and the blinged out bar. Each of these spaces feels unique and fresh, unlike the typical 'I could be anywhere in the world' style chains we're used to.
My room was cozy, but still comfortable, especially my bed. (Crawling out from between the sheets in the morning was hard!) It came equipped with a flat-screen TV, great reading lights (hurrah!), a lovely bathroom with great shower pressure, and a perfect view of the Munich skyline.
Motel One has about 50 hotels, including a brand new Brussels Motel One and seven options in Munich. I stayed at the München-Deutsches Museum a great location for exploring the centre on foot. At the time of writing, the Motel Ones in Munich range from 59-79 euro per night.
One of the unique design features I admired at Motel One, was the creative lighting in the common areas. Little did I know I would soon be learning all about it.
Illuminating Design at the Ingo Maurer Showroom
When I first saw a visit to a lighting showroom was on my Munich agenda, I was less than enthusiastic. I don't own a home, nor am I in the market for new lights. However, the Ingo Maurer showroom ended up being one of my Munich highlights. (Sorry I couldn't resist the pun.)
The gorgeous and wildly creative pieces scattered throughout this warehouse-style gallery, elevate a practical home necessity to art. Each lighting instalment was more quirky and beautiful than the next. I had no idea some of the iconic lighting I've seen in public spaces, from airports to hotels to city parks, was designed right here in Munich.
Ingo Maurer began designing lamps and lighting in the mid-1960s. Although his team and renown has grown considerably since then, each piece is still created by hand.
The showroom is a fantasyland, and I'll admit to lusting after more than a few pieces. (I adored the flickering LED candle chandelier). While the price tag may be beyond your budget, (it was well beyond mine), the showroom is free to visit, and pushy salespeople won't bother you, while you admire this functional art.
Explore Design as Art at the Pinakothek Der Modern
Munich has a whole range of art museums to explore, but if you are looking for modern design at its best, look no farther than the Pinakothek Der Modern. This building, a beautiful work of form and function itself, houses four museums with its walls: Modern Art, Works on Paper, Architecture and Design. It is this final museum, Die Neue Sammlung (The International Design Museum), where I spent the bulk of my visit (although your 10 euro admission grants access to all four wings).
The Design Museum's permanent collection houses the very best of modern design. While the entire collection comprises 80,000 objects, the objects are curated into bite-sized exhibitions of 'utilitarian art.' Areas include vehicle design, computer culture, Bentwood plywood, design history and design culture. There is also a stunning jewellery exhibition in the basement.
The museums of the Pinakothek are definitely on my 'must-visit' list for my return trip to Munich. In addition to the 4 in 1 Pinakothek Der Modern, visitors can also explore the Old Masters at the Alte Pinakothek, 18th-20th-century works at the Neue Pinakothek, and the collection of 700 Contemporary pieces of the Museum Brandhorst.
Automotive Innovation at BMW World
It's impossible to discuss design in Munich and not talk about the automotive industry, and it's impossible to talk about the automotive industry in Munich without BMW.
Grab a bus to Olympiapark and see the cutting edge of BMW design at BMW Welt (BMW World) a huge showroom dedicated to all things BMW. Whether you prefer two wheels or four, ecological transportation or decadent luxury, there's a car here for you.
Super-fans can shop for BMW, and Mini branded gear at a variety of shops.
If automotive history is more your cup of tea, cross the street to visit the BMW Museum, where you can see 125 of the most important and iconic vehicles of the BMW brand. Alternatively, take a BMW plant tour for a behind-the-scenes look at how these vehicles are made.
Tradition Meets Avant-Gard in Fashion
As recently as ten years ago, the traditional Bavarian Dirndl was rarely seen outside of Oktoberfest biergartens. But Dirndls are back in a big way, and I was surprised to spot women of all ages sporting these gorgeous dresses all over Munich.
While many shop fronts sported uber-traditional Bavarian garb, several Munich designers are revamping the Dirndl in new and exciting ways. The traditional Bavarian clothing shop Angermaier has a World Cup inspired Dirndl line as well as a couture line. In Munich windows, I spotted Dirndls in a wide array of unusual prints and fabrics, including African-inspired Dirndls – How's that for multiculturalism.
I love juxtapositions of modern and traditional design, and this cross-pollination of fashion is right up my alley. It almost makes me want to go to Oktoberfest myself.
Original Thinking in a Traditional Garden
My final point isn't exactly about design, but rather the creative spirit that permeates Munich. (Plus it was just too cool to leave out of my Munich series.) Tucked beneath a bridge, in the very traditional Englischer Garten (English Garden) is something you wouldn't expect in landlocked Bavaria –Surfers.
The Eisbach (ice brook) is a tributary of the River Isar, which runs through the garden. Just before the bridge is a one-metre high standing wave, created by a water pumping mechanism. Local surfers have been using this spot to hang ten since the 70s. Until 2010, this was illegal for safety reasons. Finally, the authorities took an 'if you can't beat 'em, join 'em' stance and erected a sign warning, "the wave is suitable for skilled and experienced surfers only."
Certainly, the surfers we observed seemed to know what they were doing and were braving the chilly water to enjoy their sport. It was fascinating to watch.
Final Thoughts on Travelling to Munich
For a city that wasn't even on my travel radar, I fell head-over-heels for Munich. This vibrant city surprised me in so many ways. It's the perfect European city trip destinations for foodies, museum junkies, art-lovers and design buffs. It's a colourful city with plenty of green space, friendly people and a relaxed atmosphere. In four days, I barely scratched the surface of everything Munich has to offer the traveller. You can bet I'll be returning soon.
Looking for more of our favourite hotels in Belgium and beyond? Visit our Hotel Reviews page to find out where we've been sleeping.
I wouldn't be able to do what I do without the generous support of our sponsors. I'd like to extend a huge thank you to URBN PR and Munich Tourism for inviting me to discover their city. I'd also like to thank both Lufthansa and DB Bahn for sponsoring my travel to and from Munich. We at CheeseWeb are committed to always sharing our honest opinion of any product or service we write about, whether sponsored or not.
Latest posts by Alison Cornford-Matheson
(see all)
Read more from this series...
Discovering Modern Design in Munich, Germany