THIS POST MAY CONTAIN COMPENSATED LINKS. FIND MORE INFO IN MY
DISCLAIMER
.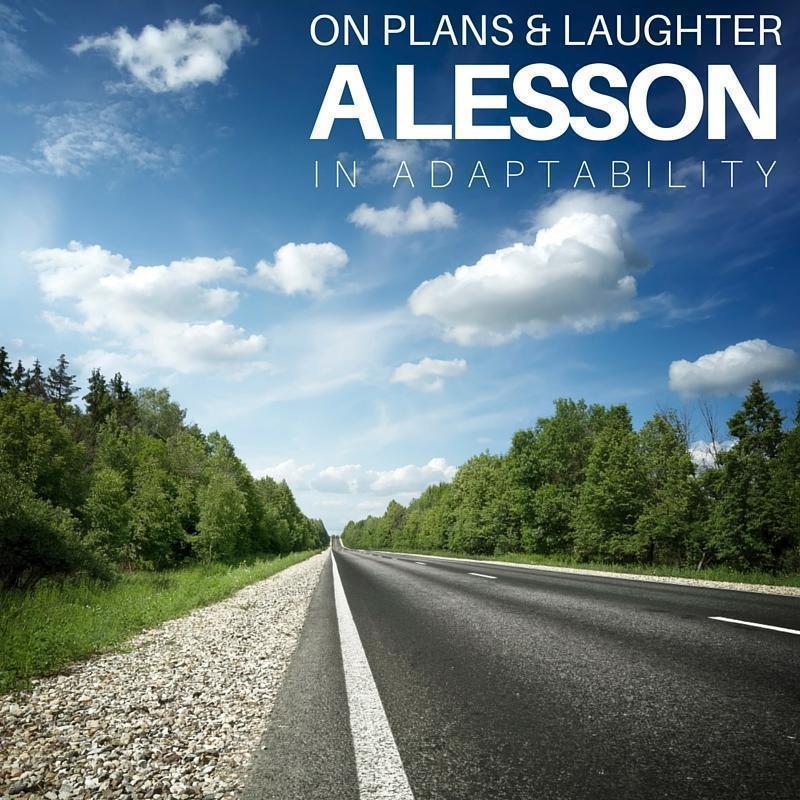 Today, we're getting personal and sharing one of the hardest lessons we've learned as expats. We're also giving you a sneak peak of our big plans, and the future of CheeseWeb.
We've all heard the old Yiddish proverb, 'Man plans. God Laughs.'
If there's one thing we've learned over our ten years as expats, it's to expect the unexpected.
Despite my ever so slight desire burning need to have a plan, my expat experience has taught me how to roll with the punches, switch gears at a moment's notice, and adapt, amend, adjust.
For the past month, we've been relearning this lesson.
If you've been with us for a while, you may remember us mentioning our long-term plan. A few years ago, with the help of the incredible book, Dream. Save. Do., we defined our dream – to slow travel around Europe in a motorhome, with our cats.
But we went far beyond just dreaming our dream. With the help of the book, we built a plan to make it happen. We have set a budget, been paying down our debt and saving money, we're downsizing our stuff and, most importantly, we've set a deadline – May 6th, 2016.
We believed we still had a year and a half to achieve all of these goals.
Man (and woman) plans. God Laughs.
Last month, a week before we were set to leave on our annual trip to Canada, Andrew learned he was being laid off from his job – after 16 years and a move to Belgium.
We had been prepared for this eventuality for a long time.  In fact, we were expecting it. Still, it came as a shock. Like we had been punched in our guts.
What about our big plan?
So, while we were in Canada, surrounded by friends and family, we switched gears. We adapted. We amended. We Adjusted.
Now we have a new plan, ready to change at a moment's notice.
Our new plan is our old plan – accelerated by one year (give or take). We're still jumping in that motorhome; we're just doing it a year earlier. This means we have the next six months or so to downsize our possessions, pay off our debt, buy a motorhome, and make enough money to live for the next year.
It's a tough challenge, but we're ready for it. We're excited to be this close to our dream, and more than a little terrified.
A New CheeseWeb – Coming Soon
So, what does this mean for you dear readers, and what does it mean for CheeseWeb?
For the foreseeable future, you won't see too many changes. We're still committed to bringing you our honest reviews of what to do, see, and eat, in Belgium and beyond.
We've had some big ideas, for a new and improved CheeseWeb, in the works even before our world shifted. We hope to have a shiny new website early next year, with loads of new features.
Once we leave on our epic adventure, we'll be bringing you our tales from the road, sharing our slow travel discoveries, and uncovering the hidden gems of Europe, just as we do now – there will just be more of them.
There will also be more of us. We've distanced our personal stories from CheeseWeb a bit, in the past few years, and we want to share more of us with you too, warts and all. (We're sure there will be more than a few warts while living in such a tiny space together!)
If you'd like to know more about our new, improved focus and philosophy, check out our brand new About Page, where we share our thoughts on Slow Travel and Slow Living.
Finally, Belgium-lovers never fear, we won't be abandoning Belgium. It will remain our home base in Europe and we'll be back. Besides, we have enough material to keep writing about Belgium for another ten years.
We are super excited to share this new phase of our lives with you and we hope you'll stick with us on this journey.
As always, YOU, dear readers, are the reason we do this. We love hearing from you, connecting with you, and sharing our passion for travel in Europe with you. We hope you'll share your thoughts on the next phase of CheeseWeb with us. What do you want to see here? Where should we go? What should we write about? Share your thoughts in the comments, or drop us an email. We can't wait to hear from you.
Latest posts by Alison Cornford-Matheson
(see all)