THIS POST MAY CONTAIN COMPENSATED LINKS. FIND MORE INFO IN MY
DISCLAIMER
.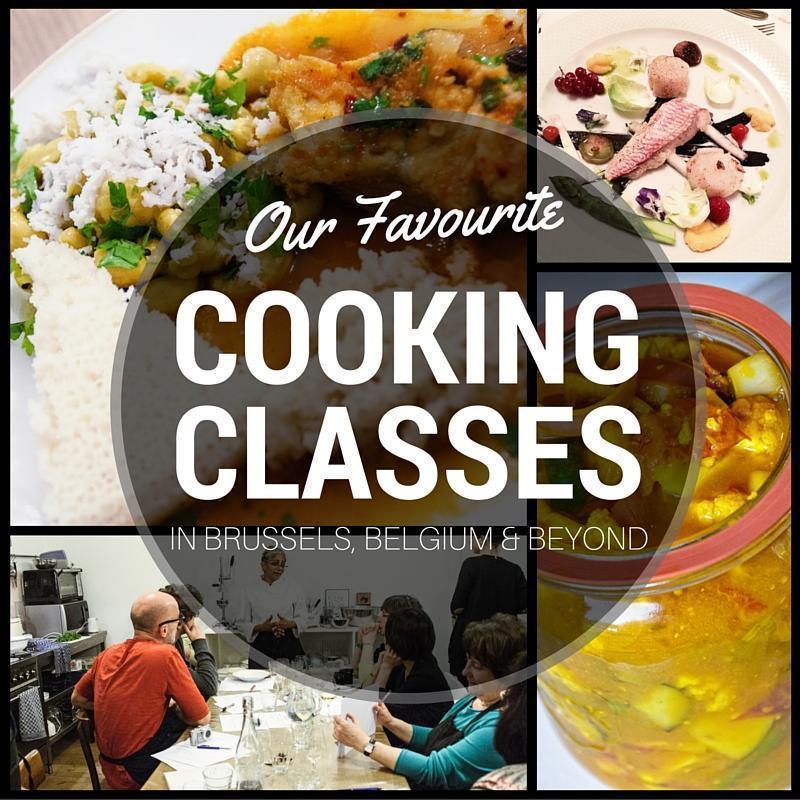 Whether you're a culinary diva, looking to learn some new techniques, or you can barely boil an egg, there's a cooking class in Belgium for you.
I love to cook, and many of my skills are self-taught. However, sometimes it's nice to learn directly from an expert. Today we share four great tried and tested options for cooking classes in Brussels and elsewhere in Belgium.
Le Pimpinelle Shop, Tearoom, and Classes
Because my biggest passion is Indian food, I was excited to learn my friend and Indian food guru, Apolina, was giving classes in Brussels. Attending her class on the cuisine of Goa, I was able to pick up some great new techniques and discover a wonderful shop for foodies, in the heart of Brussels – Le Pimpinelle.
Le Pimpinelle, near Place Sainte Catherine, opened in 2012. This small space serves three purposes. First, it is a shop featuring cookbooks, cooking gadgets, and gourmet products. Many of the items have a trendy-retro vibe and are fun and colourful.
Second, Le Pimpinelle is a tearoom, featuring artisanal juices, gorgeous teas and infusions, and rich and delicious coffees. Thursday to Saturday, you can also enjoy a dish of the day, which is both vegetarian and organic.
Finally, of course, Le Pimpinelle hosts a workshop area for cooking demonstrations and classes. It's a cozy space, which means class-sizes are small and intimate. Perfect for hands-on learning!
The classes include different regional cuisines, like the Goan cooking class I attended. In addition to Apolina's Indian classes, the current schedule includes courses in Korean, Brazilian, and Italian cuisine. There are also classes featuring different ingredients and styles of cooking, like gluten-free baking, and pairing food and champagne.
As the class instructors vary, so do the languages spoken. In my group, there were other English speakers, as well as French, Italian, and Spanish participants. The class was taught in a mix of English and French, so it ended up being a fun language free for all, with no need to be intimidated by language issues.
My class lasted 3 hours, was a mix of hands-on and demonstration, and included two curries, a bread, and a dessert (which, of course, we got to eat in the end). It was well worth the cost of 60 Euro.
Pimpinelle
57, rue de flandre/ Vlaamsesteenweg
1000 Brussels
Bookalokal Cooking Classes
While I highly recommend the classes at Le Pimpinelle, there are plenty of other great cooking class options from which to choose.
Another great source of foodie inspiration is the ever fabulous, Bookalokal. While you probably already know you can book a great meal, of any number of world cuisines, through Bookalokal, you may not know, there are also cooking classes available.
At the time of writing this article, 16 cooking classes were listed in Brussels alone – from bread baking, to Indian curries, to cake decorating, and even Senegalese cooking.
While we haven't tried and tested all of the hosts for ourselves yet (we wish!), we love Bookalokal's review system, for letting us know more about each host listed.
Three Bookalokal hosts who also teach cooking classes we can wholeheartedly recommend are Arianna (for delicious artisanal jams and baked goods), Eva (For Italian dishes and cakes galore) and, outside of Brussels, Debbie (for incredible goat cheeses, and hand-made goodies from soap to pickles) [read more about our experience on Debbie's artisanal farm in Geel, Belgium]
Sign up for Bookalokal through us and receive €8 to spend on your first meal or class.
Variety Galore with Mmmmh!
If you ask anyone in Brussels about cooking classes, no doubt Mmmmh! will come up, so I'd be remiss if I didn't mention it here. Without a doubt, they offer the widest selection of cooking classes in the city. Currently, Mmmmh's agenda includes everything from Thai to English cuisine and everything in between.
I'll admit, I haven't attended a class at Mmmmh in years and when I did, it was with mixed results. One class I attended was very hands on and well worth the fee paid. Another I tried was a cooking demo only, the class was huge, and I didn't feel I took anything practical away from it.
Mmmmh's classes are also primarily in French, however this can be a fun and less intimidating way to practice your language skills.
My advice would be to read to course description very carefully and ask any questions you might have, before signing up.
That said, Mmmmh's cooking space is beautiful, there are classes scheduled throughout the day, with even quickie 'lunch break' classes, and the prices vary to suit all budgets.
Also, don't miss Mmmmh's shop. If you love kitchen gadgets and cookbooks, this store has it all.
Mmmmh!
Chaussée de Charleroi, 92
1060 Bruxelles
Haute Cuisine Cooking Classes
If you're looking for a fun group activity, including beautiful food, consider a cooking class at the Chatelain Boutique Hotel. Back in the spring, I was invited as part of a group of bloggers, to test the concept.
Taking advantage of the Wednesday market on Place du Châtelain, we first went to pick up our fresh produce, before descending into the kitchen. As we were part of a large group, we weren't able to be hands-on with each step of the process. However, it was interesting to see the inner-workings of a commercial kitchen, operating at a fine-dining level.
While participation may not have been the highlight of this class, the food certainly was. Of all of the cooking classes I've taken in Brussels, this was certainly the most gastronomic experience. From foie gras 'cotton candy' to a decadent chocolate dessert, this was a meal to remember.
Cooking classes are scheduled for most Wednesdays or can be reserved as a group booking for 10 or more people. Contact the hotel directly for prices and details.
Le Chatelain Boutique Hotel
Rue du Chatelain 17,
Brussels 1000, Belgium
Have you taken a cooking class in Belgium? Share your experience with our readers in the comments section below.
Latest posts by Alison Cornford-Matheson
(see all)