THIS POST MAY CONTAIN COMPENSATED LINKS. FIND MORE INFO IN MY
DISCLAIMER
.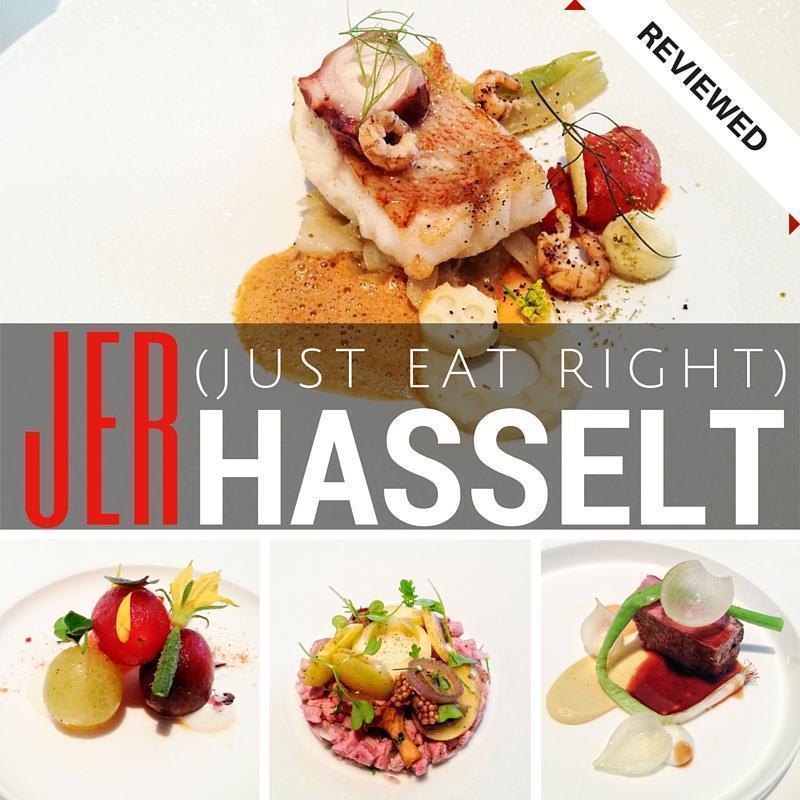 Michelin-starred restaurant JER (Just Eat Right) in Hasselt, Belgium, offers local ingredients in a fine-dining setting and is well worth the trip to Limburg.
While most places we want to eat are easy to visit, some restaurants elude us. One-star Michelin JER (Just Eat Right), in Hasselt, was one such establishment. It came highly recommended by friends in Hasselt, as well as foodies around Belgium.  But JER seemed to be shutting us out.
The weekend we visited Hasselt, they were on holiday. We tried on a different weekend and they were fully booked. However, finally, this summer, I scored a reservation through Dining with the Stars. Not only were we finally visiting, but we'd also be dining at a Michelin Starred restaurant on a more budget-friendly menu.
So, on a summer Sunday morning, we piled in the car to make the trek to Limburg. Happily, it was worth the wait – and the effort.
Normally, for Canadians anyway, driving a couple of hours for lunch isn't much effort at all. However, Belgium has its ways of throwing up roadblocks – literally.
As we neared central Hasselt, we were increasingly aware this was not an ordinary Sunday. Every road into the centre was blocked. The GPS would lead us in one direction, only to arrive at another barrier. We circled completely around the centre, with no luck. There was a festival happening in town.
Finally, we abandoned the car, and took to our feet, (and my impractical footwear). Slightly sweaty and frustrated, we finally arrived at the door. We both took deep, cleaning breaths, and stepped inside.
JER's dining room takes up the ground floor and terrace of a maison de maitre. It is simply and elegantly decorated in calming earth tones. The only hat-tip to overstatement is the giant chandelier. It creates a beautiful atmosphere. We felt ourselves relax.
By now, we were more than ready to eat and, since we had booked the special menu, the only decision we need to make was wine or no wine – it was no decision at all really. With glasses in hand, we sat back to let the parade of food begin.
As always, I had done my research in advance. While I didn't know the exact dishes we were about to be served, before we arrived, I did know the calibre of the food. As a word of caution, don't visit their website on an empty stomach. It's pure foodporn.
Our first amuse bouche arrived as we were sipping our aperitif. The crunchy cones of goodness were a bit like a conical samosa. Crispy. Slightly Spicy. Delicious.
Then came a pyramid of tiny, peeled tomatoes, bursting with concentrated tomato-ness. I could only think of the poor sous-chef in the kitchen perfectly peeling these little beauties.
The final amuse was the only one not totally up my alley. Being neither a fan of melon or cucumber, this dish was probably my least favourite.
Then it was on to our actual four-courses. First up was veal 'steak tartar-style,' 'Corne de Gatte' potato, roasted onion, aubergine and girolle mushrooms. At first bite, I was a bit thrown by the cold veal (obviously the tartar-style). But it was a beautiful earthy dish.
Next up was Red snapper crispy fried, with fennel and grey shrimps, black garlic, and a jus of shellfish and spices. This was one of the best seafood dishes I've had in a long time. The sauce was rich and packed with ocean flavours and the hint of liquorish from the fennel pared perfectly with the delicate fish flavour.
Our main course was Beef cooked in hay with a gravy of barbecue flavours.
This was served with Courgettes of all shapes and colours.
The beef was perfectly cooked and filled with sweet smoky flavour from the hay. This contrasted nicely with the spicy BBQ flavours in the sauce. The courgettes truly were in all forms. I particularly loved the surprising courgette 'chips.' It's hard to believe they weren't potato.
For dessert, of course, I opted for the cheese plate (for an additional 8 euro). It was lovely, but there were no surprises here.
Coffees arrived with a little plate of sweet, berry treats, which Andrew enjoyed (as I was full of cheese.)
Our Verdict: We had a great experience and would definitely recommend JER for a special occasion. The service was friendly and professional, the food was exceptional, and the atmosphere was inviting.
Our meal cost 49 euro, through Dining with the Stars. The drink pairing, including aperitif, wines with each course, water and coffee, was an addition 60 euro. This was definitely one of the more reasonably priced Michelin Starred restaurants we've enjoyed in Belgium.
Looking for more great restaurants to try for all budgets? Check out our full listing of Restaurant Reviews.
JER (Just Eat Right)
Persoonstraat 16,
3500 Hasselt, Belgium
Latest posts by Alison Cornford-Matheson
(see all)