THIS POST MAY CONTAIN COMPENSATED LINKS. FIND MORE INFO IN MY
DISCLAIMER
.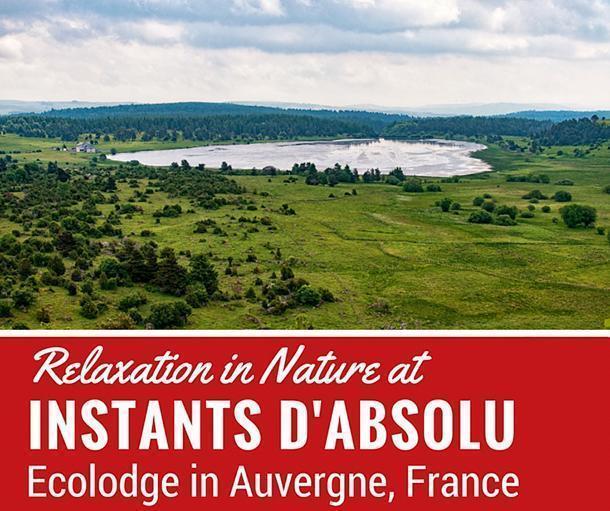 The Instants d'Absolu Ecolodge is the perfect retreat on Lac du Pêcher, in the heart of Auvergne's Volcanoes Regional Park.
When I think about the elements needed to create the perfect ecolodge, there are a few essentials. First, it must be situated in a beautiful natural setting. It should sit comfortably in this landscape and not compete with the natural beauty around it. Ideally, it should be made from as many local and natural materials as possible. Of course, it must have great food, again, sourced locally. Finally, it should be a retreat from the busyness of the chaotic world outside its doors. It should be a place where you can create timeless moments or Instants d'Absolu.
The Instants d'Absolu Ecolodge ticks all the boxes. The setting is perfection. Lac du Pêcher is in a clearing in the Pinatelle pine forest, in the middle of Auvergne's Volcanoes Regional Park.
Making our way through the Cantal Mountains, we began to question if we had the directions correct, as we slipped further and further from civilization. Just as we began to debate turning back, we popped out of the trees to emerge beside the lake.
It required a double-take to even notice the low, stone building longing beside the lake. Besides Instants d'Absolu, all we could see was Lac du Pêcher, trees, rolling hillside, and plenty of happy free-range cows, grazing on the hillside.
Despite its discreet appearance from the outside, inside Instants d'Absolu is understated luxury. Decorated in soothing neutral colours and natural materials, our room was a sanctuary. Notably absent are televisions and telephones – thank goodness!
To further relax and unwind, Instants d'Absolu offers a small but excellent spa. We didn't indulge in the treatments but they sounded divine, using products sourced from the local landscape: peat, wild gentian (a plant to which we would soon be introduced) and other botanicals from the volcanic landscape.
I couldn't resist the 'Nordic steam room.' Rather than a room, this steam-bath-for-one looked more like a barrel. I sat down inside, with my head sticking out the top, and Andrew closed it around me. I hit the button and wonderful, hot steam began filling the barrel and easing my tired muscles.
The only thing better was the hot tub. While again, it wasn't large, it was the setting that made the difference. Perched on the Ecolodge's terrace, overlooking the lake, the hot tub could be covered by a glass roof in bad weather, or opened to the elements. As we sat and soaked, a thunderstorm rolled by. We watched the power of nature from the comfort of the hot tub. By the time we were ready to dress for dinner, the storm had already passed over.
We had our dinner inside the Ecolodge's gourmet restaurant, although in nicer weather you can enjoy dining outdoors. The restaurant's rough stone walls, wooden bar, and huge fireplace, create a cosy and rustic atmosphere. The food, however, is anything but rustic. The dishes are a fusion of mainly fresh locally-sourced ingredients with a few exotic touches added for international flare.
While we perused the menu, we were offered a local beverage. Andrew opted for an artisanal beer made in Auvergne, but I opted for the hyper-local Gentian, a liqueur made from the wild, yellow gentian that grows on the mountains.
Andrew started with a cauliflower soup while I opted for a salad. Both were delicious and could have been the main course on their own.
It will come as no surprise Andrew chose roasted pork for his main course. I chose roasted pigeon. Both were served with a red-wine-poached pear, Jerusalem artichokes, and a wonderful vegetable risotto.
For dessert, Andrew enjoyed a crumble made from red fruit with vanilla ice cream. I opted for something more exotic; a pineapple carpaccio (definitely not local but delicious nonetheless.)
We worked our way through course after course of delicious, beautifully presented food, before collapsing into bed.
The next morning's breakfast was another local feast, this time featuring Auvergne's meats and cheeses. Still stuffed from supper, we could hardly do it justice.
We needed to walk off some of that delicious food, so we opted to spend the morning discovering the landscape around the lake. Instants d'Absolu has devised two hiking paths; one shorter one that sticks to the flat ground and a longer trail that climbs the hill overlooking the lake. We couldn't resist the temptation of a great view.
Along the way, we stopped at interpretive signs where we learned about the flora and fauna of the area. I spotted plenty of the large plants that made up my Gentian liqueur the night before, but also a countless variety of wildflowers.
The hike up the hillside wasn't easy (at least not for novices like us) but it was definitely worth it for the view.
On the way back down, we had to walk through a gang of locals…
They watched us pretty intently, but they didn't threaten us. I think they understood how much we appreciate the cheese of Auvergne.
Like all of our Nattitude accommodation in Auvergne, one night wasn't really long enough to do justice to Instants d'Absolu and its beautiful surroundings. Do yourself a favour and retreat to Lac du Pêcher for at least a weekend or more, before moving on to enjoy the rest of Auvergne's offerings.
Instants d'Absolu Ecolodge
Le Lac du Pêcher
15300 Chavagnac
Parc Naturel Régional des Volcans d'Auvergne
France
We'd like to thank the team at Instants d'Absolu for an incredible stay and excellent meal. (We'll be back!) We'd also like to thank the Région Auvergne Tourism office for hosting us in the area. As always, all opinions are our own.
Latest posts by Alison Cornford-Matheson
(see all)