THIS POST MAY CONTAIN COMPENSATED LINKS. FIND MORE INFO IN MY
DISCLAIMER
.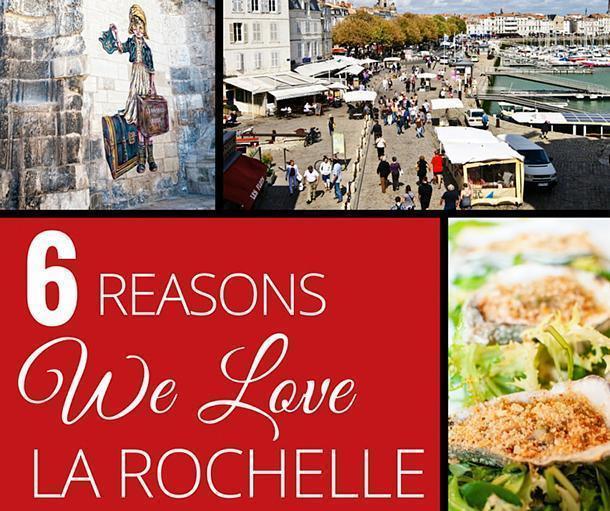 We spent a day in La Rochelle, on the coast of Poitou-Charentes and reaffirm our love for this unique maritime city. Here are 6 things we love about La Rochelle, France.
Andrew and I first discovered La Rochelle back in 2011 and it was love at first sight. We had been in nearby Rochefort for the wedding of dear friends and decided to spend an afternoon in La Rochelle before heading back to Belgium.
We were blessed with a gloriously sunny day and, I have to admit, we did very little but sit by the harbour. Both having grown up in coastal towns in Eastern Canada, it was the first time in a long time we realised what we were missing in Brussels – the sea. We felt so at ease in that one afternoon, we talked seriously about moving to La Rochelle one day. It's still a move I wouldn't need much convincing to make.
As luck would have it, we had the chance to return to La Rochelle while making our way through Poitou-Charentes last summer. We weren't sure how visiting a large city in our motorhome was going to go, but lovely La Rochelle continued to charm us.
Now I will say, the accommodations for motorhomes aren't the best.  There's a large central parking lot at the far end of the massive Parc Charruyer. The spaces immediately lining the park are reserved for motorhomes. It was packed when we arrived and we thought we had struck out when a woman returning to her own motorhome waved to us. She told us her family was leaving shortly and we could have their space. The kindness of strangers is one of the great benefits of travel.
We worried briefly about both noise and safety in the big parking lot, but with so many other motorhomers around people kept an eye on things. We also didn't have any major noise problems that night. City camping isn't always ideal, but La Rochelle's central location for motorhomes is convenient for a night or two.
1. La Rochelle's Giant Park – Parc Charruyer
Once we were parked, we were excited to see if La Rochelle was as charming as we remembered. Because we were parked right beside it, we decided to take a stroll through Parc Charruyer. As it was a beautiful spring day, loads of people were out enjoying this long narrow stretch of park. Once home to the city's ancient fortifications, Parc Charruyer stretches all the way to the harbour.
Over 2km of paths wind through the 40-hectare park and locals were sprawled on the grass enjoying both the sun and shade the park provides. It's a green oasis in the heart of the city and it was a pleasure to be camped right beside it.
2. The Impressive La Rochelle Harbour
The first time we visited La Rochelle, our first view of the waterfront was arriving via the park – and what a first impression. We passed by the Tour de la Lanterne (the tower of the lantern) and continued along the old ramparts to the mouth of the harbour.
It's easy to see that La Rochelle was an imposing sight to approaching ships back in the day. The harbour is guarded by two large stone towers; Tour de la Chaîne and Tour Saint-Nicolas. Chain Tower was named for the huge chain they pulled across the entrance to the harbour to keep it safe.
On our second visit, La Rochelle's harbour was just as bustling and colourful as it had been the first time we wiled away an afternoon there. But this time, we didn't have time to linger. We were meeting with local guide, Christine Messmer, who was going to show us the hidden secrets of La Rochelle.
3. La Rochelle's Eco-Friendly Transportation
We met Christine at the tourist office where we immediately began to discuss La Rochelle's sustainable tourism initiatives. Like many cities, La Rochelle has implemented a system of yellow bicycles called Yélo that offers affordable, sustainable transportation around the city.
We were touring La Rochelle by foot, but that didn't stop us from taking another form of sustainable public transportation. We hopped aboard the Passeur électro-solaire, a solar-powered boat bus that took us through the harbour gates to the Old Port (Vieux Port). It's a great, cheap way to see the city from the water, not to mention a fast way to cross the harbour.
4. La Rochelle's Stunning Old Port
La Rochelle is one of those cities I could happily do nothing but wander and explore. We didn't have a checklist of must-see sights (although there are many). Our tour with Christine was much more about soaking up the city's atmosphere and exploring its secret corners than tackling the top tourist attractions.
Like all great French cities, La Rochelle's Old Port, the historic heart of the city, is a warren of narrow streets, covered walkways, and hidden squares. In the old town, you are never far from the water, a feature that reminded us of home.
5. La Rochelle's Tie to Canada
But the connection to the sea isn't the only thing La Rochelle has in common with Canada. Christine pointed out a mural of a small girl and asked us if we noticed anything. Right off, we saw the suitcase in her hand was labeled 'La Rochelle – Quebec.'
The girl is known as 'Louise' and she is a fille du roi, or King's Daughter, one of the 800 young women who were sent from La Rochelle to help populate New France (Quebec, Canada.) These young women were actively recruited by the state between 1663 and 1673 to help offset the abundance of single male settlers.
There's a good deal of controversy and legend surrounding the program and there are also countless North Americans who can trace their ancestry back to these French immigrants (including Hillary Clinton, Angeline Jolie, and Madonna.)
But beyond the King's Daughters, La Rochelle remained the primary port in France to New France until the Treaty of Paris, in 1763. The connection between Quebec and La Rochelle is a strong one. So much so, several students devised a walking tour of the city called 'Chemins du Québec' leading you through the most important cultural sites of interest to these two nations.
6. La Rochelle's Foodie Finds
I'm guessing it won't come as a surprise to learn one of our favourite French cities is also a foodie town. While we haven't yet found a city in France that didn't have great food, La Rochelle is definitely a cut above.
First of all, it has a huge local produce market – and we missed it. Unfortunately, our timing was way off on this one and if we have the opportunity to visit La Rochelle again (and I sure hope we do) visiting the Central Market, or Marché Aux Halles, will be my primary goal. This 19th-century covered market runs every morning, 365 days a year, with extended hours on Wednesday and Saturday.
Beyond the market, you can discover a number of gourmet shops in the Old Port area. For regional products, don't miss La Comptoir Charentais, which stocks everything from locally made chocolates to Poitou-Charente's best Cognacs.
Oddly, La Rochelle was where we discovered one of our favourite local delicacies – from Brittany. To be fair, it's only 3.5 hours away by car (and shorter by boat). Whatever the case, it was in La Rochelle that we first stumbled upon La Belle-Iloise, a company that produces high-end canned seafood products. I loved them so much; visiting the factory was one of my highlights of our trip to Brittany.
But getting back to truly local specialities, Christine guided us to a local bar we probably would have walked right by without noticing. La Cave de la Guignette is the kind of tavern that repels some visitors and draws others, like us, to peek beyond its unassuming façade.
Inside, the bar maintains its gritty, working-class atmosphere and looks like it hasn't changed much since it opened in 1933. On tap is, of course, la guignette, a wine based spirit that comes in three colour/flavour combinations: green, yellow, and red. These fruity spirits pack a punch and are definitely an authentic taste of La Rochelle.
Just steps from La Guignette is Prao Resto, a trendy slow food restaurant named for the wooden boats with triangular sails found in the Indian Ocean. Prao focuses on this connection between humans and nature and is committed to presenting seasonal, local products used in creative ways.
Our meal included fresh local oysters (a specialty of Poitou-Charentes we took advantage of whenever possible), fresh goat cheese (ditto), and delicate white fish. Everything was presented with attention to detail and exemplified the best of what the slow food movement has to offer.
Our only regret in our second visit to La Rochelle is that it was so short. There are some cities that have worked their magic on us over time and repeated visits (I'm looking at you Paris). La Rochelle, however, was love at first sight. After only two short day trips, we're ready to pack our bags and settle into this unique coastal city for a long, long time. La Rochelle, we'll be back. Promise.
We'd like to Christine for a lovely tour of her adopted city. Thank you also to the Région Poitou-Charentes Tourism office for hosting us in the area. As always, all opinions are our own.
Latest posts by Alison Cornford-Matheson
(see all)