THIS POST MAY CONTAIN COMPENSATED LINKS. FIND MORE INFO IN MY
DISCLAIMER
.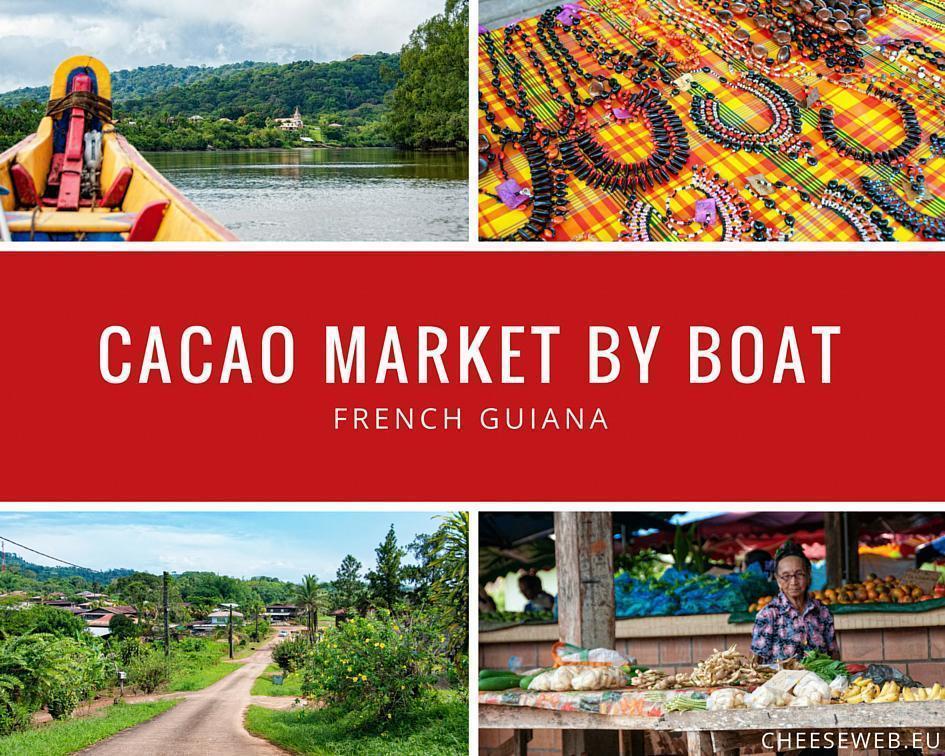 A boat ride to the village of Cacao, in French Guiana, has culinary ties to Belgium and Asia, with nature, shopping, and culture in one great day-trip.
While French Guiana's most visible feature is its Amazonian Forest, the region wouldn't exist without one vital natural element – water. In fact, the region is almost entirely surrounded by water. In addition to its long stretch of Atlantic coast, French Guiana is separated from Suriname by the Maroni River and from Brazil by the Oyapock River. The only remaining border, to the south, is virtually impenetrable forest. Other major rivers include the Approuaque, Mahury, Cayenne, Kourou, Sinnamary, Counamama, Iracoubo, and Mana – not to mention all of their various offshoots.
So for a region so characterised by water, it's no surprise, the Guianese spend much of their time on the various rivers, known locally as criques. Although most of the population lives in the major cities along the coast, many have weekend retreats on the inland waterways. Some are accessible by road, but for many, the only way to reach them is by boat.
These days, most of the boats are modern speedboats, with a few catamarans and jet skis for recreation. However, the traditional Guianese boat was very different from these modern marvels, and I was about to take one to a remote village where Belgian and Asian food cultures collide – in South America.
Our starting point was a small village close to Roura and the wilderness lodge, Wayki Village. Wayki Village is a restaurant, lodge, and boat rental office, but we were here for their specialty – traditional boat tours 'en pirogue.'
The pirogue is a long, narrow, traditional wooden boat. Ours was fitted with a modern motor but originally they would have been powered by paddle or pole.
Even with a motor, the pirogues are difficult to navigate. Their length gives them a wide turning circle and they can be unsteady. The pilot must also be able to read the ever-changing waterways for shallow areas and obstacles, like rocks or felled trees. This is why our tour had a few extra passengers. Our pilot was still training to navigate the criques, so we were joined by our expert guide and pirogue pilot, Mélanie.
From Wayki Village, we cruised past the town of Roura and on to Le Village Flavard, an Amerindian Village that is the base for a variety of tourism activities. We made a quick stop to admire the intricate jewellery made from seeds harvested, by the tribe, from the surrounding forest. It is possible to tour the village, take a meal, or even stay overnight and fully immerse yourself in traditional Amerindian culture. Our destination, however, was a long way off and we needed to get there in time for lunch, to enjoy a local delicacy, with origins on the other side of the world.
As it was Sunday, the waterways were filled with happy holiday-makers. The shorelines here are dotted with temporary structures used as boat launches by city-dwellers. Families can apply to the government to be allotted a small plot of land, for free, with the proviso the land will be used and maintained, but any structure will be temporary and able to be removed with ease. Of the buildings we saw, some were much more temporary looking than others, but most were filled with folks out enjoying the river.
When we weren't busy waving to the other boaters (the Guianese are definitely a friendly people) Mélanie pointed out the diverse nature of the waterways. Like we saw in the Marais de Kaw-Roura, the mangroves act as shelters for a wide variety of wildlife: from birds to reptiles, to fish, and even small mammals.
One flowering tree kept catching my eye and our pirogue pilot took us in for a closer look. Mélanie reached into the tree, but instead of picking one of the flowers, she plucked a long, narrow, green pod. She held it out to show me, then promptly whacked it on the side of the boat. The pod exploded into the firework-like flowers that had caught my attention.
"Do you know this plant," she asked.
I shook my head and she reached back into the tree. Giving a hard tug, she produced a giant, brown pod and handed to me. As a half-Belgian, I had to know what it was – Cacao – the plant from which we get chocolate and the namesake of the village we were headed towards. Sadly, however, French Guiana's Cacao de Rivière does not yield the delicious Belgian chocolate we know and love. This cousin of African cacao grows along the river banks showing off its beautiful blossoms.
Cacao does not surrender its treasure easily and it took several hard whacks with a machete before Mélanie could scoop out the cacao butter and hand it to me. Although it was rich and creamy, it didn't have a strong flavour at all.
But this cousin to chocolate wasn't the only unusual culinary tie to our trip. Although we were making our way to the village of Cacao, to visit the bustling Sunday market, it wasn't chocolate we were seeking.
We landed at the dock and my guide, Flavia, and I walked into town. Suddenly, I didn't feel like I was in South America or France. The faces around me were distinctly Asian.
The majority of the Cacao's almost 1000 inhabitants are Hmong farmers who fled Laos in the 1970s. The colony began with 45 settlers, transplanted by the French. The Hmong found the growing conditions similar to their homeland and began to cultivate parts of French Guiana previously ignored. Although they only make up 1% of the region's population, the Hmong now control 70% of the agriculture.
Every Sunday, the Hmong farmers and artisans gather at the village market to sell their wares and Guianese come from all over to shop and enjoy lunch – and lunch was exactly what we were here for.
Anyone who knows me knows I am a sucker for just about all Asian foods. Put a big bowl of Asian noodle soup in front of me, and I am a happy girl. It seems like half of the population of French Guiana agrees with me, as they were all in line waiting for their soup too. Luckily, it was worth the wait and just as good as any soup I had in Asia (even though it was served in South America).
Fortified by lunch, we strolled around the tiny village. In addition to the artisanal crafts sold at the market, there are a few souvenir shops and stalls. One stall was filled with jewellery made by an enterprising young Guianese (incidentally also named Alison), from collected seeds and wings of the brilliant blue Morpho butterflies.
Cacao village only consists of about four blocks, a few small restaurants and local guest houses, a tiny post office, and a lovely hilltop church. Other than the market, you can see the entire town in about an hour.
At the end of our walk in the sweltering humid heat of French Guiana, we were ready to get back into our pirogue and enjoy a breeze. We made a quick stop for a refreshing dip in one of the quiet side criques before heading back to Wayki Village.
If you are looking for a day out in French Guiana, that has something for everyone: food, culture, shopping, sport, and nature; a pirogue trip to Cacao's Sunday market is just the thing. Have a Hmong soup and cup of Ti'punch for me.
Wayki Village
Lieu dit Dacca
97311 ROURA
My travel to French Guiana was sponsored by Guyane Tourisme and Atout France Belgium. As always, all opinions remain my own.
Latest posts by Alison Cornford-Matheson
(see all)
Read more from this series...
French Guiana's Cacao Market by Boat with Wayki Village