THIS POST MAY CONTAIN COMPENSATED LINKS. FIND MORE INFO IN MY
DISCLAIMER
.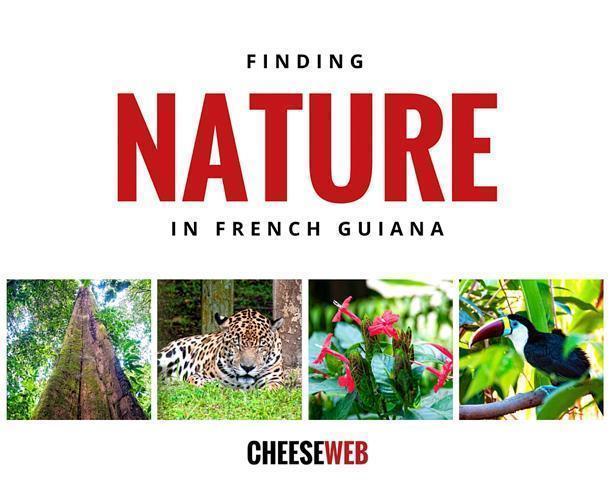 French Guiana is France's most biodiverse region but it can be hard to spot species in the wild. We share 3 easy ways to see Guyane's nature up close and personal.
With more than 1000 species of wildlife in a region the size of Austria, it's difficult to visit French Guiana without encountering nature. However, many of the region's iconic species can be next to impossible to see in the wild, due to their scarcity or the difficulty of trekking deep into Guyane's Amazonian forests.
But while it may not be possible to spot a jaguar, macaw, or rare orchid, in its natural habitat, you can still discover these elusive species, during your visit to the region. Below are three ways to encounter the nature and wildlife of French Guiana, suitable for all ages and levels of fitness.
The Zoo de Guyane, Macouria
I have mixed feelings about zoos. Being as passionate as we are about animals, we've been to countless animal parks over the years. The best ones, like the Sepilok Orangutan Rescue in Borneo and Pairi Daiza in Belgium, are vital in educating the public, breeding threatened species, researching, and rehabilitating injured animals. However, there are also zoos that just want to profit from the animals on display and we've sadly seen zoos we hope will be shut down.
Luckily, the Zoo de Guyane is the first kind. It's a small zoo, taking 2-3 hours to walk around. All of the species but two are native to French Guiana. Best of all, the animals who live here are rescues – from more dubious animal parks, from private individuals, and animals that were found injured. In fact, under a program called SOS Faune Sauvage, the zoo rescues and rehabilitates wild animals with the goal of releasing them back into the wild. Those that remain at the zoo are unable to care for themselves in the wild.
The zoo offers an excellent overview of the wildlife of French Guiana, including all the 'star' species.
The trail through the zoo is landscaped with native flora. The section farthest from the entrance includes a jungle trail, giving the feel of walking in the forest. When I visited French Guiana, the zoo has just launched a brand new canopy walk, allowing visitors to stroll through the trees. If you plan to do the walk, wear good shoes, that you don't mind getting dirty. Between the two elevated sections of the trail is a dirt path that becomes muddy in the rain. (And they don't call it the rain forest for nothing!)
In addition to the expected plush animals and knickknacks, the zoo's gift shop also offers a variety of local handicrafts.
The Zoo de Guyane is perfect for families with children, or just folks like me who love wildlife of all shapes and sizes.
Le Parc Zoologique et Botanique de Guyane
CD 5, PK 29
97355 Macouria
The Botanical Garden of Guyane, Macouria
I love flowers, almost as much as I love animals. So when I was offered the opportunity to visit French Guiana's newest botanical garden, I eagerly agreed. The Jardin Botanique de Guyane is a family run attraction and is truly a passion project for its owners.
Over 4000 plant species are packed into a relatively small area, more than 250 of which are orchids. Here you can see orchids of all shapes, sizes, and colours.
Many are grown here for sale, to raise money to continue to expand the collection of the garden.
Also fascinating is the collection of more than 30 vanilla varieties, from French Guiana and beyond.
The garden's owners are passionate about education. While it is possible to walk through the garden on your own, you'd be doing yourself a disservice not to be guided by the passionate and knowledgeable team.
If you want to surround yourself with this magical garden for more than a few hours, you can even rent the onsite gite. This apartment is large enough for 6 people and has a fully equipped kitchen, dining room and terrace overlooking the grounds.
The botanical garden is a must for garden and flower lovers and anyone who wants to learn more about French Guiana's rich flora.
Jardin Botanique de Guyane
2805 savane Césarée
97355 Macouria
The Botanical trail of the Regional Nature Reserve Trésor
Although it's the smallest of French Guiana's Natural Parks, at 40km2, the Réserve Naturelle Régionale Trésor is one of the most accessible. There's also plenty of opportunity to encounter nature here.
The park's Botanical Trail is 1.7kms of clearly marked path winding through the biodiverse rainforest. Despite the reserve's small size, 1233 of French Guiana's 5600 plant species are found here, along with 56 species of fish, 78 amphibians, 49 reptiles, 327 birds, 60 bats, and 53 species of mammals.
Although it's a short trail, you still need to be reasonably fit, as it is hilly and there are some rough patches.
The trail is well marked with a variety of informative signs. At the entrance, you find information about the park, the trail, and the flora and fauna you can spot along the route. Along the trail itself, you'll find information about individual plants, including how they are used by humans.
While it's possible to walk the trail on your own, like the botanical garden, a visit is much richer with a guide. Several times a month, park guides offer thematic guided tours on topics from medicinal plants, to night walks to discover bats.
If you can't make it to one of the organised walks, the park's website provides detailed information, available for download in PDF format, about the flora and fauna of the reserve.
During our walk, we found only a tiny toad and a lizard, but we heard plenty of monkeys and birds in the jungle around us.
However, the plant life alone makes for a fascinating visit, as you walk past towering jungle trees dripping with roots and vines. The forest feels primaeval and it's easy to see how important French Guiana's biodiversity is to the planet.
Réserve Naturelle Régionale Trésor
The trail is located off the D6, 19kms past Roura, towards Kaw.
Stay tuned for more ways to experience the nature of French Guiana coming this month and be sure to check out the other articles in our French Guiana series below.
Want to win your own trip to French Guiana? Vote for your favourite French Overseas experience for a chance to win a trip for two. (Open to residents of Belgium)
My travel to French Guiana was sponsored by Guyane Tourisme and Atout France Belgium. As always, all opinions remain my own.
Latest posts by Alison Cornford-Matheson
(see all)
Read more from this series...
3 Easy Ways to See Nature in French Guiana