THIS POST MAY CONTAIN COMPENSATED LINKS. FIND MORE INFO IN MY
DISCLAIMER
.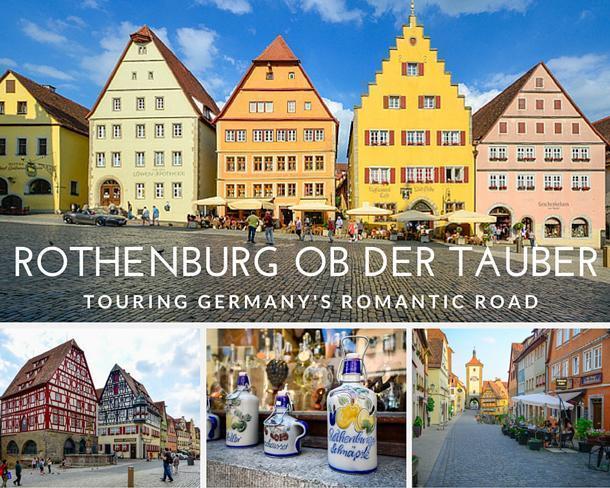 Today, Adi begins a tour of Germany's Romantic Road, starting with the beautiful walled town of Rothenburg ob der Tauber.
Back in 1960, when post-war Germany was desperate to rejuvenate the travel industry, the Romantic Road came into being. Although a modern invention, the Romantic Road delivers what it promises – a beautiful route of towns, stretching from Würtzburg to Füssen, which manage to retain their ancient characteristics and beauty.
The route joins the historic cities of Würzburg and Augsburg with the three medieval walled towns of Rothenburg ob der Tauber, Dinkelsbühl, and Nördlingen. It ends with a bang at Neuschwanstein Castle and the Alps.
Rothenburg ob der Tauber (which translates to Red Fortress above the Tauber) is a town in the Franconia region of Bavaria, Germany. It is a popular tourist destination, which you will notice, as soon as you arrive in the historic center.
I will not say it is crowded, but it's certainly busy with people, from all over the world, scouring the local stores for woodcrafts, local schnapps, and Christmas ornaments.
I had Rothenburg on my travel wish list for a long time and, when I finally got to see its beauty, colorful buildings, and the sense of stepping back into Renaissance era Germany, it overwhelmed me. The narrow cobblestone streets feel like they haven't changed in hundreds of years.
It was the first time I visited a completely walled in city center. It's a wall you can walk almost entirely around, giving you a pleasant view of the town's red roofs.
You can enter Rothenburg with the car and try to park somewhere, but that will most definitely cause you a major headache. I recommend parking your car outside the wall (parking fees are cheap) and walk into the centre.
It's worth mentioning several movies were filmed here, including The Wonderful World of the Brothers Grimm and scenes from Harry Potter and the Deathly Hallows, both part one and two. You can see the commemorative plaque on the rebuilt town wall.
My favorite part of the day, in Rothenburg, is the late afternoon, toward evening. The tourist buses have left, the shops are closing, leaving only the restaurants open. By this time, the only people out are the ones grabbing a bite to eat. It's a calm atmosphere allowing you to really take in the town.
When it comes to traditional foods and beverages to try, while in Rothenburg, two things are worth mentioning. First, is the local schnapps store, selling a huge variety of fruit schnapps in ceramic bottles that you can just refill every time you visit. While at the store, you can try a little bit of each. Be warned, it will hit you fast.
The second thing to try is the schneeball (snow ball), a type of pastry made of flour, eggs, sugar, butter, cream, and plum schnapps, which has been around for three hundred years in the regions of Franconia. These pastries sell like hot cakes, in assorted boxes, so you can try one of each flavor.
Whether you visit Rothenburg for its history, its colorful and romantic architecture, or for its food, it will most definitely leave its mark on you. It is a town that one cannot simply forget.
Read more from this series...
Rothenburg ob der Tauber – Touring Germany's Romantic Road