THIS POST MAY CONTAIN COMPENSATED LINKS. FIND MORE INFO IN MY
DISCLAIMER
.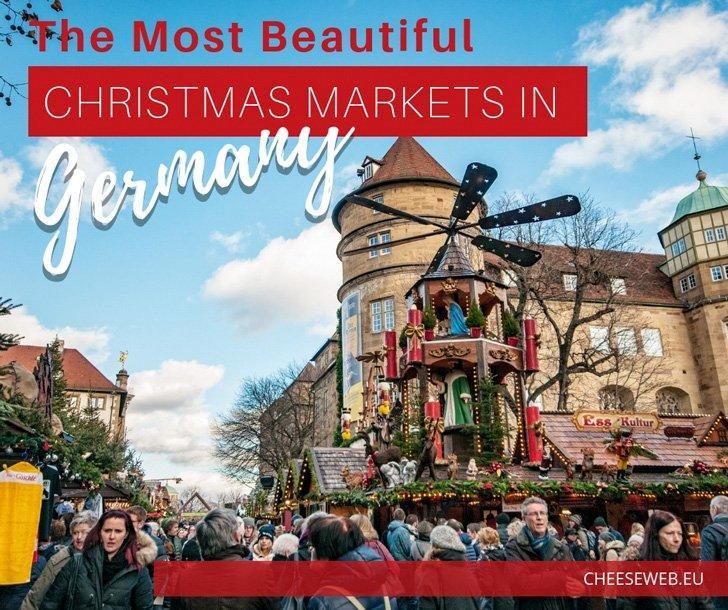 Adi shares her top picks for the best Christmas Markets in Germany and all her tips to make the most of the festive German Christmas holiday season.
There is no doubt I love Christmas more than any other holiday. Living in Germany means the Christmas season is filled with gorgeous Christmas Markets, twinkling lights, mulled wine and sweet treats in many German cities, large and small.
Every time Christmas comes around, people who live in Europe try to decide which Christmas Markets in Germany are the best to visit. Of course, it all depends on where you live. The selection of markets is enormous and choosing between them isn't easy. However, if I had to pick, these eleven German Christmas Markets are the ones I would visit again and again.
Note: Be sure to visit our Christmas Markets landing page if you are looking for specific Christmas Markets in Germany 2018 dates and don't miss our Best Christmas Markets in Belgium for more amazing European holiday fun.
1. Stuttgart Weihnachtsmarkt
Stuttgart's Weihnachtsmarkt, the oldest (first mentioned in 1692) and one of the biggest Christmas markets in Germany, can be enjoyed for an entire month, from late November to late December.
Visit it for the lovingly decorated chalet roofs and the lights adorning the entire city centre. Enjoy the delicious hot glühwein (mulled wine), while browsing for handmade treasures.
The Stuttgart Christmas Market stretches from the Schlossplatz down to Karlsplatz and Schillerplatz.
It's fairly crowded, so moving fast is not an option. On the upside, moving slowly gives you the chance to stop and taste the food on offer along the way.
To me, this market is special because it's the first market we visited when we arrived in Germany. I hadn't seen one before, and the lights and goodies had me mesmerized.
2. Düsseldorf Weihnachtsmarkt
Düsseldorf Weihnachtsmarkt begins in late November and ends in late December. It takes place in several places around the city.
Part of the Christmas Market in Düsseldorf's Old Town is the Angel Market, on the Heinrich-Heine-Platz, in front Carsch house. The other part of the Christmas Market takes place on the Flingerstraße, in the marketplace, and on Stadtbrückchen.
Known as the longest bar in the world, here you can find numerous restaurants, cafes, and pubs, where Christmas Market visitors can warm up before considering where to explore next.
With many boutiques, shops, museums, and the Rhine promenade, the Old Town offers a colourful mix of options besides the Christmas festivities.
My favourite thing about this market is its large size, and the constant flow of people moves smoothly, so you aren't stuck in one place.
I also love the diversity of food. There are plenty of yummy options, like wild game stews, soups in bread bowls, and traditional German dishes and sweets. The kids were happy to sample the sweet Dutch poffertjes and churros.
3. Altensteig Weihnachtsmarkt
Altensteig Weihnachtsmarkt is small compared to the previous two, but it is still worth visiting. In fact, it's one of the best small Christmas Markets in Germany. It's only held on the first weekend in December and hosts about 60 chalets selling mostly handmade merchandise.
Part of Altensteig sits on a hill, and the Christmas market is located at the top, around the church area. There is no parking available, so you leave your car at the bottom and walk up. Don't worry. The walk is short, and the incline is not steep.
The reason I love this market is the location (the town is just gorgeous), and the food. For such a small market, the food choices surprised me. Besides traditional German food, you can sample Turkish cuisine (if you ask them to make it spicy they will), dishes from the Philippines, and something completely unexpected, food from Cameroon.
4. Esslingen Weihnachtsmarkt
Esslingen Weihnachtsmarkt will enchant your senses for a whole month, from late November to just before Christmas when the centre of town transforms to resemble the Middle Ages. Merchants in historical garments offer their goods for sale, just as they did hundreds of years ago.
Craftsmen like pewter makers, felt makers, tinder makers, blacksmiths, rope makers, basket makers, broom makers, and glass blowers demonstrate their craftsmanship.
Also, more than five hundred programs await you on stage or in the streets.  When it gets dark, fire artists swirl their torches in the air to the delight of the visitors.
Our kids loved this market the most. It's hard not to impress a kid when knights roam around and lit torches fly in the air at every corner.
The highlights are falconry in the castle, a medieval dance evening, and the traditional torchlight procession at the winter solstice.
5. Ludwigsburg Barock Weihnachtsmarkt
The Ludwigsburg Barock Weihnachtsmarkt takes place in the Marktplatz from late November to late December.
The first time I visited this market, I fell in love with it right away. The air is filled with the smells of mulled wine, roasted chestnuts, and gingerbread.
Visitors can stroll past more than one hundred and seventy-five lovingly decorated chalets. The range is extensive, from glass balls, nativity scenes, and figurines, to candles, incense from the Erzgebirge as well as traditional smokers, warm clothing and much more.
The smell of food will also draw you close. I still remember the taste of the superb pork sandwich I enjoyed there. The pork crackling alone would be a reason to return.
Younger visitors can look forward to puppet and magic shows and a colourful merry-go-round.
6. Tübingen Weihnachtsmarkt
If you are looking for one of the best Christmas Markets in Germany, Tübingen Weihnachtsmarkt is the right place for you.
Always on the third weekend of Advent, the university town of Tübingen hosts a colourful, and distinctive Christmas Market. Over three days, hundreds of decorated Christmas stalls merge with the half-timbered scenery of the historical old town.
Weihnachtsmarkt Tübingen is open on Friday and Saturday from 10 am to 9 pm and on Sundays from 11 am to 7 pm.
Here, visitors discover attractions such as the colourful historical children's carousel, a children's program, as well as numerous musicians and choirs.
You'll smell the aromas of mulled wine, children's punch, spices, and roasted almonds as well as the smell of roasted meats. Need a special homemade, authentic, German present? More than likely you will find it here. Almost nothing is made in China here.
Because it only takes place during a single weekend expect it to be crowded. However, the market is spread over the entire old town centre (from the lower town, over the Krumme Brücke and Kornhausstraße to the Marktplatz, over the Holzmarkt to the Neckargasse, Neue Straße and round by the Nonnenhaus) so the flow of people moves rather smoothly.
Tübingen Christmas Market Tips
Carry cash as none of the booths accepts cards
If you have small children, consider baby-wearing or big strollers. Little umbrella strollers won't cut it in the crowd, and the people around them will engulf small kids.
7. Rothenburg (ob der Tauber) Reiterlesmarkt
Because we so enjoyed our summer visit to Rothenburg, Germany I was dead set on seeing it again in winter, to experience its famous Christmas market, Rothenburg Reiterlesmarkt, and get the best out of a German Christmas tradition.
Every year, the medieval town of Rothenburg ob der Tauber is transformed into a winter's fairy tale. Since the 15th-century, Advent festivities have been paired with a fantastic Christmas market. This market can look back on over 500 years of living history that has hardly changed since its origins.
During the day, it can feel a little overwhelming with crowds of people. However, since many of them arrive with tour buses which later leave, wait for the evening to be left in the company of locals. The market is small, contained in front of the city hall, but the whole centre sparkles with lights.
Some of the best shopping for authentic, wooden, handmade treasures can be found at this market and the surrounding stores.
The storefronts are decked with lights and evergreen ornaments making everything seem like you're living in a winter wonderland. The only way this setting would be any better is if it was snowing.
To keep body and soul together, treat yourself to a glass of mulled wine and satisfy your hunger with a grilled sausage or freshly roasted chestnuts and finish with a famous Rothenburg Snowball.
8. Weihnachtsmarkt Schwäbisch Hall
My favourite of all the Christmas markets in Germany has been Schwäbisch Hall Weihnachtsmarkt, in a small university town in the north part of the Baden-Württemberg.
The market is held in the market square, in front of the impressive St. Michael's Church.
The little Christmas chalets in Schwäbich Hall hide some of the best merchandise I've seen at Christmas markets in Europe. Everything on sale is made by hand here by candle makers, woodcarvers, sculptors. You'll also find metalwork, enamels, ceramics, calligraphy tools, wooden toys and knits.
Another plus at this German Market was the ease with which we were able to move around. It was busy but not overwhelming. There are no lines at the food and drinks booths and plenty of tables to enjoy the food.
Schwäbisch Hall Christmas Market Tips
Carry cash as stated before. None of the booths accepts credit. There are several banks right next to the market if you need to top up your wallets.
You must try the Schwäbisch Hall pork sandwiches – some of the best pork meat in Germany – as well as visit the smoked salmon booth for some delicious baked potatoes with salmon. Yum!
9. Trierer Weihnachtsmarkt
Christmas Markets are deeply rooted in German tradition, and one of our favourites is the Christmas Market in Trier, the Trierer Weihnachtsmarkt.
Trier is storybook pretty, and the market has almost a Disney-esq quality. There are 95 booths, a carousel for the children, and loads of traditional holiday decorations.
You can buy handmade ornaments, gifts, food and, of course, plenty of mulled wine to keep you warm.
Located in the western part of the German state of Rhineland-Palatinate, it's close to the Luxembourg border and an easy day trip from Belgium.
10. Koelner Weihnachtsmarkt
Cologne or Köln, Germany is Christmas Market central. There are six markets to choose from, around the city. Our favourite was the one nestled at the base of the stunning Cologne Cathedral, the Koelner Weihnachtsmarkt.
150 stands sell gifts, traditional German Christmas ornaments, and regional food specialities (most of them certified bio-organic).
There are also over 100 free musical and artistic performances to enjoy while you shop.
The market is located steps from the train station, which makes it an easy day-trip from Belgium.
While there, check out our post on Nine Things to do in Cologne, Germany.
11. Monschau Christmas Market
Compared to many of the others on the list, Monschau's Christmas Market is small, but we all know good things come in small packages.
This little market is nestled in the medieval town centre in the heart of the Eifle region. Just over the border from Belgium, Monschau is an easy day-trip and is worth the drive for the timber framed buildings hugging the river.
In addition to the Christmas Market stalls, the local shops and restaurants get into the holiday spirit and even include a three-storey House of Christmas brimming with ornaments and decorations.
The Monschau Christmas Market is only on weekends (Friday to Sunday 11am-9pm) and visitors must park outside the city centre. There is a park-and-ride shuttle to take you into the narrow cobbles streets.
Where are the Best Christmas Markets in Germany Located on a Map?
Bonus: Where to get a beautiful Christmas in the Stuttgart area
I cannot write about Christmas markets and not give you a hot tip about where to get a gorgeous Christmas tree if you live in the Stuttgart area.
Mittelmühle in Adelberg is a 500-year-old former mill run by Harald and Sabine Müller, who devote their time to raising the best Nordic trees.
We have been going to their farm every winter in the past several years and got to know Harald, who speaks perfect English. Listening to him talk about the Christmas tree farm I realised how much he loves what he does.
While Harald's time is filled with the science of growing the trees, his wife, Sabine, who is a certified interior designer makes sure the interior of the Christmas exhibit is perfect. She chooses every piece with care, making the Christmas display beautiful and sophisticated.
Besides the two of them and a few more staff members, they also have the help of a flock of trusted English sheep bred to remove the grass between the trees without eating the trees themselves.
Harald skipped no detail in making his business a successful one. This is why people come from near and far to get one of his beautiful trees.
Another thing I love about this farm is everything is done to respect the environment. Once a tree is cut, another replaces it immediately.
Mittelmühle doesn't just sell trees. It also hosts an Advent celebration with workshops teaching visitors to make their own Advent wreaths as well as traditional candle making.
The entire time you are visiting, a mulled wine station warms your hands and soul with delicious and hot mulled wine, for a small donation.  The GPS address for the tree farm is Mittelmühle 1, 73099 Adelberg.
Top Tips for Enjoying a German Christmas Market:
Go early so that you can avoid the big crowds. During the day, you will have a fair amount of people but the evenings are the worst. Visiting on a weekday is best, but if you can only visit during the weekend choose Sundays. From personal experience, they are typically more relaxed, even in the evening.
Carry cash as few merchants accept cards. We experienced some credit card activity at the Stuttgart and Ludwigsburg markets but very little.
Order one portion of the food you want to try and share. The plates are always big enough for sharing, and you have more money to spend trying other dishes.
Mind your pockets/bags/backpacks. This time of year, there are folks out there looking to take advantage of the crowds.
Go hungry and sample as much food as you can.
Return your glühwein glasses and food plates after you finish, so you can have your deposit reimbursed. It can be a lot of money. At the Esslingen market, vendors charge 5 euro per cup/bowl/plate of food and drinks; all paid in advance.
Dress warmly if you are planning on staying out in the evening. While the temperatures have been warm for this time of year, the evenings get cold.
If travelling with infants, consider babywearing. It's so much easier to get around if you do not have a stroller. If you have toddlers and you need one, avoid small umbrella strollers. Most markets take place in the old centres which are usually paved with rough cobblestones.
There are so many reasons why I love Christmas in Germany. Part of it is due to spending time with my family at the different European Christmas markets, enjoying the beautiful settings of medieval towns covered in lights, the excellent food and mulled wine – it all makes my mind, body, and soul happy.
Whether you are looking to buy handmade gifts for loved ones, delight your eyes with the millions of Christmas lights, or taste some delicious food and drinks, these Christmas markets will most certainly not disappoint.
Visit as many of the German Christmas Markets as you can as you can never say 'if you've seen one you've seen them all.' Each market is unique in its way.