THIS POST MAY CONTAIN COMPENSATED LINKS. FIND MORE INFO IN MY
DISCLAIMER
.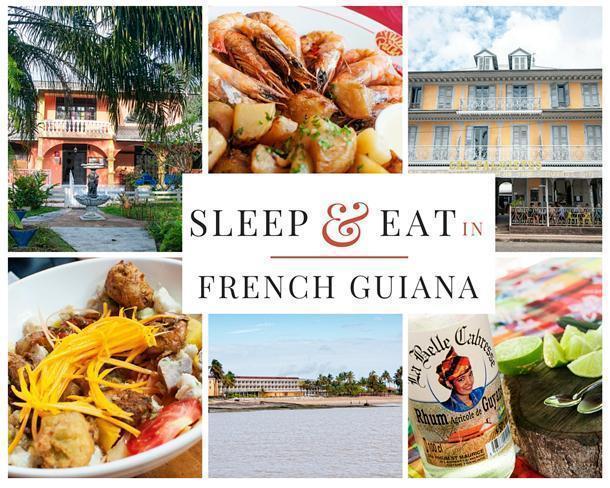 Today I share where to stay and where and what to eat when you visit the French Overseas Territory of French Guiana. Warning – Don't read this post on an empty stomach!
One of the most surprising things about my recent trip to French Guiana (or Guyane, in French) was the diversity of the local cuisine. French Guiana is a must for foodies, with options ranging from food-trucks to fine-dining. Luckily, my guide, from Tourisme Guyane, is a foodie too and she led me on a gastronomic tour of the French Overseas Territory.
Of course, with all of the activities we were doing, (beyond just eating our way across the region) we needed to sleep well at night. My stay in French Guiana included nights at four vastly different hotels. Like the restaurant scene, accommodations in Guyane range from budget and basic to chic luxury, meaning there is truly something for everyone.
Below is a round-up of everywhere I stayed and dined during my week in Guyane, so you know exactly where to sleep and eat in French Guiana.
L'Hotel des Roches, Kourou
I spent my first two nights in French Guiana at the Hotel des Roches in Kourou. This beachfront hotel spoiled me, with a magnificent, tropical view from my private balcony. While the hotel does include a pool, it's hard to imagine using it, when the ocean is just steps from the door.
The rooms are modern, spacious, and equipped with everything you need for a comfortable stay. There is a lobby gift shop with local souvenirs and the staff was extremely friendly and helpful throughout my stay.
All of my hotels, in Guyane, had onsite restaurants and the Hotel des Roches actually has two. Le Créolia is an outdoor pool and beach-side restaurant, open during the peak season. As mine was an off-season stay, I dined both nights at Le Paradisier, the hotel's fine-dining restaurant, overlooking the beach.
Le Paradisier's menu features both continental French and Guianese dishes, prepared with local ingredients, including plenty of exotic fruit. I tasted a variety of dishes, from rack of lamb to an eggplant millefeuille and everything was excellent. For me, the standout dish was a crab and avocado starter with a zesty basil sorbet. Heavenly!
Hôtel des Roches
Avenue des Roches
97310 – Kourou, Guyane
Rates: Singles from € 152 and doubles from € 188
Restaurant Mille Pâtes, Kourou
If you happen to be in Kourou, to visit the Guianese Space Centre (article coming soon!), Mille Pâtes is a great budget option for lunch. An Italian, pizza restaurant may not seem like the place to find local flavours in French Guiana, but don't let appearances fool you. Alongside the traditional pizza toppings, you can find a 'Pizza Créole' with the local delicacy, poulet boucané.
I opted to have my first taste of poulet boucané, a spicy, wood-smoked chicken I fell in love with in Guyane, on a salad. Had I known how big it would be, I probably wouldn't have ordered the fresh prawns with maracuja (passion fruit) sauce and that would have been a real shame. In fact, I made it a mission to have maracuja everything, throughout my stay, from fresh passionfruit for breakfast, to savoury sauces and sweet desserts.
In addition to pizza and pastas, Mille Pâtes also offers a range of seafood and meat dishes, as well as plenty of ice-cream and fresh fruits for dessert.
Mille Pâtes
Avenue de Prefontaine,
97310, Kourou
Alternate locations in Cayenne, La Chaumière, Matoury and Rémire-Montjoly. Take away and delivery available.
Au Naturel Juice & Salad Bar, Cayenne Market
I never would have expected a salad and juice to top the list of my favourite meals in French Guiana, but Au Naturel Juice and Salad bar, is a strong contender. If you want the freshest ingredients in Guyane's capital city, Cayenne, you need look no farther than the central market. That's why Au Naturel's location in the heart of the market is a perfect choice of location.
The stars of the bar are the fresh juices, featuring the vast range of French Guiana's exotic fruits: guava, papaya, passionfruit, ginger, mango, starfruit, bananas and more. To beat the heat and humidity, I opted for a refreshing lemon and ginger juice that knocked my socks off (in a very good way.) While Au Naturel's energetic owner was tending to the endless line of juice customers, her assistant fried us up a fresh batch of accras, deep-fried fish fritters, made from fresh cod.
Then, bouncing along to the peppy local music pumping from the radio, she set about constructing the best salad I have eaten. Anywhere. Ever.
It included pork and chicken boucané, grated papaya, cabbage, tomatoes, carrots, avocado, and a few more accras, for good measure.
Because the juice was so delicious, and for the sake of research, we decided a second juice for dessert would be just the ticket. In keeping with my maracuja at every meal mission, I ordered a passionfruit and mango juice that was even better than it sounds.
There are plenty of other food options at the Cayenne market, and, while they all smelled tempting, I sadly only have one stomach. The market is a feast for the eyes and senses and it a great place to discover the flavours of French Guiana.
Marché Central de Cayenne
Place du Coq
97300 Cayenne
The market is open to the public Wednesday, Friday, and Saturday from 4h00 to 14h00
Au Naturel is located inside the market building (look for the lineup!)
Hotel Les Palmistes, Cayenne
If you're looking for a hotel in the centre of the action, you can't get more central than Les Palmistes. This boutique hotel overlooks the city's main square and the restaurant's live music, on weekends, draws a mainly local crowd.
Les Palmistes' exterior is a beautiful example of traditional créole architecture. Inside, the 9 newly renovated rooms are modern and comfortable with colonial accents, making you feel like you're on your own Grand Tour.
The restaurant's menu is diverse with light snacks and salads, to heartier meat dishes. It's one of the only restaurants in Cayenne open on Sundays and the terrace is a great location for people watching late into the night.
For another (late-night) food option, cross the square to check out the long line of food trucks.
The only caveat is: if you're a light sleeper, you may want to avoid Les Palmistes on the weekend. Being in the centre of the action means you won't be getting to sleep early here.
Hotel des Palmistes
12 Avenue De Gaulle
97300 Cayenne
Rates: Comfort Rooms from € 125 and Deluxe Rooms and Suites from € 150
Hotel L'Ebène Verte, Matoury
Of all of the Hotel and Restaurant combinations I tried in Guyane, the quirky Ebène Verte in Matoury has to be my favourite. This family run hotel is an odd hodgepodge of styles that somehow seem to come together to create a warm and welcoming atmosphere. Perhaps it's because of the super-friendly owners (and their beautiful cat!)
Surrounded by gardens, the hotel feels lush and tropical. The rooms are among the largest I've ever stayed in, and although the décor feels slightly dated, the bed is comfortable, the shower is excellent and there is plenty of space for a whole family. The rooms are air-conditioned to chilly splendour, but if you need to cool off even more, there is a large pool, guarded by pet parrots.
The best thing about L'Ebène Verte however, has to be the food. The restaurant has no set menu. Instead, it's more table d'hôte style, with three courses, chosen by the chef. Everything is made with fresh, local ingredients and is mouth-wateringly good. Wash it all down with a fresh-made tropical fruit juice and you've got everything you could want. This is definitely somewhere I would like to return to for more than two nights!
Hotel L'Ebène Verte
346, Allée du Mont Grand Matoury
97351 Matoury
Rates: Rooms range from € 80 to € 130
Le Grand Pavois Creole Restaurant, Montsinery – Tonnegrande
Regular CheeseWeb readers will know, when I travel, I like to eat local – really local. Le Grand Pavois (known locally as the Kaz Kreole) is a little local hideaway in Montsinery. While the restaurant doesn't look like much from the front, behind, it opens onto a covered terrace over the water. It's a gorgeous setting.
The menu changes daily and is made up of creole dishes, which have a Caribbean vibe, using local produce, including bush meat – something I was eager to try.
While we were making our choice, the server brought us two little spicy chicken balls and a dish of tiny hot peppers. I was instructed to cut the top off the peppers and dab them on my food. Yes, they are that hot.
It was also here I enjoyed one of the best ti-punches of my stay. Ti-punch is the alcoholic drink of choice, in Guyane, and is dangerously delicious. Crush a few lime sections with sugar and add rum; preferably the locally distilled La Belle Cabresse, the only (legally made) rum in French Guiana. Everyone's taste for ti-punch is different, so you are supposed to mix your own, to taste.
To start, I opted for a terrine of bush meat, with an aubergine confit. I'm still not entirely sure what animal donated its meat to my dish but it was tasty, tender, and not overly 'gamey.'
For my main course, it seemed appropriate to have fish, while we overlooked the river. It didn't hurt that the fish was stuffed with crab and came in a sauce of maracuja. Along with rice and carrots, the sides included couac (pronounced like the sound a duck makes or a popular Belgian beer). This ground manioc is a starchy staple used much as we use mashed potatoes.
Dessert was an apple pastry with cashew ice-cream. Everything was divine. Fresh. Local. Homey. The Kaz Creole was a definite favourite.
Le Grand Pavois (Kaz Kreole)
1 rue Abbé Fabre
97356 Montsinery-Tonnegrande
Grand Hotel Montabo, Cayenne
The final hotel of my stay in French Guiana is Cayenne's most prestigious, the Grand Hotel Montabo. Situated close to the beach, this former Novotel has recently come under new management and been given a facelift. The common areas are open and modern, with plenty of exterior views, and the rooms are comfortable and quiet.
The Grand Hotel Montabo offers the largest breakfast buffet of the hotels listed here, with plenty of hot and cold options. The restaurant menu is a combination of continental and local dishes. Although the food was good, it wasn't outstanding, especially for the price. I felt it was the closest to 'hotel food' standard of the hotel/restaurant combos I visited.
Grand Hotel Montabo
Route de Montabo
Chemin Hilaire
97300 Cayenne
Rates: Rooms start from € 165 per night
Auberge de l'Ile Royale, Iles du Salut
The Auberge de l'Ile Royale is the only public accommodation on the Illes du Salut. I didn't actually have the opportunity to stay on the island overnight, as it was evacuated for the rocket launch I was able to view. (Full article is coming soon.) However, I did get a sneak peek at the rooms, while I dined in the restaurant.
The rooms are basic but have everything you need to be comfortable. The best part is the seclusion of the island and the spectacular views. It really is a tropical hideaway.
The restaurant meals are simple and homey, with a set 'special of the day' 3-course menu. If you dine on the terrace, like we did, you may even get a visit from the island's macaw, or one of the hundreds of agouti that populate Ile Royale.
Auberge de l'Ile Royale
Port les Balourous – Iles du Salut Ile Royale- BP 324
97310 Kourou
Rates: Rooms range from € 150 to € 250
La Petite Maison
Of the non-hotel restaurants I dined at, La Petite Maison was a definite favourite. Located in the centre of Cayenne, it's a quirky creole house, with plenty of different rooms, each with their own atmosphere.
Unfortunately, the circumstances of our visit weren't ideal as we had gotten soaked in a flash downpour before arriving. We were also exhausted from a jam-packed schedule of 7 days. Although the photos don't do the meal justice, it was excellent and La Petite Maison prides itself on using the best local produce for its dishes.
This restaurant is full of character, charm, and great food and is a must in Cayenne.
La Petite Maison
23 rue Félix Eboue
97300 Cayenne
With so much variety in cuisine, restaurants, and accommodations, French Guiana has something to offer all travel styles and budgets. Check out our French Guiana Travel Guide for more ideas on things to do in Guyane.
My travel to French Guiana was sponsored by Guyane Tourisme and Atout France Belgium. As always, all opinions remain my own.
Latest posts by Alison Cornford-Matheson
(see all)
Read more from this series...
Where to Sleep & Eat in French Guiana