THIS POST MAY CONTAIN COMPENSATED LINKS. FIND MORE INFO IN MY
DISCLAIMER
.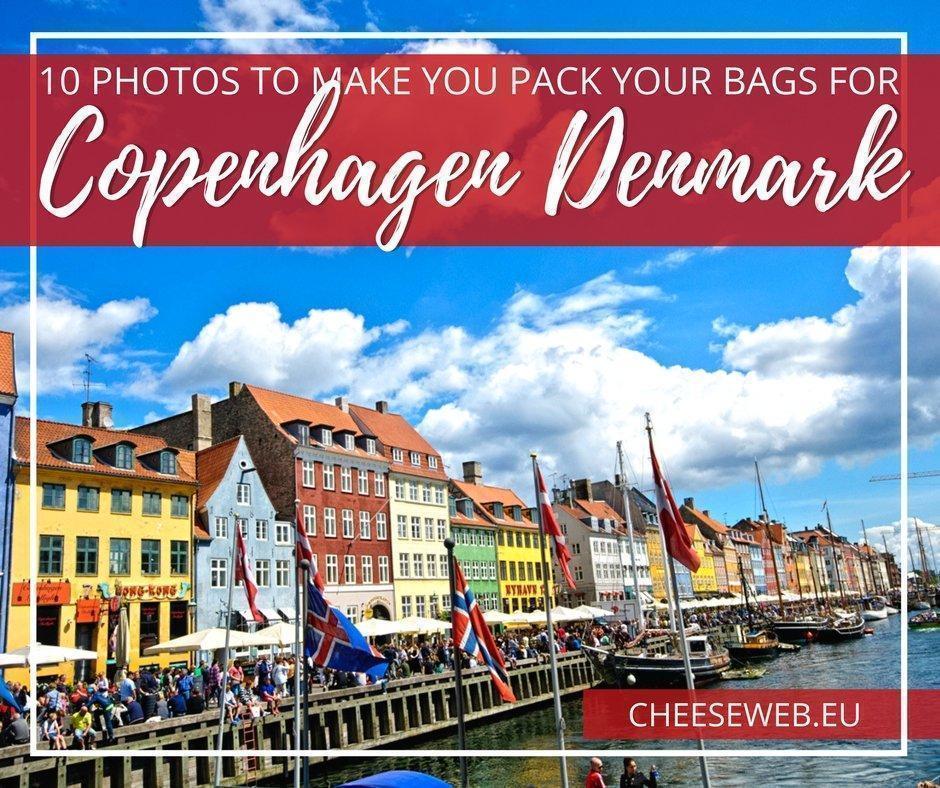 Canals, bicycles, and colour galore – these photos of Copenhagen, Denmark will have you packing your bags and give you plenty of ideas for the best things to do in Copenhagen.
Copenhagen, Denmark has long been on my list of places to visit in Europe. So when my friend Jenn gave me free-rein to plan our European travels, I was excited to fit it into our schedule. With Andrew in tow, we did our best to do as many of the top things to do in Copenhagen as possible.
With only a few short days in the Danish capital, we felt we barely scratched the surface of what the city has to offer. Even so, it left quite an impression on me, and I'm eager to return. Today I'd like to share some of my favourite photos from our city-break in Copenhagen.
1. Nyhavn Harbour
Nyhavn was (pardon the pun) one of our first ports of call in Copenhagen. This bustling, colourful waterfront is filled with lively shops and restaurants and is the starting point for many sight-seeing boat tours. Like Brussels' own Grand Place, it suffers a bit from being crowded and touristy, but that doesn't detract from its beauty.
In addition to the tourist boats, Nyhavn is lined with restored ships, owned by the Danish National Museum. There are also privately owned ships and even a theatre boat. These old wooden ships give the harbour an air of authenticity, and if you squint past the fanny-packs and tour groups, you can almost imagine Nyhavn during its heyday.
2. Christianshavn
Christianshavn is a neighbourhood named for Christian IV, who you may remember from our visit to Rosenborg Castle. Intended to be a new merchant town, beside Christian's new fortress, Christianshavn was incorporated into Copenhagen, not long after its creation.
It's a series of artificial islands, separated by canals. In many ways, it brings to mind the historic centre of Amsterdam, with plenty of boats and bikes, lining the canal-sides. Once working-class, these days, Christianshavn is a trendy neighbourhood filled with boutiques, hipster hangouts and up-and-coming restaurants.
3. Church of Our Saviour
The Church of Our Saviour, Vor Frelsers Kirke in Danish, is one of the top leading attractions of Christianshavn. It was also one of the main sights I wanted to see in Copenhagen, since I first saw it on the Amazing Race, a few seasons ago.
What makes the church stand out is the spiral staircase, leading to the top of the steeple. This in itself is relatively common (Andrew and I certainly have a habit of climbing church towers.) This staircase, however, is on the outside of the spire. Although we didn't have the time (or energy) to climb it, we could see the distinct steeple from points all over Christianshavn, and I've vowed to return and see the view from the top someday.
4. Freetown Christiania
Christianshavn's other main attraction is the Freetown of Christiania. This 34-hectare neighbourhood declared itself independent from Copenhagen in the 1970s. It's been mired in controversy since. What started as an abandoned barracks, settled by squatters, grew into a thriving community of artists, anarchists and collectivists. These days, Christiania boasts a yoga centre, theatre, gym and a power generation plant.
It's not all yoga and organic gardens though. Christiania is famous for its open selling of hash and other forms of marijuana. Although the town's laws forbid hard drugs such as cocaine, meth, ecstasy and heroin, Christiania, like the rest of society, has issues keeping these drugs out.
Photos are not permitted in most parts of Christiania, to protect the anonymity of its residents. However, the artistic spirit is alive and well in the streets surrounding the Freetown.
5. Christiansborg Palace
Sometimes when I'm exploring a city, with my camera, I photograph interesting architecture without knowing what it is, until I'm back home at my computer. Such was the case with this photo of the tower of Christiansborg Palace.
I loved the silhouette the setting sun was creating, so I took the picture. Apparently, the palace is home to the Danish Parliament, the Danish Prime Minister's Office and the Danish Supreme Court. Parts of it are also still used for Royal functions as well. And here I thought it was just a pretty tower.
6. The Royal Danish Playhouse
With my love of modern architecture and being on the waterfront, it's no wonder I was drawn to the Royal Danish Playhouse. This beautiful glass building sits at the end of Nyhavn and is a popular spot for a drink by the water. We weren't able to enjoy dining al fresco, because of a sudden downpour, but we did have a lovely lunch inside. As we ate, we were able to watch the boat traffic pass.
By the time we finished our lunch, the skies had cleared. Walking behind the playhouse, we stumbled upon the first ever Copenhagen International sand sculpture championship. I could do a photo post on the incredible works of sand art alone. This, however, was one of my favourites.
7. The Little Mermaid Statue
By far, Copenhagen's most visited tourist attraction is the Little Mermaid statue. Like Belgium's own Manneken Pis, the mermaid is small, bronze and swarmed by international visitors. I can say, with all honesty, I didn't go out of my way to see this homage to Hans Christian Andersen's most famous character. However, I was fascinated by the flood of tourists (pictured above) all trying to be photographed with the famous mermaid.
8. Tivoli Gardens Amusement Park
We didn't have time to visit Tivoli Gardens, Copenhagen's famous amusement park. We did pass by its striking entrance gate several times though, and I couldn't help but take a few quick photos. Tivoli is the fourth most-visited theme park in Europe, and, dating from 1843, is the second oldest in the world.
In addition to the gardens eluded to in its name, Tivoli contains dozens of rides, including several roller coasters, theatres, concert halls, an aquarium, and even its own hotel. Exploring Tivoli is definitely on our to-do list for our next visit to Copenhagen.
9. Amalienborg
Amalienborg is the winter home of the Danish Royal family and consists of four identical buildings laid out around an octagonal courtyard. In the centre is a statue of Amalienborg's founder, King Frederick V. Originally, the four buildings housed four different noble families. After a fire destroyed Christiansborg Palace, in 1794, the Royal family bought Amalienborg, and it became their primary residence.
Amalienborg is guarded round the clock by the Royal Life Guards. The guards can be spotted at each morning, leaving Rosenborg Castle and marching through Copenhagen's streets to Amalienborg.
10. Nyboder
It was love at first sight when I saw this bicycle leaning against the bright yellow row house in Nyboder. Originally built as a naval barracks, these long rows of golden houses still house navy, army and air force personnel, but are also open to civilian renters. The colour has become so iconic; it's referred to, by Danes, as 'Nyboder Yellow.'
More things to do in Copenhagen Denmark
I hope these photos give you a taste of the beautiful city of Copenhagen, Denmark. It's a tremendous city-break destination from Belgium and one I hope to return to soon.
Latest posts by Alison Cornford-Matheson
(see all)
Read more from this series...
10 Photos of Copenhagen Denmark That Will Make You Pack Your Bags