THIS POST MAY CONTAIN COMPENSATED LINKS. FIND MORE INFO IN MY
DISCLAIMER
.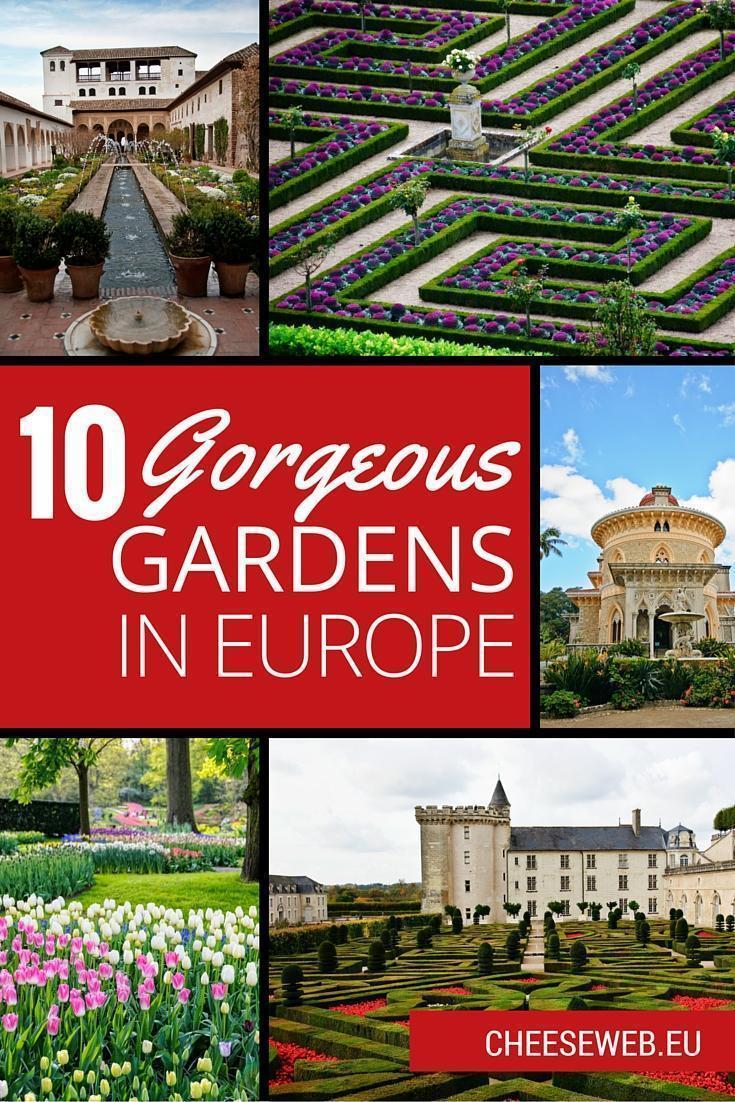 Spring is here and our thoughts are turning to visiting Europe's best gardens. Today we share photos of our 10 favourite gardens in Europe.
I may not have the greenest thumb, but I love visiting and photographing gardens. You can often find me crouched in precarious positions, behind my camera and tripod, squinting through my macro lens, to compose the perfect shot of a newly opened blossom.
We've written about many of our favourite gardens in Belgium, from the Coloma Rose Garden to the Japanese Garden of Hasselt. You can even find a list of our favourite spring gardens in Belgium, so you can start planning your garden visits now.
While Belgium has some fantastic gardens, we've been lucky enough to visit some stunning examples in other parts of Europe as well. Today we spread our wings to bring you our 10 favourite gardens in Europe.
1. Kew Gardens, London, England
Visiting the UNESCO listed Kew Gardens in London, had been on my bucket list for years. In 2010, my dream became a reality. We spent a wonderful afternoon exploring the incredible glasshouses and wandering the kilometres of pathways. My favourite part was the Japanese Garden, pictured here. Our timing was perfect to see the cherry blossoms at their peak, and the ground nearby was littered with a confetti of pink petals. It was magical. Follow the link to see many more photos and read about our visit to Kew Gardens.
2. The Eden Project, Cornwall, England
There's no denying the English are passionate gardeners and they have created many extraordinary gardens, from the rigidly formal to the utterly whimsical. This past spring, we visited the Eden Project in Cornwall, another of my bucket list gardens. It is quite possibly one of the most ambitious garden (and construction) projects in the world. UNESCO also added the Eden Project to the World Heritage Sites list, and we can certainly understand why. All of these photos, including the rainforest waterfall, were taken inside one of the Eden Project's giant domes.
3. Kylemore Abbey Garden, Connemara, Ireland
Speaking of bucket list items, visiting Kylemore Abbey was yet another of mine. Although I'll admit, my interest was more in the castle's architecture than the garden, at least until I saw it in person. Since 1999, the walled Victorian Garden at Kylemore has been undergoing renovations, to restore it to its former glory. The plans are ambitious and there's a long way to go, but already the garden is lovely.
The walled garden only includes plants that grew in Victorian times and the setting in the mountains of Connemara is absolutely stunning. The garden isn't just for show, however. Herbs and vegetables grown there are used in the restaurant and tea room at Kylemore.
4. Monserrate Palace Gardens, Sintra Portugal
This garden was not on my bucket list. In fact, I hadn't even heard of it before our visit to Sintra, Portugal, last spring. If you're a garden-lover, it should be on your list. These gardens have also undergone extensive renovations but they are much more whimsical than the rigid Victorian garden of Kylemore.
At Monserrate, you will wander through tangled woodlands and stumble upon replicas of temple ruins that look more at home in Cambodia than Portugal. You'll also see a vast collection of roses, desert dwelling plants and trees from all corners of the globe. Read about our visit to Monserrat palace and gardens for more photo inspiration.
5. Campo Grande and Rose Garden, Valladolid, Spain
I've added these two gardens together because they are very close to one another and quite frankly I couldn't choose between them. I couldn't even place the city on a map, before we visited Valladolid back in 2007, let alone did I know anything about its gardens. That's why these two were such pleasant surprises.
The Campo Grande is actually more of a big park than a garden, but it does include several lovely flower gardens inside its shady embrace. The park is filled with peacocks and locals escaping the heat of the Spanish sun.
The rose garden, on the other hand, is completely open to brilliant sunshine and the roses soak up that vitamin D. It's a small garden but is absolutely brimming with blooms of every size, shape and colour.
6. Generalife, Granada, Spain
The Generalife is the jaw-dropping garden complex of the UNESCO-listed Alhambra in Granada, Spain. It was definitely on my garden bucket list until we visited last spring. While most of the crowds flooded immediately into the palace, when the gates opened, we headed straight for the gardens. Although we visited quite early in the season, there was still plenty of colour to see. In addition to the blooms, the setting of the Generalife is spectacular. To one side is a sweeping view of the Alhambra and to the other side sit the Sierra Nevada Mountains. Breathtaking. For more photos than you can shake a stick at, read about our visit to the Alhambra and Generalife.
7.  Monet's Garden, Giverny, France
There is nothing like seeing art come to life before your eyes and that's exactly what visiting Monet's Garden at Giverny was like for us. We've visited Giverny with both sets of our parents and I would happily fight through the crowds to see it again. Standing in front of the lily pond and watching the play of light and shadow on the water, you begin to understand why Monet was so entranced by it. Beyond the iconic pond and bridge, the garden is a riot of rainbow colour, and we've only ever seen it during the offseason. I can only imagine how magical it is during its peak.
8. Chateau Villandry Gardens, Loire Valley, France
Chateaux and gardens go hand and hand and the Loire Valley is filled with both. The French are masters of the formal garden and one of the greatest examples is the garden at Villandry. Speaking of travels with our parents, we visited Villandry in 2008, so my garden-goddess Mom could have something to aspire to. (She's well on her way there, believe me.) The formal gardens and extensive potager, or kitchen garden, are best viewed from above, to appreciate their intricate layouts. Luckily, there are plenty of spots to get an aerial view of these magnificent gardens. Visit my photography website for even more photos of Villandry Gardens.
9. Arcen Gardens, Venlo, The Netherlands
Of course, I couldn't create a list of my favourite gardens in Europe without including a few Dutch gardens.  Kasteeltuinen Arcen (Castle Gardens of Arcen), in a small village near Venlo, is probably the best garden you've never heard of; at least, it was for us. It is enormous and includes garden inspiration from around the globe. Arcen is firmly on my 'must go back to' list (yes, I have one of those as well.) We visited early in the season, so many of the gardens weren't yet in bloom (hence my desire to return). Nevertheless, we spent a whole day there and had plenty to see and do. Read more about our visit to Arcen Gardens.
10. Keukenhof Tulip Gardens, Lisse, The Netherlands
No list of Europe's best gardens is complete without Holland's tribute to the tulip, Keukenhof. We've visited Keukenhof 7 times, and I'm sure we'll visit many more as there is nothing quite like it. Each autumn, a battalion of gardeners plant 7 million flower bulbs that emerge into the colourful designs and gardens that make up the Keukenhof each spring. If you haven't experienced this magical spectacle, trust us, it's worth braving the crowds. Visit my photography website for some photo tips and the best time to visit the Keukenhof.
This is by no means meant to be an exhaustive list of the best gardens in Europe; simply our favourites we've visited so far. There are many more wonderful gardens, in Europe, I dream of visiting some day.
Do you know an excellent garden in Europe we should add to our 'must visit' list? Tell us all about it in the comments below.
Latest posts by Alison Cornford-Matheson
(see all)