THIS POST MAY CONTAIN COMPENSATED LINKS. FIND MORE INFO IN MY
DISCLAIMER
.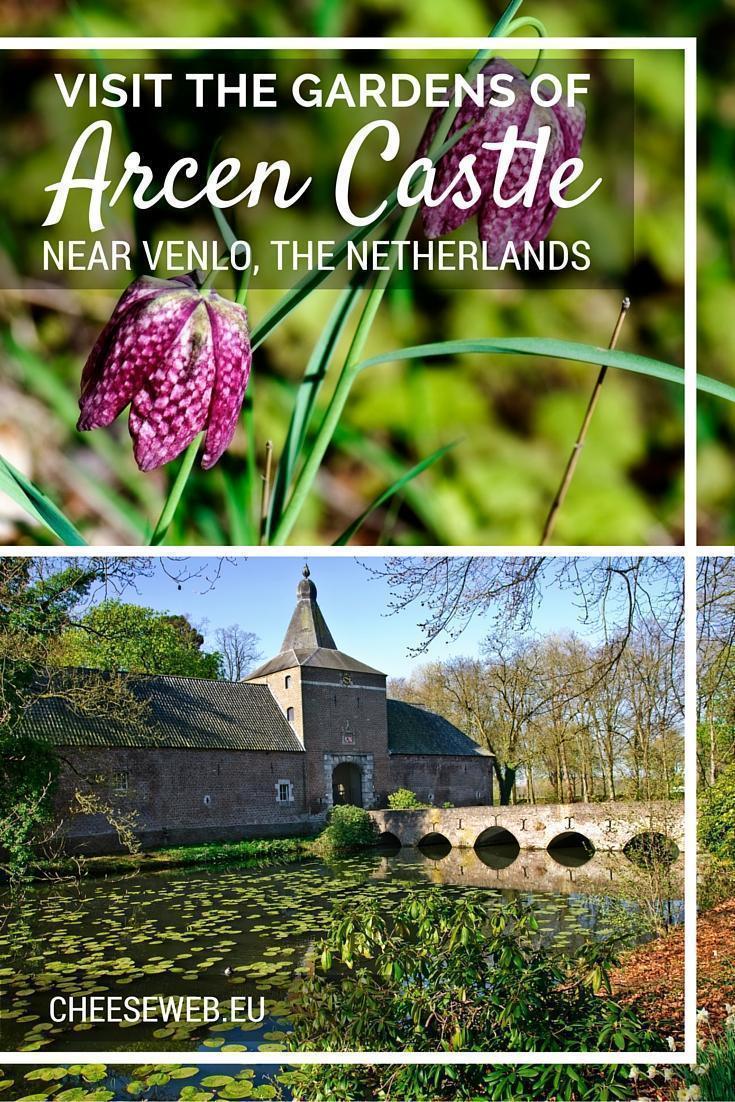 This spring I discovered a new gorgeous garden in the Netherlands called Kasteeltuinen Arcen (The Castle Gardens of Arcen). Although my visit was a bit early in the season to see the gardens at their best, Arcen has quickly become my new favourite garden destination.
A few months ago I ordered a book called The Garden Lover's Guide to the Netherlands and Belgium (Buy on Amazon US, UK). While flipping through, I was blown away by the illustration of Kasteeltuinen Arcen. Andrew and I decided we would visit Arcen gardens the day after our Keukenhof tour.
Arcen Castle dates from the 17th century and is built in the Baroque style. Its architecture however, is overshadowed by the 42 hectares of magnificent gardens. The property (which is a total of 450 acres) was purchased by the province of Limburg in 1976. In the 80's the castle and gardens were restored and opened to the public.
As you first enter Arcen gardens, you walk into a traditional, formal garden. There are clipped hedges and neatly groomed flowerbeds. Apparently, there are 10,000 roses of 500 different species. Because we were visiting in early spring, many of the plants were not yet in bloom. The abundance of plantings and rose bushes definitely whetted my appetite to return later this summer and enjoy the flowers.
The next section of the gardens is a beautiful grassy area, dotted with ponds. Geese and ducks make their homes here and a circular path allows you to wander through. The daffodils were still blooming along the banks of the canals adding a splash of yellow to the brilliant green grass.
Then we came to one of my favourite areas – a beautiful woodland garden. In the shade of the trees azaleas, violets, fritillaria and astilbes bloom. There are also little streams and waterfalls flowing beneath blooming cherry trees. It is a gorgeous secret garden.
At the farthest end of Arcen gardens is a huge glasshouse containing a tropical garden. Inside is a treetop walkway and large koi pond.
The koi and waterfowl aren't the only animals in Arcen gardens. In addition to turtles, storks and black swans, there are also squirrel monkeys and lemurs. We entertained ourselves for ages watching a baby lemur learn to climb, with the help of his community.
On the far side of Arcen are the theme gardens, filled with decorative architecture, statues and artworks. You can visit gardens from around the world: Japan, Italy, Thailand and more.
There is also a playground area for children (and those of us that are kids at heart.) Andrew was thrilled to discover a 26 hole mini-golf course that was free to play and had some very challenging holes.
Arcen gardens are so much more than flowers. Wandering through this park is like strolling through a garden wonderland. Around every turn is something new and beautiful to discover. I can't wait to return at see it at its best in the summer.
I apologize for all of the photos but it's just such a great place that I couldn't narrow them down anymore. So here are a few more. Enjoy!
Kasteeltuinen Arcen is located in the picturesque village of Arcen, 10 Km north of Venlo, in the province of Limburg. It's an easy daytrip from Belgium or a great weekend getaway destination.
Love castles, palaces, and ruins like in this article? Us too! Don't miss the full listing of Castles we've visited in Europe and beyond.
Latest posts by Alison Cornford-Matheson
(see all)